RVing On Baja Mexico Tips Parts 1 - 3
by Dan & Lisa Goy
(Surrey, BC)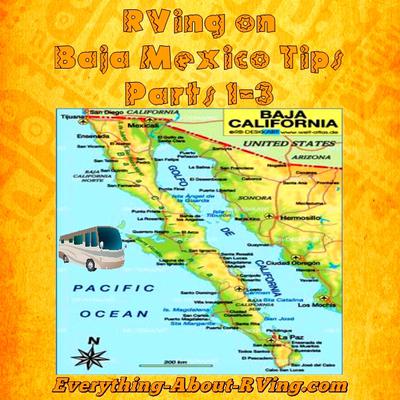 RVing On Baja Mexico Tips Parts 1 - 3
Editor's Note This story was submitted on our What Is Your Favorite RVing Or Camping Destination Page

PART 1

What and where is Baja? Baja has always been Mexico's frontier, not unlike the north in Canada. Even the Conquistador, Hernan Cortez who first arrived on the Yucatan Peninsula and eventually conquered the Aztecs never stepped on the Baja Peninsula until 1536. The 2 Baja States were the last to become proclaimed in the United Mexican States, Baja California in the north (1953), Baja California Sur in the south (1974). The Baja Peninsula has twice as much coastline as their northern US sister known as Alta California (State of California) with the Pacific Ocean on the west and Sea of Cortez on the east. The Mexican Federal Highway No. 1 (Hwy 1) was completed in 1973 and runs 1711 km (1061 miles) from the US Mexican Border to Cabo San Lucas. RVers have made this magnificent peninsula a snowbird destination since the highway opened, staying on beaches, RV parks, campgrounds and on the desert.

Why camp the Baja Peninsula? "The border between the US and Mexico's Baja Peninsula is like no other border on earth. It divides two countries with huge contrasts in culture, language, wealth, lifestyle, political systems, topography and climate. Mexico is a fascinating place to visit and we think that driving your own rig and staying in campgrounds is the best way to do it. People from north of the border have been exploring the Baja for years. The trip became much easier in 1973 when the paved trans-peninsular highway was built. Today this paved two-lane road leads to unparalleled camping opportunities." (
Mike & Terri Church, Camping Mexico's Baja 4th Edition
)
Part 2

Is Baja Mexico Safe?
What about the Banditos? We can never talk about RVing on Baja without someone asking these questions. Not surprising given the significant negative media campaign about violence in Mexico over the past few years. The reality is bad things happen everywhere in the world including Canada and the United States and these facts should not make us afraid to travel or leave our homes.
Tragically, Lyle and Marie Ann McCann disappeared on the road in their RV traveling from Edson, Alberta to British Columbia in the summer of 2010 and were subsequently declared deceased a year later in 2011. Their Class A Motorhome was found burnt to the ground, their towed SUV was also found abandoned a couple of days later, they have sadly never been found although there have been charges laid. We have been camping in Mexico since 1985 and we are not aware of this kind of incident ever occurring on Baja or Mexico. On a sunny Sunday afternoon in August of 2011, machine gun fire broke out at the entrance of a 5 Star Hotel in Kelowna, BC as an SUV full of gangsters and associates were the target of a hit, how other guests
were not shot or injured is nothing less than miraculous. We are not aware of this kind of shootout happening at such a popular tourist destination in Mexico or Baja. Statistically, you are 20X more likely to be killed in a traffic accident driving in the US then be murdered as a tourist in Mexico and believe us when we say you really do not want to know the number of murders that occur every day in LA County, the home of Disneyland and Knotts Berry Farm.
The proof, as they say, is in the pudding. We have never felt threatened or afraid, we have always felt safe. We have taken our children when they were youngsters and as adults. We have taken Lisa's elderly mother camping with us three times and our entire family spent 10 days at Christmas in Ensenada, Baja this year with only great times and memories to report. Despite how the media or our government portray Baja or Mexico we believe it is very safe for RVers, not so safe for those involved in gangs, guns, and drugs!
PART 3

Mexico & Mexicans?
Mexico has a very colorful and interesting history which makes it fascinating to explore. This country hosted many Pre-Columbian Mesoamerica cultures and advanced civilizations including Olmecs, Toltec, Teotihaucans, Maya, and Aztec. After 4,000 years, these civilizations were destroyed with the arrival of Hernan Cortez and Spain in 1519.
Several groups of indigenous people populated the Baja prior to the Spanish arriving and sadly the vast majority of the Baja Indians have disappeared and those that have survived in the north are represented by as few as a dozen individuals or as many as a few hundred.
Over 1,500,000 successful roadside rescues—Good Sam RV Emergency Road Service
Formal independence from Spain was recognized in 1821. The post-independence period was characterized by economic instability, territorial secession and civil war that included foreign intervention, two empires, two long domestic dictatorships and a war with the United States that ended with Mexico losing almost half of its territory in 1848. This traumatic event was followed with an invasion by France in 1862 which ruled briefly until 1867. The last Mexican Revolution was in 1910, which culminated with the 1917 Constitution and the emergence of the country's current political system. We have always found the Mexican people to be very warm, offer friendship and willing to help. Mexicans living on the Baja have had to endure extreme conditions, which has made them very resourceful. We have made many friends over the years young and old alike
Submitted by,
Dan & Lisa Goy
Baja Amigos RV Caravan Tours
www.BajaAmigos.net
Go To RVing On Baja Mexico Tips Parts 4 - 6
Tell Us About Your Favorite RVing or Camping Destination
Do you have any suggestions or comments on this topic? You can add them to this page by clicking on the "Click Here To Post Comments" link located near the bottom of this page.