FTC Disclosure: I get commissions for purchases made through some of the links in this article for more information, visit our Advertising Disclosure Page.
RVing Road Trip Preparation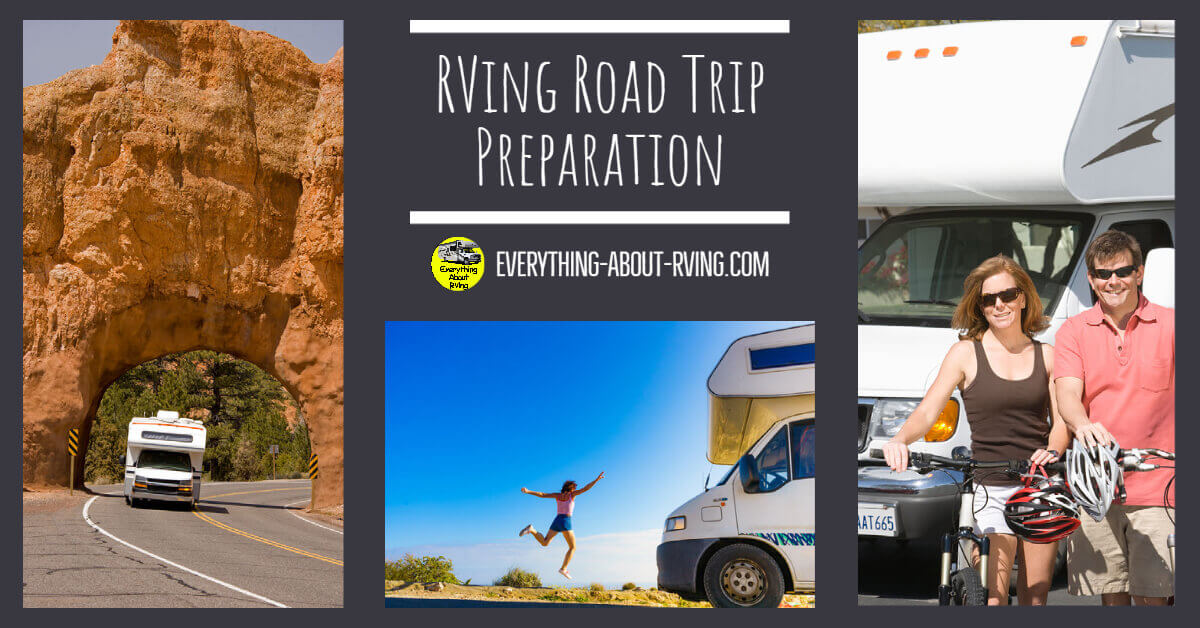 Make sure you review these tips on what to pack and how to prepare for your RVing Road Trip
Before you start getting ready for your next RVing Road Trip, make sure you review these essential tips on what to pack and how to prepare.
Clothing and Toiletries
Start by packing everything you need daily, from your clothes and underwear to your toiletries and personal hygiene items. You will want to pack comfortable clothes that allow you to move around easily. Clothes that are too tight can feel restrictive and trap heat in your body. Clothes that are too loose will allow air through but may not provide ample protection from the elements of nature.
Dress in layers, so it is easy to change as the temperature fluctuates. If the temperature is going to drop at night, make sure you bring extra jackets, gloves, scarves, hats, and blankets to stay warm. Even if the forecast does not predict rain, prepare to pack your rain gear just in case. You will not want to be caught in the rain without rain boots, ponchos, raincoats, and an umbrella.
For your toiletries, bring your vitamins, health and memory supplements, and any other regular medications you may need. Include an emergency first aid kit with allergy medication, eye drops, pain relievers, a thermometer, band-aids, scissors, gauze, and other necessary medical items.
Sign and Drive Coverage with Good Sam Roadside Assistance! Plans Starting at $49.95! Shop Now!
RVing Road Trip Tools and Survival
In addition to a basic first aid kit, you also want to pack emergency roadside tools and survival equipment. Prepare for any emergency you may encounter on the road or at your campsite. Make a list of important documents and essential items you may need to ensure you don't forget anything.
Keep important documents like your vehicle registration, driver's license, RV manual, roadside assistance information, campground reservations, and packing list in a waterproof folder for easy access and safe storage.
Load an RV toolbox with a hammer, pliers, a screwdriver, wrenches, jumper cables, a tire pressure gauge, a lightweight drill, vice grips, a socket set, and a utility knife. Include other useful items like duct tape, leveling blocks, a flashlight, extra batteries, a fireproof blanket, windshield breaker, seatbelt cutter, and other emergency tools.
In case your RV breaks down, you may need to set up reflective cones or flares to pull over and wait for emergency roadside assistance safely. Store emergency contacts in your phone and consider getting a satellite emergency notification device in case you need to call for help in the wilderness.
Campsite Supplies
The best part of having an RV is its comfort while camping. Although your RV will be your place to sleep and prepare light meals, you may still need to bring some supplies to set up around your campsite. You may decide to bring meals that are already made and ready to reheat.
If you have the space and power, you can bring a small appliance or two to help prepare food at your campsite. Make sure your RV has basic kitchen utensils and usable pots and pans. Bring dish soap, sponges, and trash bags for cleaning up after meals, and store leftovers in glass containers or reusable food wrap.
Set your campsite up with camping chairs and a small table to eat or play games on. You may also want to bring an outdoor rug for added comfort. Bring a deck of cards, interactive board games, and a good book to read for entertainment.
Bring plenty of headlamps and lanterns for walking around at night. Don't forget to pack the right outdoor gear for any activities you plan on doing while you are there. Be sure you have storage space for the equipment you may need for hiking, fishing, swimming, or canoeing.

The more prepared you are on your RV trip the more relaxed and stress-free you will feel during the trip. Following these helpful tips on what to pack for your RVing road trip will make you feel like a confident professional on your next RV adventure.