FTC Disclosure: I get commissions for purchases made through some of the links in this article for more information, visit our Advertising Disclosure Page.
RVing With Children Tips
Make sure your kids feel like they are part of the planning of the RVing adventure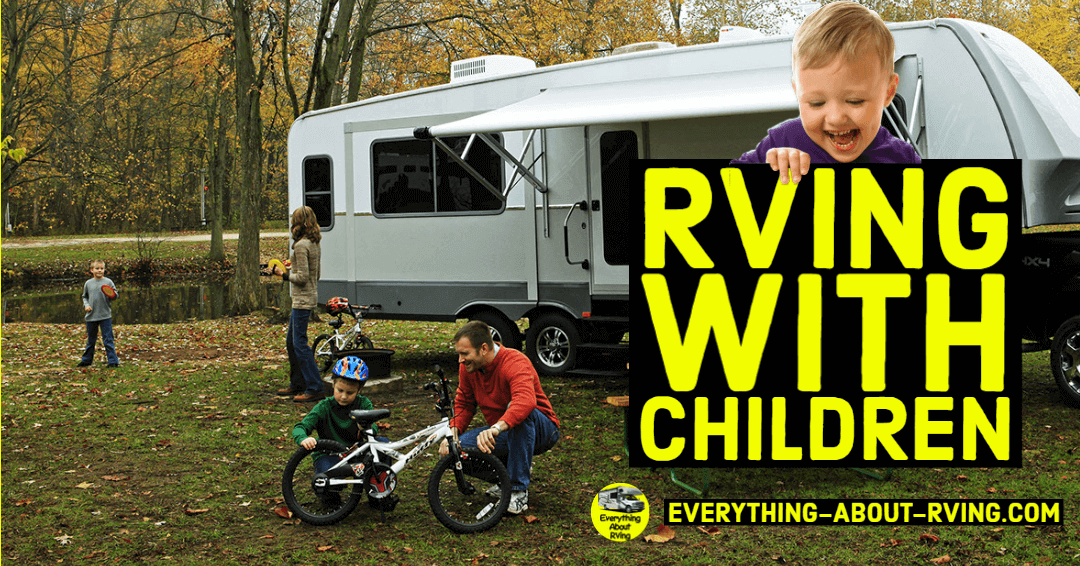 These tips will give you a head start on RVing with children
RVing with children is fun.  An RV road trip is a fantastic experience with lasting memories. However, it can be challenging if you don't have a good travel plan. Fortunately, A well planned  RVing adventure will make it awesome and comfortable for everyone including your children.
Share This Page
Good Sam members enjoy instant discounts on fuel. Join Today!
An RV is a recreational vehicle with living quarters specially designed for accommodation. It can either be a motorized RV or a trailer. RVs typically have amenities that include a bathroom, a kitchen and sleeping areas.
Involve the Children in Trip Planning
Before starting your RV trip, let the kids vote and give you options about where they want to visit and their expectations. It will make them feel a part of the adventure. Consider taking a local trip within your hometown if you have never had an RV trip before. This allows you to have a test run prior to going on longer trips.

Good Sam members enjoy instant discounts on fuel. Join Today!
Research on where you want to Visit
Before booking your campsite, make sure that there are plenty of kid-friendly things to do. It will help to keep the kids entertained.  Campsites are available everywhere, so you should gather enough information about the places you want to visit. A map like the one sold by Wanderlust Maps will be of great help in your planning. 
Before settling on a location, confirm that your destination is safe for your family. Make sure you have enough money for your trip.

Select the Right RV
Like most things, RVs comes in various sizes and shapes. If you don't own one, you may want to rent one, to see what kind of RV is going to be right for your particular lifestyle. Prior to renting an RV. review the requirements and rules for the campgrounds you plan to stay at.  Most RV Campgrounds have size limits.  Your RV adventure will go more smoothly if you do this type of planning in advance.
If size limits allow consider renting a larger RV.  This will give you extra space, which will serve as a playground for your children. Besides, having extra space is a good idea, especially if you decide to bring your family pets.
Pack Lightly
Storage space is limited even in the largest RVs, so packing too much is a big mistake. Make sure that you securely pack all items in your RVs cabinets and drawers, so they do not become safety hazards. Keeping this in mind, you still want to make sure you pack enough bedding, clothes and toiletries for the duration of your planned trip.

Have a Meal Plan
You can choose between preparing meals in the RV or carrying them from home. Ensure you have adequate drinks and water to help keep your kids hydrated throughout the trip. A meal plan will ensure you only take what is essential and convenient for the limited storage space. Pack favorite snacks for the kids, and it should be enough to last them between the stops.

Carry Appropriate Clothing
When packing, consider carrying suitable clothing for the kids. Young children get dirty faster, and you should have extra clothing for them. If it's a summertime trip, consider bringing hats for everyone and don't forget the sun screen. It will help keep the sun off the face and prevent sunburns. 
It is also a good idea to check what the weather is like in the areas that you are traveling to.  Even in the middle of summer you may find out that you need to bring some warmer clothes because night time temperatures can be cold.

Plan for games and fun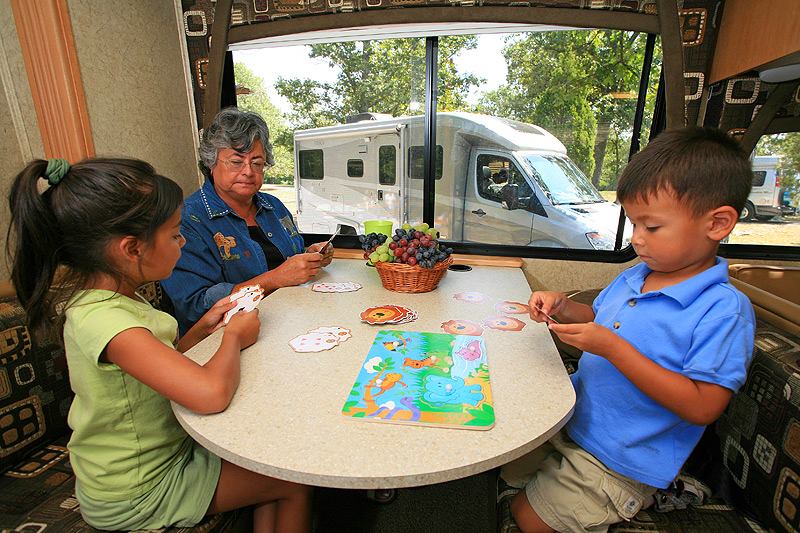 Make sure you bring some inside board games, just in case it starts raining and the kids cannot play outside. Also these types of games can keep them occupied and quiet when you are traveling to a new camping destination. If you have a motorhome, your children may be able to watch a video or play video games on TV while traveling down the road, so make sure that you bring some of their favorite video games and DVDs.
Conclusion
Planning an RV trip can be daunting, especially if you are bringing children with you for the first time, because you have to pack everything for everyone and it has to fit in a limited space. However, preparing early enough will ensure you carry all the necessities, particularly when travelling with the kids. 

RVing with children gives you the opportunity bond with them while experiencing some new family adventures. An RV is a home on wheels that allows you to sleep in the same bed every night regardless of where you are.  If it is well planned in advance an RV vacation can create unforgettable memories for you and your children.