FTC Disclosure: I get commissions for purchases made through some of the links in this article for more information, visit our Advertising Disclosure Page.
RVs Are Good for the Environment
"A large proportion of RVs - much higher than the proportion of houses - use solar power"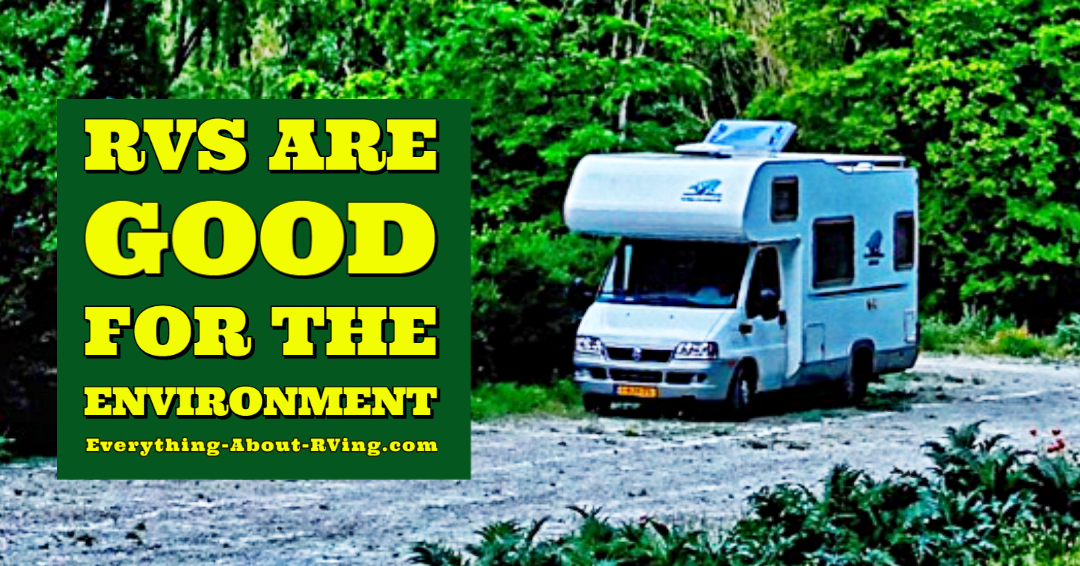 By Randall Eaton
The cheapest (and most environmentally friendly) way to travel is by RV:
A recent survey was taken of over 2,000 RVers. 78% thought RVing was the cheapest way to travel compared to renting a hotel room. High fuel prices are having an effect and most said they would take shorter trips, travel less miles and stay in places for longer times. 94% said, overall, they thought they used less energy living in an RV compared to living in a house.
Solar Power
A large proportion of RVs - much higher than the proportion of houses - use solar power and more and more RV manufacturers are incorporating energy saving features into their RVs.
The RVing industry is growing and changing
"The leading edge of the baby boom generation has just entered their prime retirement ages, and the number that retire will accelerate over the next decade," said Dr. Richard Curtin, Director of Surveys at the University of Michigan. "Moreover, the RV industry has been successful in attracting younger buyers." They also predict:
There will be a change toward more energy-efficient RVs
There will be a change toward more age-friendly features
There will be a change toward more upscale destination campgrounds
Getting better
Books Available by the Author of This Article Randall Eaton
RVs are rising in popularity. RV manufacturers however, have to compete not only for new business, but also repeat business, and for customers who will recommend their RV Lifestyle to friends and family. And so even though RVing is becoming more popular, it's becoming more about market share, competitiveness and continuous improvement. This will inevitably lead to better and better RVs, with more carefully chosen and more reliable components.
There is an increase in competitiveness in all manufacturing industries because of:
Improvements in manufacturing methods
Because of this, manufacturers are having to find new ways to design, produce, sell and deliver their products - and this can only benefit RVers and the environment in the long run.
Reducing Formaldehyde in RVs
There are many benefits to owning an RV but one problem the industry is having is reducing the amount of formaldehyde in the interior of RVs. Many RV manufacturers have realized that this is an issue and are starting to incorporate different types of materials that don't release formaldehyde gases. Everybody is talking about using, "GREEN" materials and the RV industry is starting to take notice. Newer models today release less formaldehyde gas as compared to older models. It's getting better but the industry still has a ways to go in this area.
About The Author
Author Randall Eaton has produced an easy to read buying guide that outlines basic steps any RV buyer can follow to save thousands.
We have just introduced a NEW SPECIAL OFFER for those that purchase our "RV Comparison Guide". Many of our readers have requested a buying guide that reveals how to save thousands when negotiating with an RV dealer.
Normally a buying guide containing this type of information would cost $29.95 or more but for a limited time we are making this available for FREE!
Learn more about RV's and Randal Eaton at http://www.jrconsumer.com. Learn which RV companies that build motorhomes, 5th wheels and travel trailers received top ratings in their categories. Learn which models and brands are the most popular within each RV manufacturer.
Take a look at the video below to see how author Randall Eaton gathers the needed data to author his books.
Do you have any suggestions or comments on this topic? You can add them to this page by using the comments section located below.
Return to the RV Lifestyle Articles page from the RVs Are Good for the Environment page