Should I fix my old analog TV or buy a new LCD TV?
by Anonymous
()
We recently bought a used 2005 Jamboree GT. The problem is that the 27" TV has no sound so I would need to get it fixed. Total cost $215, $65 of this has already been paid to have it looked at(so this leaves $150).

I have a converter box (not hooked in yet). But if I go with a new TV will I have to scan for new channels every time I turn it on and can I use the old universal remote control for everything? Or would I be better off going with a new TV? I have a crank up Winegard antenna. I saw from your site about the "wingman
". The RV has a Panasonic DVD Home Theater Sound System
with all the bells and whistles which I think I have caught on to for the most part. So what do you think? New TV or get the old analog fixed? We don't watch a lot of TV at home and probably not a lot traveling.

Thanks

ANSWER
I may have good news for you; you may not have to buy a new
Digital LCD TV
or even spend the extra money to fix the sound on your old TV. Since you have a DTV Converter Box and a Home Theater Sound System, you may be able to use the converter box and the
Home Theater System
to provide the sound for the TV. The only extra supplies you will need are some
RCA Patch Cords
.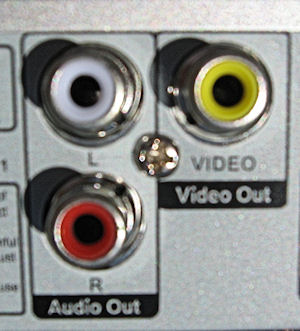 Let's get started first look at the back of your Digital TV Converter box and see if it has Audio and Video Out RCA type connections. The
Zinwell ZAT-970A Digital to Analog TV Converter Box
(my personal recommendation for RVers) has these connections and is also very highly rated by its owners.
If your DTV Converter Box has these output jacks then this just might work. If your DTV Converter Box does not have these jacks then it will not work. Of course you could buy a DTV Converter box that does have these jacks like the Zinwell I mentioned above and it will still cost less than fixing your existing TV.
The next step is to look at the back of your TV and see if it has a video in jack, if it does great!! Even if it doesn't it still may work. Follow the procedures below depending on whether your TV has a Video in jack or not.
TV With Video In Jack
1. Plug RCA patch cord into Video Out Jack on DTV Converter Box and plug other end into the video in port on the TV.
2. Now plug RCA patch cords into the left and right sound out jacks on the DTV Converter Box and plug the other end into the TV or Aux sound in jacks on your home theater system.
3.
Turn on your DTV Converter Box and then turn on your TV and use the remote control to choose the the input source you plugged your video into on the TV. Depending on the make or model of the TV the source could be called Input 1 or 2, Aux 1 or 2, video 1 or 2, etc.
Now go into the setup menu of the DTV converter box and scan for TV channels. Once you have scanned for channels you do not have to rescan unless you have moved your RV to a different location. This also holds true for TVs equipped with DTV Tuners. I do recommend rescanning about every two or three months just to see if new channels have become available. You should now have a picture on the TV. You will use the DTV converter box remote to change the channels
4. Now for the sound; with the DTV Converter Box turned on; you need to turn on the home theater system and set it to the source you plugged your audio into. Adjust the volume level on your DTV Converter Box to about midway (if equipped with volume control) and then use the home theater system to control the sound from then on.
TV Without Video In Jack
Follow all the steps above but use a coax cable to get the video to your TV. You need to setup the DTV Converter Box to send the TV signal to either channel 3 or 4 on your TV. Then tune your TV to the channel you chose on the DTV Converter Box. Now your video should be showing on the TV and the sound should be coming from your Home Theater System (this may not work with certain DTV converter boxes, you will only know for sure when you try it).
Now as far as your question about your old universal remote being able to control the DTV Converter Box, TV, etc. I do not know if it will or not. What I suggest you do is go to the website of the universal remote manufacturer and see if they have updated codes for DTV Converter boxes. If yours will not work there are all kinds of
Universal Remote Conrols
available in all price ranges that will do the job, you just have to find the one that works for you.
For more information on Digital TV and RVing take a look at the answers I gave to the questions listed below:
Does A Winegard Crank Up RV Antenna Work With A Digital TV (DTV) Converter Box?
How Do I Install An LCD TV In My RV?
Should I Put A Plasma or LCD TV In My RV?
We Want To Watch TV In Our RV Going Down The Road Can We Do That?
Hopefully all of this information has been helpful to you.
Happy RVing
RVing Al