FTC Disclosure: I get commissions for purchases made through some of the links in this article For more information, visit our Advertising Disclosure Page.
4 Ways to Spruce Up Your RV
4 Ways to Spruce Up Your RV: There are numerous RV decoration options to spruce up your RV that allow you to express your personality
Almost all stock RV décor is dreary. Manufacturers of RVs and travel trailers alike like to choose beige, brown, and gray as their primary colors. They do this to prevent offending people, which is something that bolder décor choices can do. The trouble is that the ultimate result is, at best, unattractive, and in many cases, plain ugly.
If you plan to live in your RV, having a drab home-on-wheels isn't ideal—and, to be honest, even those who simply use their rigs on weekends probably want something a little more appealing to the eye. Thankfully, there is something that can be done. There are numerous RV decoration options that allow you to express your personality while also providing a welcoming retreat at the end of a long day.
Whether you want something quick and easy, a total revamp, or something in between, here some tips to get you started. 

1. Theme It Up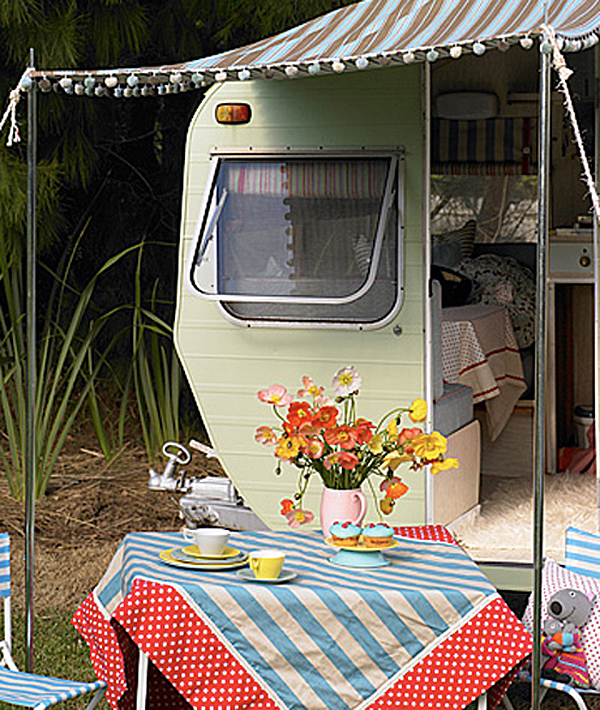 After choosing the basic design of your RV, like mattress sizes and kitchen layouts, you may decide to give your little home-on-wheels a theme. Because the RV is so small, this look may be carried throughout the vehicle with a matching bedspread in the bedroom or a color-coordinated shower curtain in the bathroom.
If you're unsure where to start with your makeover, you could choose a theme that you like. For example, if you like the 1950s, you could do a retro theme. Even if you like forests, you can decorate your RV in that theme. Let your imagination run wild

2. Decorate the Walls
The walls of the vast majority of rigs have a simple, uninteresting brown or gray tint. This is good, although it gets a bit boring after a while.

Why not add some wall décor to liven things up a little? When it comes to wall décor, there are many alternatives, and many of them are incredibly simple and inexpensive DIY projects, so there's no reason to put them off any longer.

Decoration ideas include maps, posters, pennants, or keep it personal and put trip photos of yourself up. 

Join the Good Sam Club Today! The world's largest RV and Outdoor Community Club.
3. Dress Up the Bathroom
If you're going to be remodeling your camper's living space, you might as well go ahead and update the bathroom as well. Freshening up the bathroom could be one of the simplest ways to update the look of your RV.
So, what can you do to give your RV bathroom a new look? Replacing the shower curtain, laying down a matching rug, and adding a charming soap dispenser and/or toothbrush holder is all that's required.

You can even create a backsplash below the sink using peel-and-stick tiles from any hardware store if you want (this can also be done in the kitchen). It will make a significant difference and will not demand significant time or financial investment.

Shop Camping World Products on Sale Now!
4. Paint It
Painting the walls is perhaps the most effective of all the RV decorating ideas and one of the most noticeable. A few coats of paint will undoubtedly do the trick if you want to give your RV a new look. You can brighten the space, add color, express your personality, and tidy everything up in step.

Painting RV walls might be difficult, however. Because the walls in motorhomes and travel trailers are so smooth, sanding is required at all times, no matter what primer or paint you choose. After you've thoroughly sanded everything, apply a coat or two of primer before applying two or three coats of paint.

All of those stages, combined with the strange nooks and crannies found in an RV, may make for a lengthy project, so plan on devoting a significant amount of time to it.

Having a fun and visually appealing space to live in while on the road is essential, especially if you are a full-time RVer. You enjoy your time in your RV more if it's personalized, and with a few easy and creative projects, you can be rolling down the road in style. 

Get Your Article Published on Everything About RVing
If you have written an article about RVing, Camping or the Great Outdoors and you would like us to publish it on Everything-About-RVing.com, please visit our
Submit An Article Page.
Do you have any suggestions or comments on this topic?  You can add them to this page by using the comments section located near the bottom of this page.
LEARN HOW TO RUN 2 RV A/Cs ON A 30 AMP CONNECTION

Recommended Reading For You
Over 1,500,000 successful roadside rescues—Good Sam RV Emergency Road Service
Good Sam Travel Assist: Emergency coverage for you, your family, and pets. Plans Starting at $59.99 Shop Now!