FTC Disclosure: I get commissions for purchases made through some of the links in this article For more information, visit our Advertising Disclosure Page.
Don't Miss Out! All Good Sam Roadside Assistance Plans Are 50% Off! Learn More!
The Tent Trailer is a Tent With Class
"The Tent Trailer is how you can rough it in style"
By Alan Wiener

Editor of Everything About RVing
Is a Tent Trailer AKA Camping Trailer the right RV for you? 

See if this description fits you.  You like traditional tent camping but:
1. When you are setting up your tent you realize that the center pole that holds up the whole tent is sitting on the floor of your garage at home.
2.  Your sleeping bag is not as soft as it used to be and the air matress you brought to soften it up no longer holds air
3.  Your tired of all the bugs and all of the other creepy crawly creatures climbing into your sleeping bag trying to snuggle up with you at night.

4.  All the dirt from outside the tent is now inside the tent and inside your sleeping bag.
5.  The scrambled eggs you cooked outside have a peculiar crunchy texture, sort of like chewing on sand.
6.  The partner that you camp with snores so loud that the Park Ranger comes to your tent to remind you about the 10:00 PM noise curfew.

7.  After you break down camp you realize that the tent no longer fits back in the vehicle you brought it in.
If this describes you, then you are ready for a Tent Trailer.  It will solve 6 of the 7 problems.  To solve the problem of the snorer, you may need to leave that person home the next time you go camping.
What is a Tent/Camping Trailer?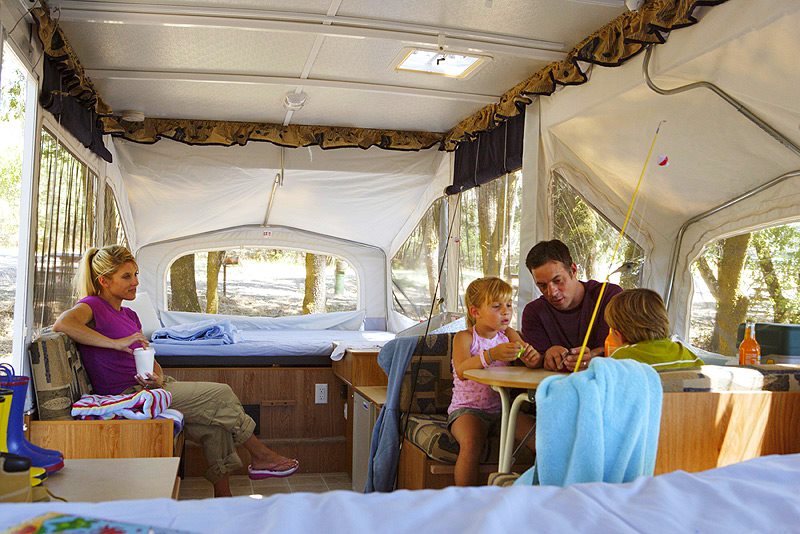 A Tent Trailer is a small lightweight foldable trailer that can virtually be towed by any vehicle.  It is also known as a Camping Trailer, Pop Up Trailer or Folding Trailer. Although, it is the most inexpensive of the RVs, it still comes with some of the amenities that you would find in a more expensive trailer.  
Depending on the model of Folding Trailer, you could have a propane system, a 120 volt electrical system, a fresh water and waste water tank.  They are also equipped with a small stove, furnace, sink, refrigerator or ice box (uses blocks of ice to keep food cold).  
Some models also include porta-potties (this is not your traditional bathroom). Depending on model, you can sleep up to 8 people. Some models even have king size beds.
The roof of the Pop Up Trailer is usually solid, the walls are made of canvas, some of the more expensive models have composite or fiberglass walls. These trailers have one thing in common, when you are done using them they all fold down to become a low profile trailer. 
The bottom line is that a Folding Trailer is ideal for individuals or families that are looking to move out of their tents into an RV. 
Tent Trailer PROS and CONS
PROS
Fuel economy can be excellent depending on tow vehicle used to tow it
The tow vehicle can be used for running errands and local sightseeing
Very easy to maneuver, can be towed to areas that larger trailers can't go
DMV registration costs less than most RVs
Requires very little storage space when not in use
Easier to setup than a tent (actually anything is easier than setting up a tent)
Don't Miss Out! All Good Sam Roadside Assistance Plans Are 50% Off! Learn More!
CONS
Cannot use trailer facilities while moving (remember? it folds down)
Very little storage space
Not insulated for extreme heat or cold (but, still better than a tent)
The bottom line is that regardless of what type of RV you choose you won't regret your decision.  So what are you waiting for?  Get an RV and go out camping and start creating some wonderful family camping memories.
Get Your Article Published on Everything About RVing
If you have written an article about RVing, Camping or the Great Outdoors and you would like us to publish it on Everything-About-RVing.com, please visit our
Submit An Article Page.
Do you have any suggestions or comments on this topic?  You can add them to this page by using the comments section located near the bottom of this page.
LEARN HOW TO RUN 2 RV A/Cs ON A 30 AMP CONNECTION

Recommended Reading For You
Over 1,500,000 successful roadside rescues—Good Sam RV Emergency Road Service
Good Sam Extended Service Plan is mechanical breakdown insurance for your RV, 5th Wheel, Trailer, and Tow Vehicle! FREE Quote