FTC Disclosure: I get commissions for purchases made through some of the links in this article for more information, visit our Advertising Disclosure Page.
The Truck Camper Is the Go Anywhere Rv
The Truck Camper

Is the Go Anywhere RV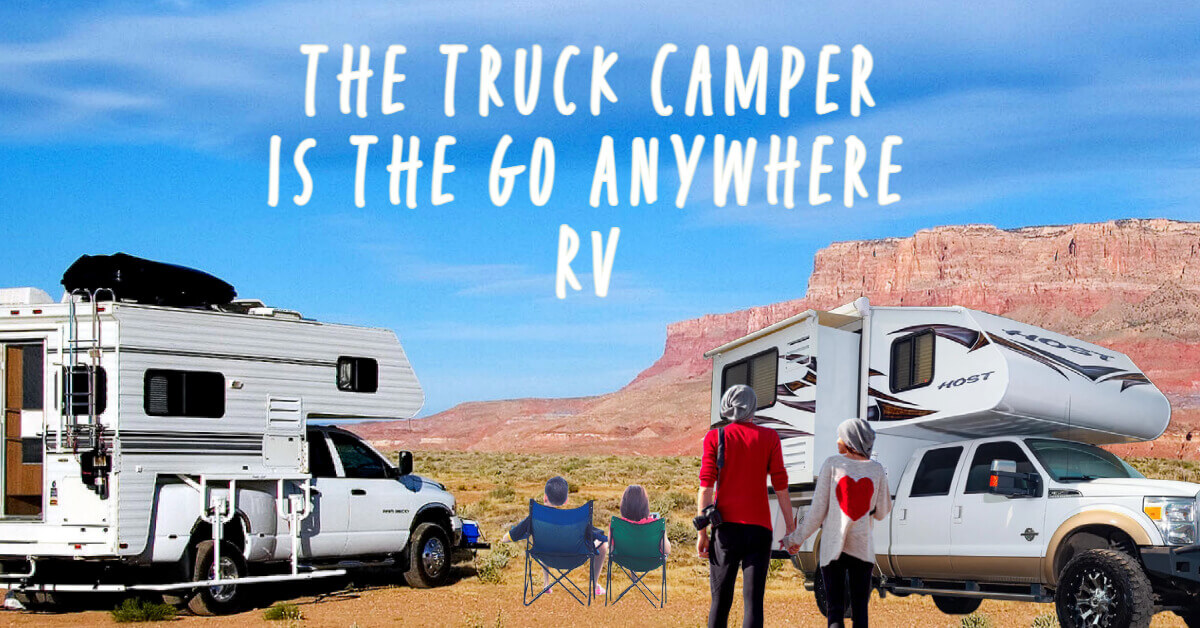 The Truck Camper is the go anywhere RV, because it is a little cabin that goes on the back of your truck
A Truck Camper is a little Cabin that you load in the back of your truck. That is why the Truck Camper is the go anywhere RV.  If a regular RV is too large for your needs or you go into places that no other RV can go, then this RV is for you.
These are also known as Pickup Campers or Slide in Campers.  Put one of these on your 4-wheel drive pickup and you now have an ATHOW (All Terrain House on wheels).
So, if you're a hunter or fisherman and you have your special secret spots that no one knows about (you hope) in the middle of the wilderness this will get you there.
Just because your in the middle of nowhere doesn't mean you have to give up the luxuries.  Depending on the model, you can get Truck Campers that have all the comforts of home such as: TV, stove, refrigerator, sink, toilet, 120-volt electrical system, freshwater tank, grey water tank, black water tank, heating and air conditioning.  Some options you can get are Satellite TV Antennas, satellite Internet, shower facilities and awnings (now you are really roughing it).  Depending on the model you can sleep up to 7 people in a camper.

Another recent option you can get on campers are room slides (just like on the big RVs),  There are campers available now, that have 3 room slides, that's right 3 room slides (they could almost have as much room as your first apartment).  On some of these multi room slide campers, you no longer enter through a rear door, they have created side-entry doors.

The Truck Camper Has Two Sub-Types
The Toy Hauler Camper
Pictured Above the Exo-Hauler Toy Hauler Truck Camper
Yes, you read it right, they now make campers capable of hauling some of your smaller toys.  If your motto is "have toys will travel" then this camper is for you.  A Toy Hauler Camper is a Camper that has been designed to carry your toys such as quads, dirt bikes or a golf cart (why you would need a golf cart camping in the wilderness is beyond us, but to each their own). 

Some of these campers have  room for up to two ATVs or four dirt bikes.  They work a bit differently than other Toy Haulers in that the camper must be off of the truck so you can load your toys at ground level, then when the toys are inside, the camper gets loaded back onto your pickup with the use of electric or hydraulic jacks.
Once you are at your camp site you must reverse the process to remove all your toys, these mini garages can then be converted to usable living space.
Good Sam Club members enjoy instant discounts on fuel. Join Today!
The Folding Popup Truck Camper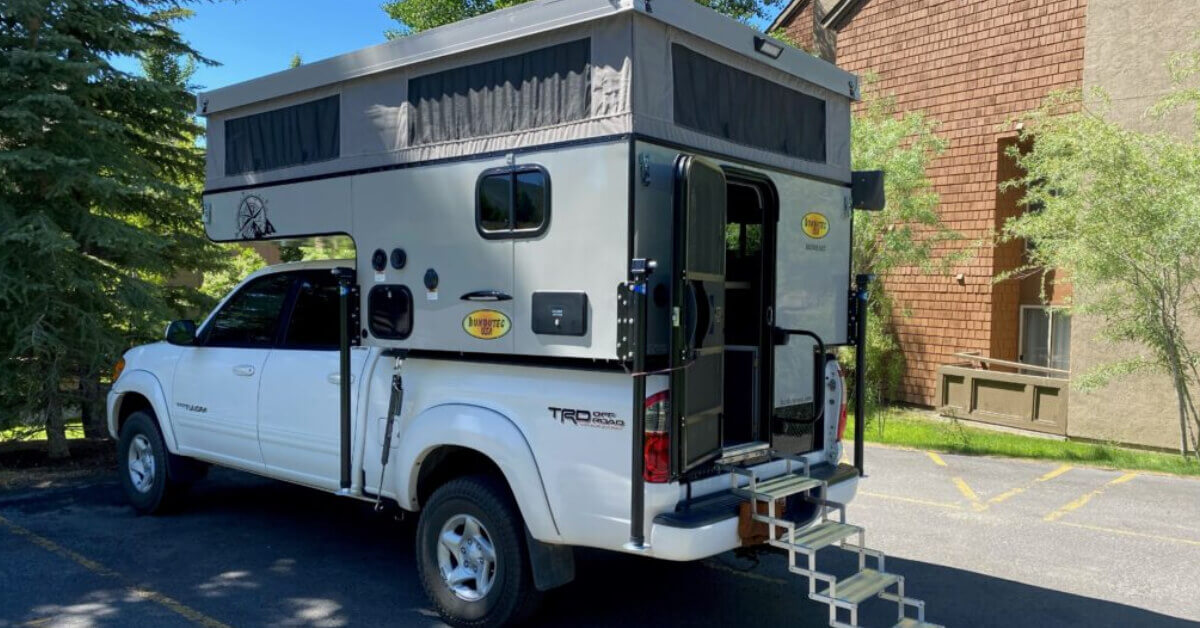 Pictured Above the BunduTecUSA Foldable Popup Camper
A Folding Popup Camper is a specially designed camper that has a fold down or collapsible roof. When the roof is in the down position it provides a lower profile with less wind resistance than a normal camper. This lower profile can result in better fuel mileage. Once you are at the campsite the roof can be popped up to provide sufficient headroom.
Truck Camper PROS and CONS
Before we get to the Pros & Cons of owning a Truck Camper, you need to be aware that just because you can go anywhere doesn't mean you have to give up the livability and versatility that a Truck Camper provides. The video below will show you how versatile the new generation of Truck Campers are. 
PROS
Can tow a boat or trailer (see video above)
More maneuverable than other larger recreational vehicles.
Requires very little storage space when not in use.
Sign and Drive Coverage with Good Sam Roadside Assistance! Plans Starting at $49.95! Shop Now!
CONS
Depending on the size of the Camper, you may have to beef up the suspension of your truck.
Cannot use Camper facilities while going down the road.
Can become unstable going down the road in moderate winds.
Conclusion
Now that you know why the Truck Camper is the go anywhere RV. It will help you decide if a Truck Camper is the right RV for your Lifestyle. So go out there and get your Camper and hit the road with your family and enjoy your next great RV Adventure. Happy RVing.
For more information on the types of RVs available you should visit our Types Of RVs Page.
Do you have any suggestions or comments on this topic? You can add them to this page by using the comments section located below.