FTC Disclosure: I get commissions for purchases made through some of the links in this article for more information, visit our Advertising Disclosure Page.
 Tips for RVing with Kids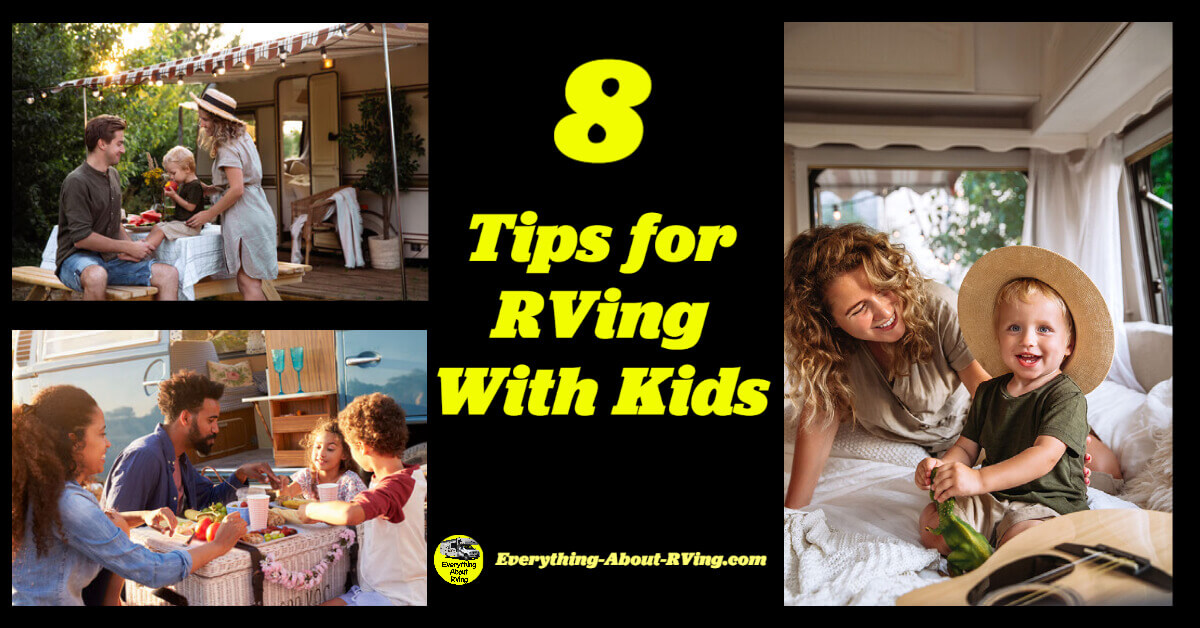 These 8 tips for RVing with kids make the experience better
By Pearl Holland
Check out the top 8 tips for RVing with kids and make the experience worthwhile with some exciting ideas. RVing with kids is a terrific way to create enduring family experiences. It always makes life more enjoyable, from discovering new things to the joy of modest pleasures like stopping for ice cream or taking in that strange attraction you just happened to stumble into. There are various activities for kids that can facilitate great fun and learning.
Top 8 Tips for RVing with kids are:
1. Discover the Ideal RV
RVs come in various styles; from ones you can drive to those that require a vehicle to tow them. If you don't already have one, find out what size and model of RV will best suit your family's needs. Before renting or even purchasing one, it is crucial to check how many people an RV can sleep in it.
Finding an RV with a sizable kitchen was also high on our list because we enjoy cooking. While finding an RV with a sizable living room and dining area is ideal, remember that since you'll be spending a lot of time outdoors, indoor space might not be as important as you think.
2. Establish Goals
Setting goals for your next vacation is crucial. Preparing kids for RVing requires some effort. So that they have some structure while traveling, the kids need to be aware of all the expectations and restrictions. Discuss the rules regarding using electronics, other gadgets, and screen time. Also, discuss who will be in charge of which chores and how much assistance you anticipate with camp setup and breakdown.
If your kids have never gone RVing before, it's also crucial to explain proper behavior in the campground to them. There isn't enough room for everyone in an RV park. Your children must not stray into other people's campsites.
3. Define Personal Space Clearly
As some RVs can be small, traveling with children requires addressing and respecting personal space. You should go over where everyone will be sleeping before your trip and highlight that everyone in the family should appreciate that place when it's time to sleep. You can also establish guidelines around bathroom usage.
Since most RVs only have one bathroom, creating a schedule that ensures everyone has equal time can be beneficial. As part of defining personal space, parents should also let their kids know who gets to use the restroom first in the morning and always knock before entering any location inside the RV.
4. Maintain Order
No matter where you are, being organized is essential for children. This is remarkably accurate when discussing your RV plans. No matter how big your RV is, there is a limited amount of room, so it's important to designate areas for the kids to put their toys, books, and devices.
Ensure kids know their belongings must always go back in the same spot while not in use. Otherwise, your RV could quickly become messy. Establish a cleaning and tidying plan so everyone develops the habit of keeping the RV clean.
5. Make a Schedule for Cleaning
Create a cleaning plan that includes both you and the kids. This is a fantastic approach to teaching them about the RV while establishing a spirit of cooperation and a solid work ethic.
Older kids may and ought to help with the regular cleaning as well. It saves time and teaches children the importance of looking out for the family. They can assist with dumping the greywater tanks, putting chemicals in the blackwater tank, and doing other RV maintenance jobs if they are old enough.
Sign and Drive Coverage with Good Sam Roadside Assistance! Plans Starting at $49.95! Shop Now!
6. Plan Your Stops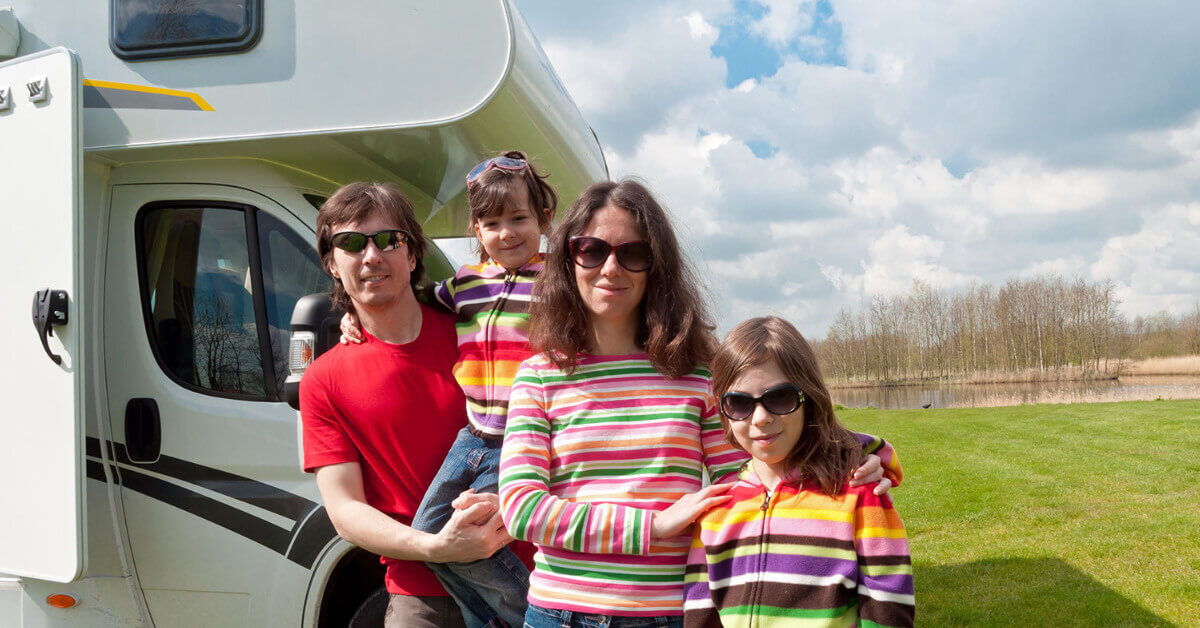 RVing provides you with some freedom, Research locations that offer convenient stops for your rig before your trip. Truck stops, service stations, and even Walmart parking lots are excellent locations.
You can pause, relax, eat, refuel, and pick up any necessities that may have slipped your mind while packing. Making a stop map is quite helpful. It provides you peace of mind for the remainder of the journey to know where you intend to stop for gas, food, and overnight parking.
7. Select the Best RV Park
Choosing a suitable RV park is one of the most crucial aspects of family RVing. If you love spending time in nature, pick a state or RV park with many trees and hiking paths adjacent to it.
Choose an RV campground with amenities like a pool, a lazy river, a playground, Wi-Fi, etc., if you'd prefer a more glamping-style experience. Find out which of a few can accommodate your family's size and travel requirements by giving them a call in advance.
8. Shorter Travel Days are the Best
The excitement of the open road appeals to the whole family, but perhaps to the grownups a little more so. Kids, especially younger children, need time to unwind. Remember that sitting still for an extended period can be tiring for a toddler.
If you have older children, try to limit trip times to 5 or 6 hours; if you have toddlers, restrict them to 3 to 4 hours. Try to travel when they sleep so they won't worry about the long drive.
Conclusion
The most crucial aspect of the trip with your kids is having fun together, so don't forget that. Allow the children to be children for a while and be in awe of how they perceive the world. You can make the most of it by following the tips given above.
About The Author
Pearl Holland is a professional member of the Perfect Essay Writing team. She crafts quality-assured essays on diverse topics. Her dedication to work and creative potential is genuinely inspiring.