FTC Disclosure: I get commissions for purchases made through some of the links in this article for more information, visit our Advertising Disclosure Page.
Towing a Travel Trailer With a Tesla Model X
Towing a Travel Trailer with a Tesla Model X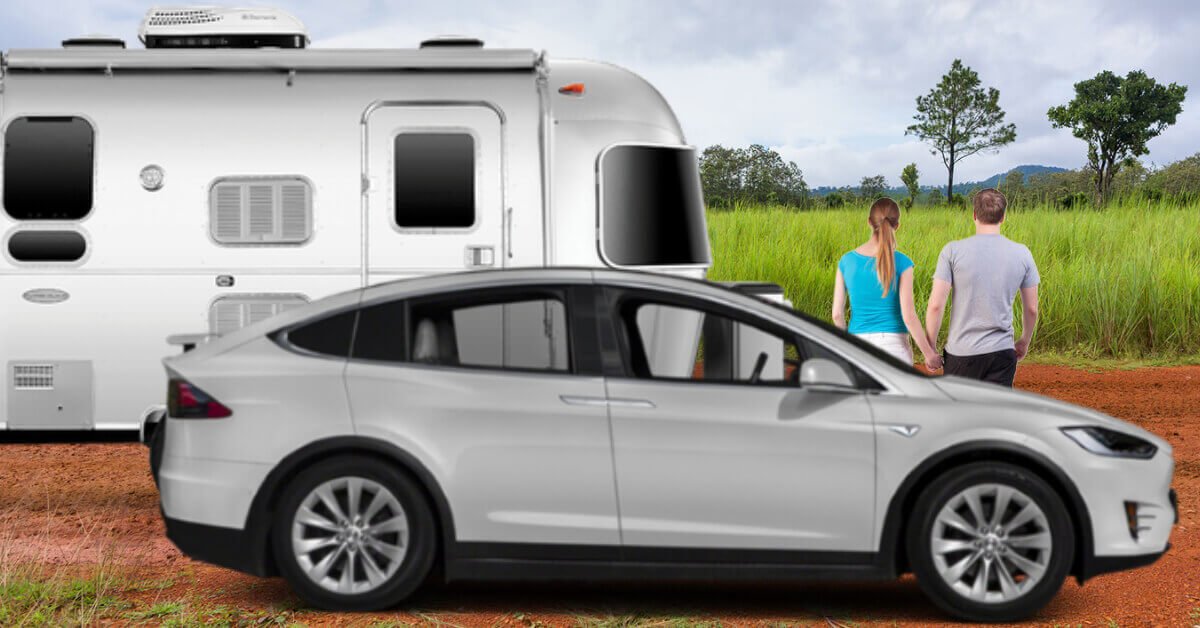 By Sabbir Ahmed 
Here is the information you need to know about towing a travel trailer with a Tesla Model X
Tesla Model X is one of the best EVs by Tesla, no doubt. But it is also the first EV introduced to the users with an official tow rating from the manufacturer. Here is what you need to know about towing a Travel Trailer with a Tesla Model X.
Share This Page
Save 10% on campground fees when you become a Good Sam member Today!
Towing a Travel Trailer is a big deal, and a Tesla Model X can tow a travel trailer of 3500 lbs. to 5000 lbs. depending on the wheel size.
Now, the models also come with the tow package and tow mode- learn more about it if you plan to tow your Travel Trailer with your Tesla Electric Vehicle (EV)!
How Much Can a Tesla Model X Pull?
When it comes to pulling a travel trailer, a lot of factors come into play. A Tesla Model X has a towing capacity of 5,000 pounds and 500 pounds of tongue weight. This towing capacity is for the Model X with 20" wheels.
However, the towing capacity for the 22" wheels will go down to 3500 lbs. However, it is still a lot. And among their electric vehicle models, Model X has the maximum towing capacity.
In short, this EV will work harder and use more energy to pull your camper if the load capacity meets the requirements.
It is a powerful tow vehicle if you compare the capacity of the other electric cars. If you compare the towing capacity of the Ford F-150 with it, Tesla can tow more weight.
Tesla EVs come with heavy batteries and as a result, they have a low center of gravity. This makes the Tesla Model X a good vehicle for pulling other vehicles.

Tesla Model X Pulling a Travel Trailer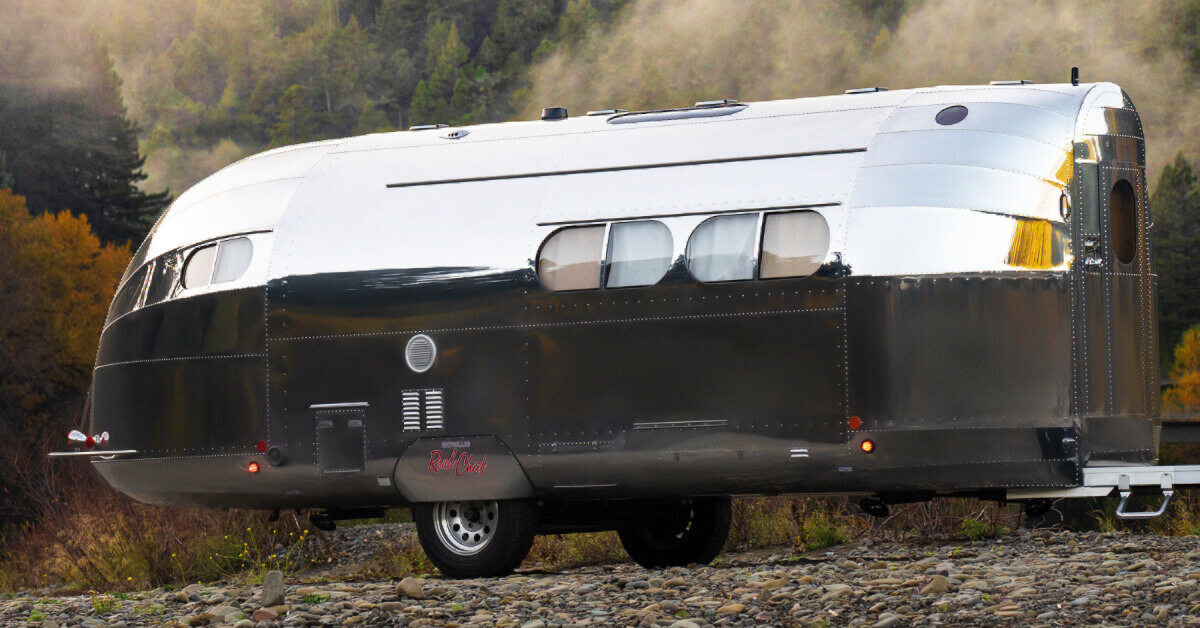 You already know that Tesla Model X can tow a good amount of weight, 5,000 pounds. But what about a travel trailer? Can this model pull the camper?
To answer the question, a prominent brand of luxury RV maker, Bowlus, came in. Bowlus tested their Terra Firma Travel Trailer (pictured above) with the Model X by Tesla to learn about the towing capability of the EV.
Terra Firma RV is a luxury RV with a 3200-pound trailer and a 27-foot-long (8.25 Meters) body. This test proves the towing range of the Tesla Model X.
According to the test, while towing the Terra Firma, the Tesla Model X attained 71% of the estimated EPA range. In this situation, the Tesla Model X EV was fully charged.
The Tesla SUV drove 235 miles towing the travel trailer. The full-charge range of the Tesla is 330 miles.
In this range test, the EPA's high fuel economy test was mimicked.
The legal speed limit while towing is also maintained here according to California (55 mph.) and maintaining Nevada's highway speed (55-60 mph).
Also, the speed limit was maintained while driving on secondary roads in windy and uphill situations. The vehicle was also driven at slow
speeds.
The outside air temperature was between 65-70 degrees Fahrenheit during the test. Also, there was no air conditioning throughout the process; only fan air used.
The heated seats and steering wheel functions by Tesla were used for the winter or cold mornings.
In this process, Tesla Model X towed the travel trailer and traveled 930 miles. There was a wind advisory, and the sea level to 4730-foot climb is included in this test.
So, according to the test, you can easily understand that the Tesla Model X can tow a travel trailer.
It is common nowadays to see the Model X towing Travel Trailers.

How a Tesla Model X Rides when Towing a Travel Trailer
The Tesla X test vehicle was equipped with a towing package. These include the required wiring and the Trailer Mode Software.
If you have ever been an owner of a Tesla, you already know that it gives you a smooth ride with less noise.
The same goes for the Model X; it rides very smoothly and works this way even when towing a travel trailer.
Since a Tesla doesn't come with an internal combustion engine, the noise connected to the internal combustion engine is missing. Model X provides instant torque so that the towing experience will be fun.
No worries if you are towing a travel trailer with your Tesla Model X, the ride will be less bumpy and quiet.

Towing a Travel Trailer with a Tesla Model X is easy.
Yes, we agree that you can tow a trailer camper with your Tesla Model X and do it like a pro. Many travel trailers can be towed with it if it meets the towing capacity standard.
Though a Tesla Model X can pull a travel trailer, the process will be more challenging than just driving around.
Towing a camper will take much more than you do on regular driving sessions. The travel trailer can reduce the range of your EV depending on the hills and the wind.
You will need to charge your Tesla more often than usual while towing a Travel Trailer. You can use the Tesla Range Optimizer app.
This app will help maximize the distance between the charges and give you more driving time within the charge range you already have in your EV.

Conclusion
Tesla isn't only a vehicle for driving around but also will help you in your towing facilities- it has become an excellent vehicle to tow a travel trailer.
The Model X has the highest towing capacity among all the other Tesla models.  If you do a lot of RVing in your travel trailer, this is the ideal tow vehicle for you.
But remember that the specs mentioned above about towing a travel trailer with a Tesla Model X are for the current generation variants of the Tesla Model X.
About The Author
My name is Sabbir, and I am the founder of TeslaTale, a blog dedicated solely to the revolutionary brand Tesla.  I am a devoted Tesla car enthusiast.  I started this blog to share my admiration and knowledge of the brand with others.  From the latest news and product releases, I strive to provide readers with in-depth coverage of all things Tesla.  Follow my journey as I dive deep into the world of Tesla and discover all it has to offer.