FTC Disclosure: I get commissions for purchases made through some of the links in this article for more information, visit our Advertising Disclosure Page.
Most Useful Tech Gadgets for Your RV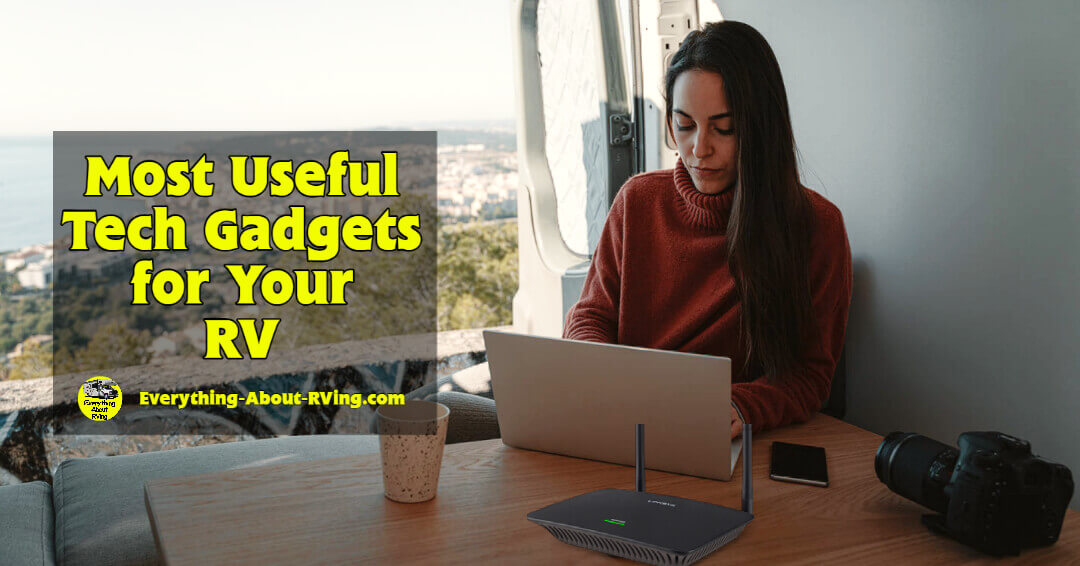 By Sandra Larson
Here are some of the most useful tech gadgets for your RV
In this article, we are going to discuss several of the most useful tech gadgets that can level up your RV travel experience. Let's get started.

Do you enjoy an active lifestyle and dream about traveling across the entire country or even continent? You must be a fan of RVing then. What else could sound more adventurous than having an opportunity to drive anywhere you want in the comfort of your own place?
Some people find such trips romantic, others have mixed feelings because of the difference in expectations and reality. However, The RV industry is growing, making such trips even more convenient for devoted RV travelers.

Back-Up Camera
RV Back-Up Camera
An RV back up camera should be the first gadget purchased by you. Usually, the size of the RV makes it hard for drivers to back in. The maneuver usually takes a lot of time or even requires the assistance of other people. However, with this camera, you will not need any external help. RV back up camera will be enough for you to flawlessly complete any maneuver. 

Portable Solar Panel
Portable Solar Panel
A solar panel is among the best RV gadgets for your perfect trip. It is really a sound investment because it can save you lots of money while you are traveling. With it, you do not have to stop for hookups from time to time. Also, it is a perfect replacement for generators that are not acceptable in some places. A solar panel makes no noise and generates energy faster than any other device.

RV Sewer Tank Rinser
RV Sewer Tank Rinser
A clogged black water holding tank can spoil your entire RV trip. However, some accessories can help you keep the holding tank from clogging up.  Sewer tank rinser is one of the best RV gadgets for this. It can help you rinse the main pipe so that the tank is clean again and ready for a new trip.
Drinking Water Filter
RV Drinking Water Filter
Given the fact that all humans depend on water, its quality should always be the top priority. Long-haul or short-haul RV trips are not an exception. Thus, to make sure that you drink pure water, it is wise to buy a drinking water filter that ensures the water you drink is pure.

Wi-Fi Hotspot and/or Signal Booster
RV WiFi Extender
Even if your goal is to run far away from civilization closer to nature, you will still need a connection to the Internet. You would inevitably want to Google some directions or information. Also, you may want to watch your favorite show or communicate with friends. Therefore, having your own Wi-Fi hotspot is one of the useful tech gadgets that makes sense. 

If you are an experienced RV traveler, you may sometimes choose to stay in places where they have WiFi but the signal is pretty low. You can purchase a signal booster that can help you boost the signal up to 32 times, which would also be useful for your Wi-Fi speed

Dash Cam

A Dash cam is one of the best RV accessories that you can invest your money in. Just think about it: you are pulling your home with you for quite a long distance. Accidents can happen every step of the way, and you need to be protected. Such small devices will record everything you, as a driver, see in front. Sometimes, such videos become extremely helpful in filing insurance claims. However, it is not about accidents only. These cameras sometimes record stunning videos of the places you have been to.

Finally
Before going on your next RV adventure, make sure you upgrade your home on  wheels. It is easy to help yourself maximize the comfort of your trip with the useful tech gadgets available on the market. Therefore, carefully analyze what useful tech gadgets you really need to make your adventure comfortable and memorable, and do not ever hesitate to invest in such things.

About The Author
Sandra Larson is a freelance writer with a personal blog at Elizabeth an Authors. She is an inspired RV adventurer with several years of experience doing such trips. In this article, Sandra shares some practical advice on what gadgets can help newbies and experienced travelers get the most of their RV trip.