We Are Looking At A Used RV That Has A Water Leak, What Should We Do?
by Susan
(Washington)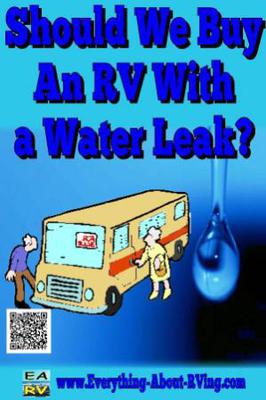 We Are Looking At A Used RV That Has A Water Leak, What Should We Do?
We are thinking on buying a 1988 Fleetwood motor home in the back there is a leak on the top side seal and the outside panel is bowed and inside wall is showing damage from wetness but the ceiling is ok. Would we just have to fix the leak from the outside top seam or from inside also.

ANSWER Thanks for submitting your question on our free Ask An RV Question Page.

Let me answer your initial question first and then I am going to have some other suggestions for you. You should be able to fix the leak itself from the outside of the RV. First you have to determine where the leak is coming from. Just because, you do not see any damage to the ceiling does not mean that the leak is not coming from the roof.

Please review the suggestions I have given another one of our visitors on how to locate a leak in an RV. What Would Cause A Bulge On The Side Wall Of Our RV? This leak should be repaired as quickly as possible to prevent further damage to the RV.


Over 1,500,000 successful roadside rescues—Good Sam RV Emergency Road Service
You also state that the outside panel, and inside wall of the RV shows damage from the leak. This is a very bad sign. It indicates that this leak is not brand new. It sounds like the leak has caused structural damage to the wall of the RV. The interior wall of the RV needs to be opened up and the structure needs to inspected. I am sure that the current owners of the RV are not going to be real happy about having the wall pulled apart.
I would not buy an RV that had this type of damage unless I knew for a fact that it was easily repairable and that the damage has not affected the overall structural integrity of the RV. The moisture in that wall could have caused the wall to become unstable due to wood rot and warped wood structure. Needless to say there may also be some major mold (possible health risk) and mildew issues inside the wall.
You sound like you are really interested in this RV and you do not mention any other problems with the RV. I suspect that there are other problems with this RV that you may not be aware of. Please take a look at our section on
Used RV Inspections.
Please use the Used RV Inspection guidelines to do a thorough check of the RV you are looking at. I am afraid that the leak in this RV may
only be the tip of a very large iceberg; you may find more areas of concern when you inspect it further. If after you inspect the RV, you are still convinced that this is the RV you really want then that is your choice. Remember, the water damage in this RV must be repaired. You will need to figure in the costs of those repairs and any other problems that you discover during your inspection. After you figure out all of the repair costs add that cost to what you are going to be paying for the RV. You may find out that this is not such a great deal.
Yes, I realize that his RV is over 20 years old, but that does not mean you have to settle on an RV that has some major issues. There are many 20+ year old RVs on the road today that are in excellent condition for their age. They are in good condition because of owner pride. They have been maintained properly over the years and small problems have been repaired before they became big problems.
Now, let me offer you my own opinion. If I were you, I would walk away from this RV and look elsewhere. Our current economy has created a glut of Used RVs in the marketplace. Many people have been forced to put their RVs on the market, because they need the cash. I assure you that you can find another RV that is in better condition than the one you are currently looking at. I think you may be pleasantly surprised at what you will find.
24/7 emergency medical evacuation for peace of mind when you travel. Good Sam TravelAssist. Learn More!
I urge you to go out there and look at some more. Because once you buy an RV it is yours. Used RVs are sold AS-IS, so, if you buy this one and you find out there are more leaking problems, you will be eating the cost. The whole point of the RV Lifestyle is to go out there and relax and not worry about what part of your RV is going to fall off next. So, please take your time in searching for the right RV for you and don't just settle on one that may cause you problems in the future.
I wish you the best of luck on your RV search and Happy RVing. By the way if any of our visitors want to add their 2 cents they can do so by clicking on the "Click Here To Post Comments" link towards the bottom of this page.
Happy RVing
RVing Al