What Beaches Allow RVs To Camp On Them?
by by CP Welch
(Celina Texas USA)
we stay at Malaquite Beach near Corpus Christi Texas. Are there any beaches in the US that are available to stay at like the National Seashore in Texas?

ANSWER: Greetings CP thanks for submitting your question on our Ask An RV Question Page.

Believe it or not there are well over 100 beaches in the US that allow you camp on the beach or pretty darn close to being on the beach. Unfortunately I do not have the space on this page to list all of them. So I am going to recommend that you get a lifetime Subscription to The Beach Camping Parks Directory.

For one low price you can get a lifetime subscription to this directory that is updated frequently. Look below for more information on this invaluable directory.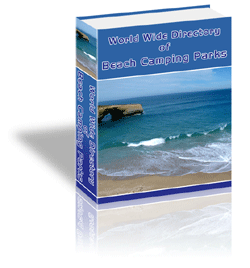 Lifetime Subscription! Find Beach Campgrounds All Over The World. New Listings Are Added All The Time.
What does the World Wide Beach Camping Parks Directory - life time subscription mean for you?

I can tell you it means considerable savings in both time and money.

Find here in a seconds 250+ beach camping parks all over the world.

100+ beach parks in the U.S.

25 beach parks in the UK

25 beach parks in Canada

25 beach parks in New Zealand and Australia

50 beach parks in other parts of the world.

The guide also tells you how many campsites they have. You can also find out if they allow tent campers. It also provides information on rates and payment methods accepted. There is also contact information for each park including phone numbers and web addresses if available.

I hope that this information has been helpful to you.

Do you have any suggestions or comments on this topic? You can add them to this page by clicking on the "Click Here To Post Comments" link located near the bottom of this page.


Are You Thinking About Buying Or Selling An RV? You Should Visit Our RV Sales Page.
Happy RVing
RVing Al
P.S. Did You Know that you can build your own Web Page on Everything About RVing? Just Tell Us Why You Love RVing, Tell Us About Your Favorite Camping Or RVing Destination or Share a Funny RVing Story With Us.