What Dog Breeds Are Not Allowed In RV Campgrounds Or Resorts?
by Anonymous
()
Certain dog breeds are not allowed at some RV parks. What are they?

ANSWER You are correct that some RV Campgrounds and Resorts have restrictions on what breed of dog they allow on their property. The restrictions vary widely depending on the facility. Pit Bulls, Rottweilers, Dobermans, Mastiffs, Chows, and wolf-mixes are the most common breeds not allowed in certain campgrounds. Other facilities may allow these breeds, but they reserve the right to ask you to leave their facilities if the dog you have "acts aggressively."

I know that there are a lot of dogs in the breeds mentioned above that are not aggressive and play well with others, but if the campground or resort has a ban on a certain breed, they usually do not make an exception. These breeds were selected because they are large muscular animals that have the capability of causing severe injuries to people or other pets if they become aggressive. These breeds are thought to be more aggressive than other breeds of dogs.

Whether these assumptions are true or not, owners that take these dogs camping with them must be aware that their pets may not be welcome at certain campgrounds and RV Resorts. The best advice I can offer to those people is to call ahead to the facility they plan to stay at to see if their pet is allowed.

Up to 70% off Clearance - While Supplies Last!
During the years we have been RVing, we have encountered some aggressive dogs. I hate to say it, but many of them have not been in the restricted breed categories. There are some Chihuahuas that we have come
across that were aggressive. The difference is that a crazed Chihuahua is not capable of causing great bodily harm; a crazed Pit Bull, on the other hand, is physically capable of possibly killing someone.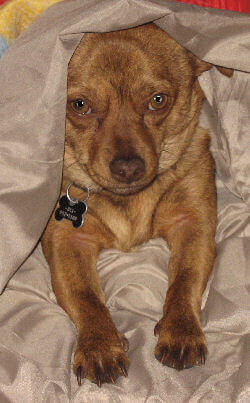 Killer the Wonder Dog
Before I get a bunch of hate mail from outraged Chihuahua Owners, please look at the picture to the left, which is our dog named "Killer the Wonder Dog". Killer is a cross between a Merle Chihuahua and a pug. He goes camping with us wherever we go. Yes, we are living dangerously by bringing him along. :-)
Regardless of what breed of dog you plan to take camping, there is a book that I strongly suggest you read by Jack and Julee Meltzer called
Camping and RVing with Dogs, the Complete Reference for Dog-Loving Campers and RVers
.
Camping and RVing with Dogs, The Complete Reference for Dog-Loving Campers and RVers
In this book, RVing pet owners will learn the Eight steps you can take to make sure your
dog never gets lost
, Fun activities for campers and RVers with dogs, Five easy tricks for finding campgrounds and RV parks that really like dogs, How to prepare your vehicle or your RV for campground life with a dog, How to tackle a
medical emergency
involving your dog and much, much, more.
Save 50% off of Campsites With Passport America
I hope that this information has been helpful to you.
Do you have any suggestions or comments on this topic? You can add them to this page by clicking on the "Click Here To Post Comments" link located near the bottom of this page.
Happy RVing
RVing Al