FTC Disclosure: I get commissions for purchases made through some of the links in this article for more information, visit our Advertising Disclosure Page.
Winegard ConnecT 2.0 WiFi Extender Review
Does the Winegard ConnecT 2.0 WiFi Extender really work?  Read our Review to find out what happened when we tested it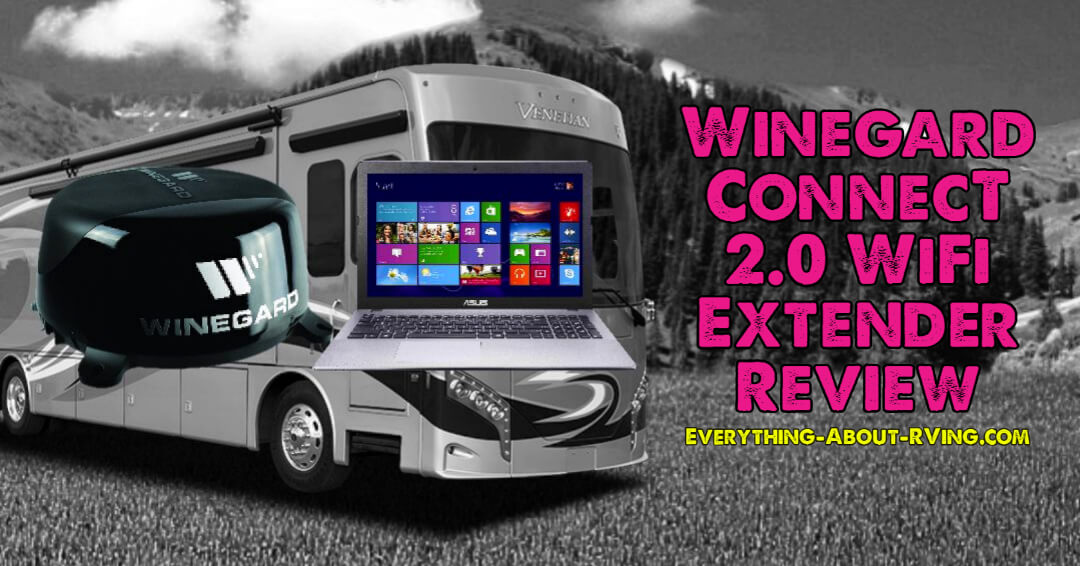 By Alan Wiener
Editor, Everything About RVing

Recently I was contacted by WINEGARD and asked if I would be willing to test and review their new Wi-Fi antenna system called the WINEGARD ConnecT 4G1 WiFi Extender.  I agreed, and they sent me a unit to test and review.  
Share This Page
Good Sam members enjoy instant discounts on fuel. Join Today!
Important Note:  If you want to learn a little more about the WINEGARD ConnecT 4G1 WiFi Extender keep scrolling down, but if you want to get to the Nitty Gritty you can also go directly to My Review.
This is the second generation of the Winegard Wifi Extender.  I had the opportunity to test the first version. Here's the link for that review: WINEGARD ConnecT 4G1 WiFi Extender Review.
There are 2 ConnecT 2.0 WiFi Extenders Available
• ConnecT 2.0 WF2 (WF2-335):  This unit increases Wifi range at an RV Park but has no 4G. 
• ConnecT 2.0 4G2 (WF2-435):  Also increases WIFI range but you can also use 4G when WIFI is not available or if you want to use WIFI in your RV while going down the road.  You can purchase 4G from Winegard or use Mini Sims from AT&T or Verizon.
Here is what Winegard says about their WiFi Extenders
We will start off with a video below, that gives a very good explanation on how the ConnecT 2.0 WiFi Extenders work.
Simple to Setup & Use
Connects to Winegard data plan: 30 day, no contract plans and no throttling.
Capability to swap SIM card to add to new or existing data plans from other carriers.
Step-by-step on-screen instruction makes setting up a breeze.
Connect your WiFi devices to your new extended network        instantly.
4G models connect to 4G LTE when WiFi is not available.
Easily connects your mobile devices, smart TVs, and gaming    controls.
Secure RV Internet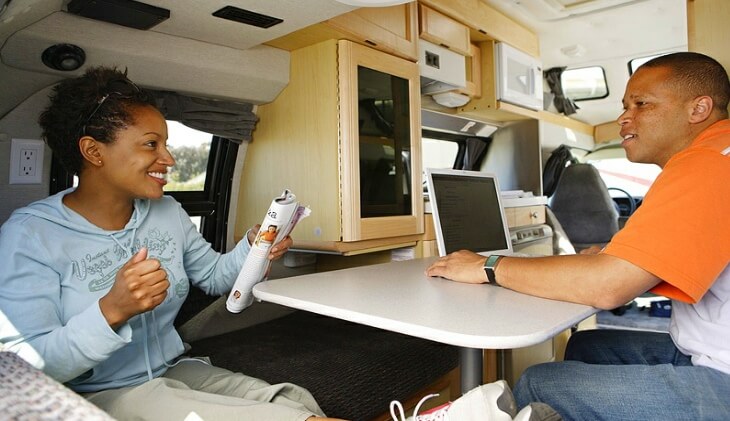 Scans and connects to WiFi Signals and rebroadcasts them in  and around the RV.
Always secure. Set-up your secure network once and you are  done.
ConnecT Advanced WiFi protected access (WPA and WPA2 –    PSK).
Guest Network Access – separate and secure.
Double Firewall protection (SPI and NAT.)
Denial-of-service (DoS) attack prevention.
Increased Range & Speeds
Expands your WiFi coverage to receive signal outside your RV  from farther away.
More powerful than your smartphone or hotspot device.
Easily connects all devices to secure WiFi in seconds.
Use WiFi Calling or VoIP to make phone calls when cell coverage is weak.
Nationwide 4G LTE coverage provides consistent, in-motion     connection with the ConnecT 4G1 and ConnecT 4G2.
How it Performed
I have been testing the ConnecT 2.0 4G2 WiFi Extender for a little over a month and have used it at 4 separate RV Parks. I will say up front that I am quite impressed by its performance.
Here is what I like about the ConnecT 2.0 4G2 WiFi Extender
Unit Construction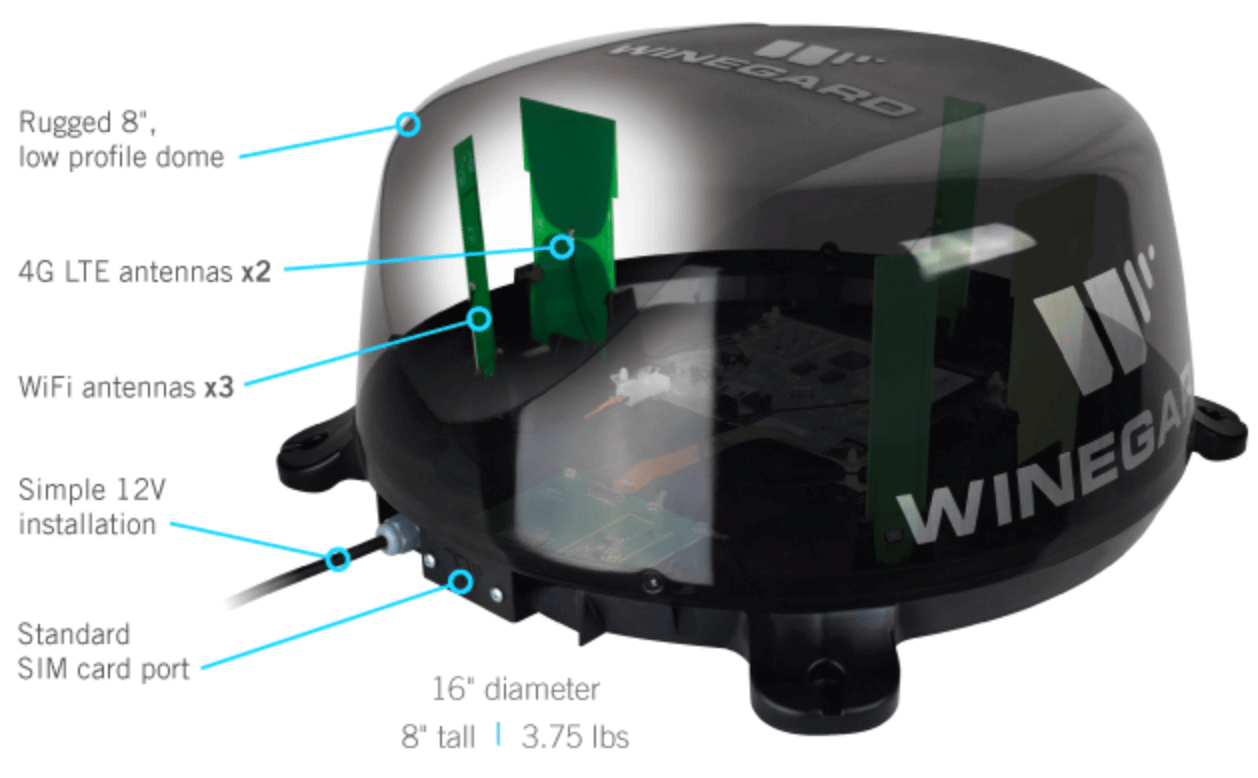 The roof unit is a very sleek looking well-constructed dome that contains 3 WiFi Antennas and 2 4G Antennas (pictured Above), which is available in either black or white.  It does not have the 5 external antennas that the WINEGARD ConnecT 4G1 Wifi Extender has, so there is no chance of having a tree branch breaking off the antennas.  Don't get me wrong the performance of the WINEGARD ConnecT 4G1 WiFi Extender is impressive, but I was always worried about the antennas getting torn off of the roof unit.
The ConnecT 2.0 also includes a basic on and off switch that you can install in a location in the RV that you choose.  I have mine installed in one of the cabinets above the driver's compartment.  The unit is 12 volt powered, so the switch allows you turn it off when not in use.  The on off switch can also be used to reset the unit to factory settings in case of a problem.

Security
I like the security that is included with the ConnecT 4G2.  The built in Firewall and encryption allows you to use your computer, tablet,  Smart TV, Smart Phone, etc. safely on a public unsecured wifi network which you will find at most RV Parks.  The unit is already setup for the best encryption and firewall settings from the factory.

I also like the ability to setup a totally separate guest network, for friends and other visitors.

Greatly Improves WiFi Signal

In the 4 RV Parks I tested it at, I first connected to their "free wifi networks".  I started out connecting to the wifi networks using my laptop and my Smart Phone.  In 1 of the RV parks I could not connect either my computer or smart phone to the WiFi.  So I tried connecting using the ConnecT 4G2 and was able to acquire a useable WiFi connection.  I connected my smart phone and laptop to the ConnecT 4G2 and was able to use both.  The connection was not super-fast, but it was useable.  That was impressive considering that I could not connect directly to the WiFi with my laptop and phone.
In the other 3 RV Parks I again followed the same steps as outlined above and was able to connect both my phone and laptop directly to the RV Park WiFi, but when I used the ConnecT 4G2 to connect to the same WiFi networks, the signal strength averaged about 30% stronger than when I was connected directly to their WiFi network with my laptop.  At 2 of the RV Parks I was able to use my Smart TV which was connected to the ConnecT 4G2 to stream Netflix with a great picture.  Not bad for using free RV Park Wifi.
If you are like me you will sometimes use your Laptop outside of the RV, so you can enjoy nature while working or cruising through the internet.  Depending on location of the WiFi antennas at the RV Park, you may not a get a good signal.  Well, the ConnecT 4G2 solves that problem by broadcasting its strong and secure WiFi signal through the rooftop dome around the outside of your RV. Don't worry the signal is password protected so only you can log in.
4G WiFi
So, you're traveling down the road and you want to use your Laptop, or your Non-4G enabled tablet to access the internet or your at an RV Park that does not provide WiFi (Yes, there are still RV Parks that don't have WiFi) and you want to access the internet. You can that by using the 4G connection on the ConnecT 2.0 4G2 WiFi Extender.
There are two ways to connect to 4G on the ConnecT 4G2.  The first way is to use the 4G that you can purchase directly from Winegard.  Winegard has several levels of 4G you can purchase.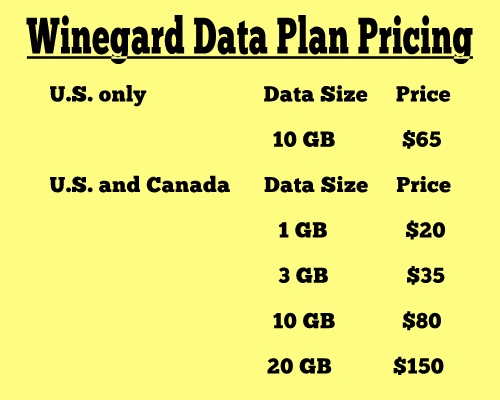 All of Winegard's 4G LTE data plans are 30-day, pre-paid plans available in sizes ranging from 1GB to 20GB with no throttling, so connection speeds will never be slowed based on data usage (see Chart Above). 

One of the only downsides that I have found with the ConnecT 4G2 is the Winegard 4G plan 30-day expiration of purchased data.  In my opinion the data that you purchase should be available until you have used it all.

The second way you can access 4G internet access is by swapping out the SIM card in ConnecT 4G2 roof unit to add to new or existing data plans from other carriers.  Currently through AT&T or Verizon.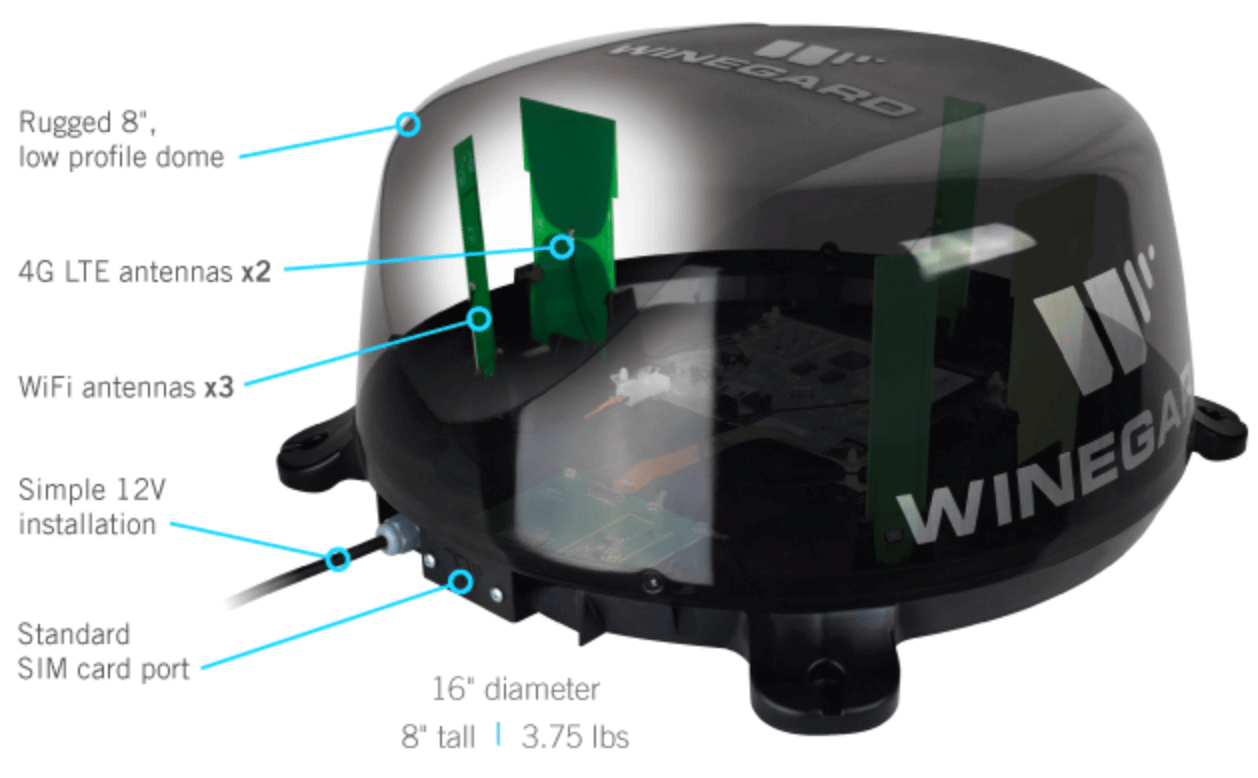 Since the SIM card is in the roof unit (see picture above), you should probably make this decision prior to installing the ConnecT 4G2 roof unit on your RV.

How the 4G worked for me
I did not install a SIM card from other providers, instead I used the 4G available from Winergard 4G Data Plan.  I must admit that I was quite impressed by the speed and the signal strength of the 4G.  We were traveling through several rural areas of both Nevada and Arizona and never lost 4G access.  In fact, every time that I checked the 4G signal on the ConnecT 4G2 unit it never fell below 85% whether we were on the road or parked at a Campground.

While we were going down the road we were even able to stream Netflix on our tablet.  Now I will warn you, using 4G to stream Netflix, HULU, or other videos can be expensive, so I would not recommend doing a lot of 4G video streaming while traveling.  
The good the bad and the ugly
After having used the ConnecT 2.0 4G2 WiFi Extender and running it through its paces. I have to say I was very impressed by its overall performance.
OVERALL SCORE
4.8 out of 5.0
POSITIVES

Great security while using all your devices connected through the ConnecT 2.0
Excellent 4G signal
Ease of use
Does a great job of connecting to RV Park WiFi and greatly improves the signal strength of the WiFi
Broadcasting the Wifi signal all around your RV so you can efficiently use your connected devices outside
The ability to allow guests to access a separate network
The ability to change SIM cards to use other providers
Access to the internet while going down the road
All antennas, etc. contained in a well-constructed dome
NEGATIVES

30-day expiration date on data purchased through the Winegard Data Plan (the only reason that this did not score a straight up 5.0)
Despite this one weak area I was greatly impressed by the ConnecT 2.0 4G2 WiFi Extender and how it worked like Winegard said it would.
Do you have any suggestions or comments on this topic? You can add them to this page by using the comments section located below.