Writing while RVing Full Time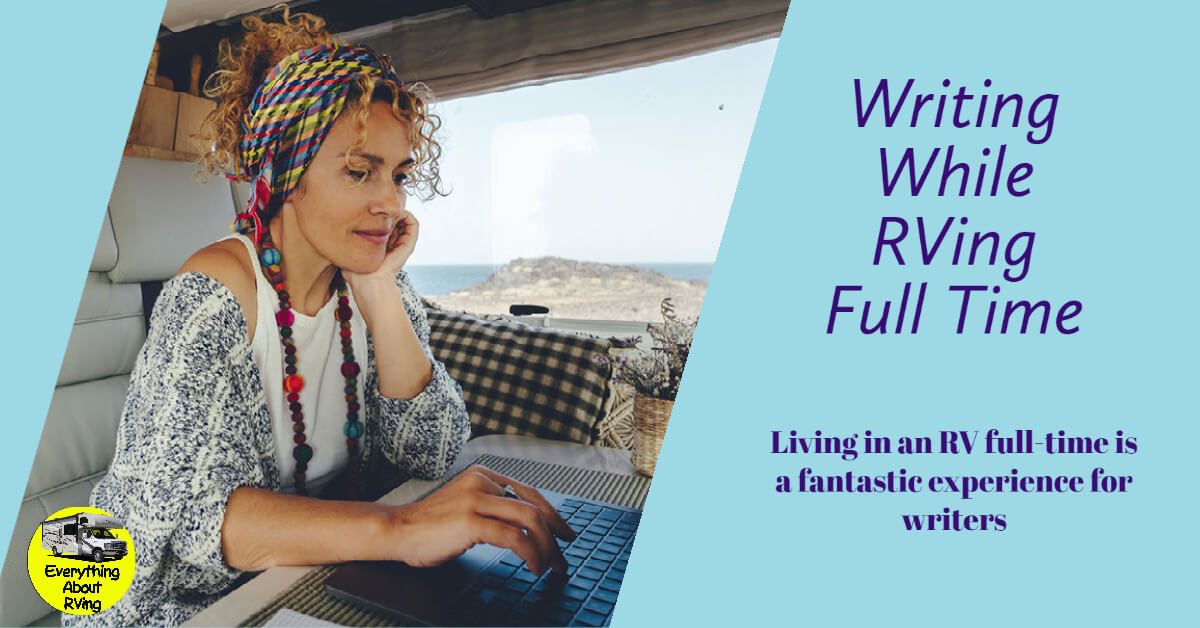 By Lillie Jenkins 
Writing while RVing Full Time is a fantastic experience
Writing while RVing Full Time is a fantastic experience for some and a lifestyle for others. Indeed, being on the road can be a great way to vacation, but some people decide to make it their full-time lifestyle – and for good reasons. The ability to travel freely in an RV, see new places, meet new people, etc., makes it worth writing while RVing.
Many RV enthusiasts are freelancers or independent professionals. Many of them are digital nomads, which makes perfect sense considering the RV lifestyle. That's why so many writers are writing while RVing these days. Here's how they do it and why they choose to live full-time in RVs.

Everyone Is Different
First and foremost, it's worth stressing the fact that everyone is different. No writer is like another; different people choose the RV lifestyle. Someone has a Creative Writing degree, while someone else might be entirely self-taught. One person could be ghostwriting autobiographies, while a different person could be blogging about pets. Some are technical writers, while others are academic writers.
And just like that, it's worth remembering that we are all different people. Someone might prefer living in a busy and loud city while someone else might like the countryside more. Some people have families while others live on their own. These differences don't immediately mean that someone is more suited for writing while RVing full-time. They just mean that everyone has their own approach to what it means to live in an RV.
This is why you need to consider who you are and what you do before you decide to start living in an RV. If you are currently working as a technical writer in an office of a specific company, you won't be able to leave right away. You need to ask the company if you can get a remote position. Alternatively, you can start looking for remote or freelance gigs on your own. That's the first step you will make, and it will directly impact everything else you do.
Perhaps you have never worked as a writer before. Maybe you are a plumber or a primary school teacher, or an architect who has always dreamt of becoming a writer. Well, this might be your chance to do just that while also traveling and living in an RV. It's an important and challenging decision to make, but it could be exactly what you needed all along.
Set Everything Up
Computers and Tablets at Great Prices
Speaking of your preparations before you start writing while RVing full time, you will need to set everything up beforehand. The first step is to ensure you have a job, but there are other things you will need to do before you embark on your journey:

Take Advantage of the Opportunities of Writing While RVing
As mentioned earlier, living in an RV full-time provides you with numerous opportunities that you never had before. Many people choose to live in an RV because they genuinely feel free doing so. Others start living in an RV because they want to see new places and meet new people. Whatever your reasons are for choosing the RV lifestyle, you will definitely get the opportunities you are looking for.
For writers, this is a unique experience. If you are doing some kind of research, you can travel to the places where you can conduct this research and interview the right people about the subject matter. Moreover, the things you experience while living in an RV could inspire you to write something you would have never written before. An RV lifestyle is an excellent source of inspiration and motivation.
Because you can choose where you go and when you can attend different events where you can meet other professionals in the industry. You no longer have to worry about traveling expenses because you are taking your home with you. The people you meet will be amazed by your own experiences just as you will be amazed by theirs. It's the perfect way to make your life more interesting while also making yourself more interesting.
Enjoy Life and Work
Last but not least, don't forget to enjoy both life and work. If you are only now embarking on your writing while RVing journey and living in an RV for the first time in your life, it can be pretty overwhelming to manage absolutely everything, even if you have someone to help you. Moreover, if you are just now starting as a writer, you might be even more stressed and anxious.
Of course, there will be things you simply can't help. What you can do is try to worry about them less. It's not worth beating yourself up over something that you couldn't control. Instead, focus on the good things and try to make the most of your lifestyle as a writer who lives in an RV. Remember why you made this choice in the first place.
Writing while RVing can be incredibly fulfilling in every sense of the word. You need to enjoy your life – after all, you are traveling, meeting new people, and trying so many things you have never heard of before. Your work as a writer should also bring you happiness because that's what you wanted to do. If you aren't satisfied with something, it might be time to change it and look for a different employer. Don't let yourself feel miserable.
The Bottom Line
At the end of the day, living in an RV is not for everyone, but it's something many people enjoy. If you are a writer, you might want to transition to a full-time RV lifestyle because of its numerous benefits and the opportunities it can provide you with. Consider all the pros and cons, and you might make a life-changing decision that could impact your career in a way you never imagined before.

About The Author
Lillie Jenkins is a creative copywriter and content writer. She has worked as a copywriter since school, so her writing skills are well-honed. She works as a copywriter at the popular writing center BestWritersOnline and as a proofreader at the custom writing company TrustMyPaper. She writes publications in such fields as marketing, business, education, and personal life. More than writing Lillie loves to travel and read professional literature.
LEARN HOW TO RUN 2 RV A/Cs ON A 30 AMP CONNECTION

Shop Best Prices on RV Fridges, Kitchen Appliances, Griddles, Stoves, Gas Ranges, Fireplaces at Way Interglobal Today!
Get Your Article Published on Everything About RVing
If you have written an article about RVing, Camping or the Great Outdoors and you would like us to publish it on Everything-About-RVing.com, please visit our
Submit An Article Page.
Fill out the form below to receive The Free
Everything About RVing Gazette
Newsletter