FTC Disclosure: I get commissions for purchases made through some of the links in this article for more information, visit our Advertising Disclosure Page.
10 RV Essentials to Pack in Your RV
Here are the 10 RV Essentials you should pack in Your RV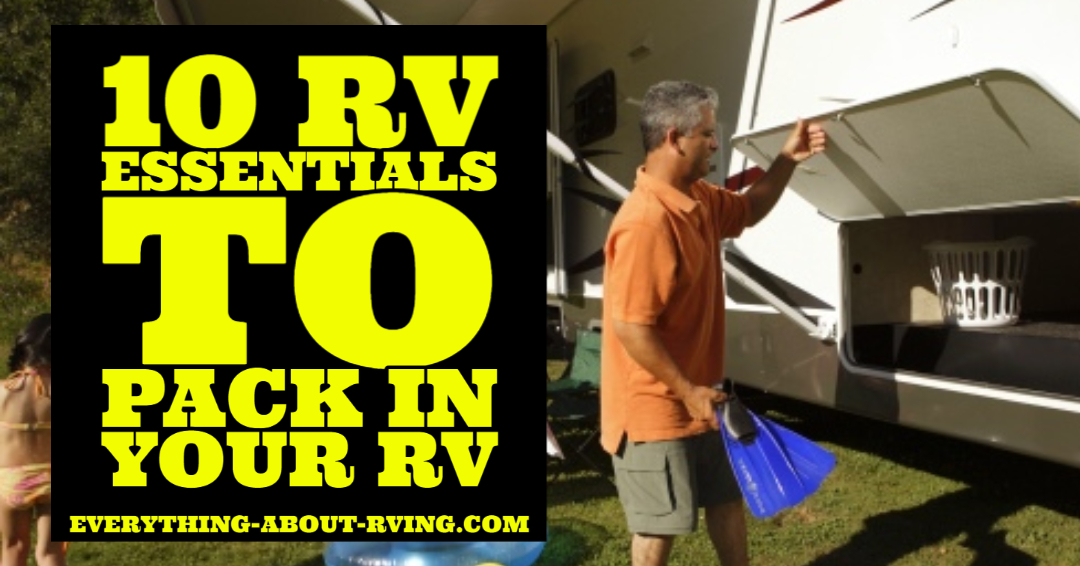 By Tim Miller
Almost everyone has, at one time, loaded up their RV for a trip, probably to a distant place, all to have lots of fun. When on the road headed towards your destination, these thoughts of "I think I left a thing or two" start to pop up and could be embarrassing if you left out something important. We have prepared a list of the ten most essential packing items you should be keen not to leave out so that you can have a fun-filled trip right from the word go. If you've never gone RVing and don't know what to carry along, this list will help you bring the right items. 
Equipment and Tools
Portable Jump Starter with air compressor
On worst occasions, your RV or tow vehicle battery might go low on charge, to the point that it can't start your engine. As an RVer, you should carry a jump starter to crank up your engine just in case such a scenario happens to you. 

An air compressor is a piece of essential equipment, as you might need to inflate or deflate your tires during your trip. For on-road activities, your tires can be well inflated for proper traction. In off-road conditions, tires may need to be deflated for perfect traction. Now you know why an air compressor is essential. 

Tool Kit
You'll most possibly carry an assortment of tools, maybe screws, and spanners, here and there, to fix anything that may break during your stay. A tool kit will come in handy for packing the tools and making them easily accessible. Here are some of the essentials you can have in your tool bag.
A tire-repair kit
Soldering iron kit
Folding hand saw
Windshield crack repair kit
Phone Charger
You can't afford to leave out your smartphone charger. 

Good Sam Travel Assist: Emergency coverage for you, your family, and pets. Plans Starting at $59.99 Shop Now!
First Aid Kit
You'll need a well-stocked First Aid Kit for medical emergencies. Emergencies don't necessarily mean severe medical conditions, but also occasions like when you're stung by a bee or if you accidentally hurt your foot. 
Sleeping bags and Electric or Waterproof Blanket
Your camping isn't complete if you don't spend at least one night out under the stars. Choosing the right sleeping bag will determine if your camping experience will be comfortable. Your preferred sleeping bag should be warm enough to keep you comfortable even on the coldest of nights. Its fabrication and insulation design should offer maximum comfort and warmth throughout the night. And yes, you might also need to have mosquito gear, just in case.

A waterproof blanket is an essential inclusion to this list for use when you might want to take a nap outside during the day

Sleeping bags can also be used in your RV if you invite some additional guests to join you on your RVing adventure. 

Folding Chairs
The perfect camping chair should be firm, multipurpose, and foldable. The reason it should be foldable is for it not to take up much space in your RV. They should be made from a strong material, probably aluminum, that will not add too much weight to your RV. Camping chairs should have compartments to hold accessories like keys, sunscreen, wallets, water cans, and mobile phones, among other items. 
A portable and foldable table also comes in handy, so you can put down your drink when reading your favorite novel?
Save 10% on campground fees when you become a Good Sam member Today!
Rainfly 
Don't let the rain ruin your camping activities. It would be best if you got yourself a rainfly to offer you shelter in the event of rain. Importantly, your rainfly should be large enough to cover a wider area. The 13×13 option is recommended. Not only can you use the rainfly to shelter against rain, but you can also use it for shade in case of the scorching sun.

Solar Flashlights
RVs come with different lighting systems, but it's essential to have backup plans in power failures. Your solar flashlights must be reliable and waterproof; They should be portable and easy brightness adjustments

Clothes and personal hygiene items
You ought to carry proper clothes with you. Since RVing involves many outdoor activities, you might need both warm and lighter clothes to prepare for any weather you might run into while traveling.

You should bring comfortable footwear that could include thongs to hiking boots, depending on what you plan to do on your trip.

Personal hygiene is essential too. No question. You'll need some personal hygiene items like;

Vitamins
Washcloths
Feminine products
Bar soap
Tissue paper
Antiperspirants
Skincare lotion
Shaving kit
Haircare items and products
Food and Kitchen Equipment
Of course, you will have to bring food, especially if you are planning a more extended trip. So carry what's enough, and maybe a little extra, just in case. 

You will also need kitchenware and equipment. However, it has to be lightweight and less fragile, so you must be careful with your pick. These are some of the kitchen equipment you'll need.

Some plates, saucers, bowls, etc
A plate rack
Enough cutlery
Lightweight cups, probably plastic
A pan (if you'd need to use one)
A cooking pot
A portable stove or Grill in case you plan on cooking outside
Enough food
Any other kitchen equipment you feel you'll need to use can be added to the list, as long as it is not heavy. You can narrow it down to the essentials and add some of your favorites. That will work!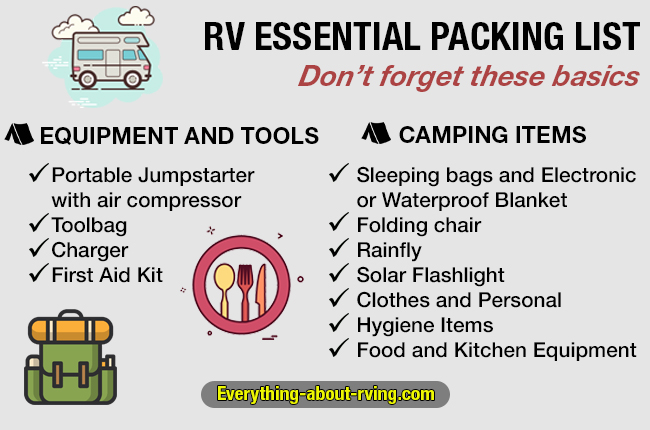 That is a summary of some items you need to carry with you on your RVing adventures. You can add things to this list, but remember prioritizing the necessary items and keeping everything lightweight, but don't leave out anything important to you and regret it later. And don't forget to enjoy your time out there!

About The Author
I'm Tim Miller, a car mechanic and blogger from Denver, Colorado. I created batterytrend.com - a blog about battery and battery-related products. Also, I am an editor in chief of gmundcars.com - an automotive blog.
Do you have any suggestions or comments on this topic? You can add them to this page by using the comments section located below.