FTC Disclosure: I get commissions for purchases made through some of the links in this article for more information, visit our Advertising Disclosure Page.
14 RV Maintenance Tips to Prepare for your Next RV Trip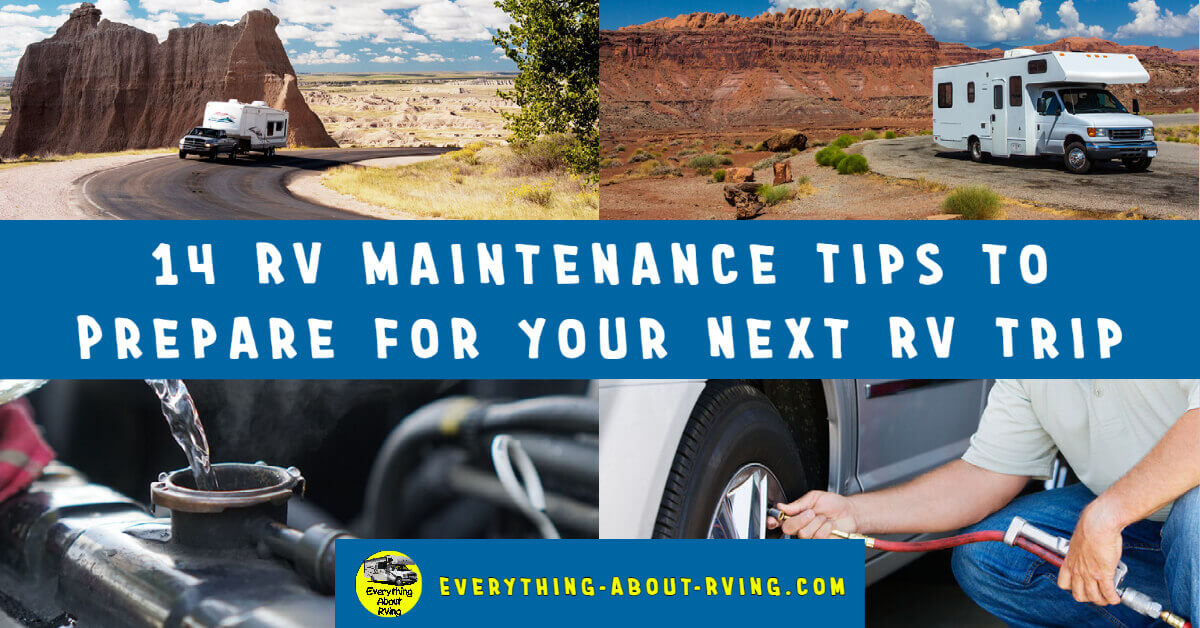 These 14 RV maintenance tips will help you Prepare for your next RV trip
Have you quit your 9 – 5 job and want to start exploring the country in your RV? Follow these 14 RV maintenance tips to get ready for your next RV trip.
Share This Page
Good Sam members enjoy instant discounts on fuel. Join Today!
With technological advancements, people are now adopting a more flexible schedule by quitting their 9-5 jobs and working from home. This new lifestyle has allowed many people the freedom to travel locally and internationally while still maintaining their monthly income or surpassing it.
Being on the road full-time might be the best decision you've ever made for yourself, as it will allow you to get out of your comfort zone and see things in life you never thought possible. RVing life is for everyone, even those looking to travel only over the holidays.
But, before you start your first trip, you must do the following to ensure that your RV tow vehicle or the vehicle that you are towing behind your motorhome AKA "A Toad," is in perfect condition. You certainly wouldn't want these vehicles to break down halfway through your road trip, would you?
14 RV Maintenance Tips to Prepare for your Next RV Trip
An RV lifestyle is fun as you are not tied down to one place, allowing you to explore various places and spend quality time with your family. An essential part of RVing is having your vehicles in tip-top condition. This ensures that you don't get stuck on the road after your RV breaks down or get into an accident because of some parts malfunctioning.
Every person looking to join the RVing lifestyle should have basic mechanical skills to save themselves when they land in trouble. Understanding the mechanics of your vehicle, especially considering the type of RV you have, will also allow you to conduct basic diagnostic tests on your vehicle. Be sure to check the following before hitting the road.
Camping World Clearance! Up to 70% off - While Supplies Last!
1. Tire Pressure
You surely don't want to experience a flat tire in a remote place; therefore, ensure that your RV's tire pressure is balanced and in line with its recommended specifications.
If you find that your tires are underinflated, you can always pump some air into them at the nearest gas station or carry a tire inflator with you. When the pressure in your tires is not correct, it affects your car negatively as it:
Adds stress to your engine.
You have to exert more effort when braking your car, thus accelerating the wear and tear of your car brakes and suspension.
Your tires are more susceptible to bursting.
2. Tire Treads
Your RV is your home for the next several months you are on the road, so ensure that the tires are not worn out or cracked. If you notice that they are worn or that the rubber is cracked, you should have them replaced before starting your journey. And as we said, you must always have a spare tire in your trunk. Make sure to carry extra tires for replacement.
3. Changing the Air Filter
Check to ensure that your air filters are not clogged. Most RVs have air filters in the air box, which is closed using clips. Remove the clips and open the box. Check the filter's condition; if there is debris, you may have to clean or replace it.
4. Replace Your Wiper Blades and the Washer Fluid
RVing life means driving long distances, so you're bound to encounter a lot of dust. A dirty windshield paired with a blurred view from fog and other weather elements can easily result in an accident. Thus, ensure your front and back wipers are working perfectly before driving.
If you notice that they are worn out, you can have them replaced. You can do it yourself, as it is pretty simple. Just buy a new pair of wiper blades from an auto parts store and follow the instructions on the package or find a YouTube video tutorial. Check the windshield washer fluid levels, as it will be crucial when your front window has bird droppings or dust. Top off your washer fluid if the levels are low.
5. Check the Lights and Horn
RVing means driving on busy highways during the day and at night and having your lights or horns not working correctly could result in an accident, so before setting off on your trip, ensure that all the lights, headlights, taillights, and turn signals are working seamlessly.
If you notice that the bulbs have burned out, you can replace them as they are cheap. Or you can have your mechanic replace them when you go in for a full RV servicing, which is a must when you are about to hit the road full-time. If your RV lights are hazy or dull, they could result from accumulated dirt, so have them cleaned thoroughly.
After checking and ensuring that the parts above are working perfectly, it's time to head to your mechanic for routine maintenance, where they will check the fuel fluid, engines, and other parts.
You must have a trustworthy and experienced mechanic to perform full RV inspection and servicing. And it is best to go to your usual mechanic as they know your motorhome or tow vehicle inside out instead of starting with a new mechanic days before setting off on your months-long road trip.
Sign and Drive Coverage with Good Sam Roadside Assistance! Plans Starting at $49.95! Shop Now!
6. The Belts
Your mechanic should inspect that the power steering, air conditioner, charging system, and water pump belts are in good condition. And if they notice any of them are worn out or frayed, they should be replaced.
A functional timing belt is essential. If yours is near its replacement mileage, you should do just that, as a worn-out timing belt can be bad for your engine.
7. The Brakes
Not every driver on the road is responsible, so ensure that your RV brakes are working properly because you don't know when you'll be required to use them. So, if you hear your brake pad making noise, have your mechanic look at them as soon as possible. If they are worn out, have them replaced.
8. Brake Fluid and Oil
It's essential to check the levels of your fuel, coolant, and fluids, including your brake fluid, transmission, and power steering fluid. Ensure that the level of each of these fluids is adequate.
Also, ensure that the engine coolant is within acceptable levels because, if you are driving during summer, the coolant will help prevent your engine from overheating. The chances of your engine overheating are high if the levels are low.
Become a Good Sam Member Today! The world's largest RV and Outdoor Community Club.
9. The Radiator and Bypass Hoses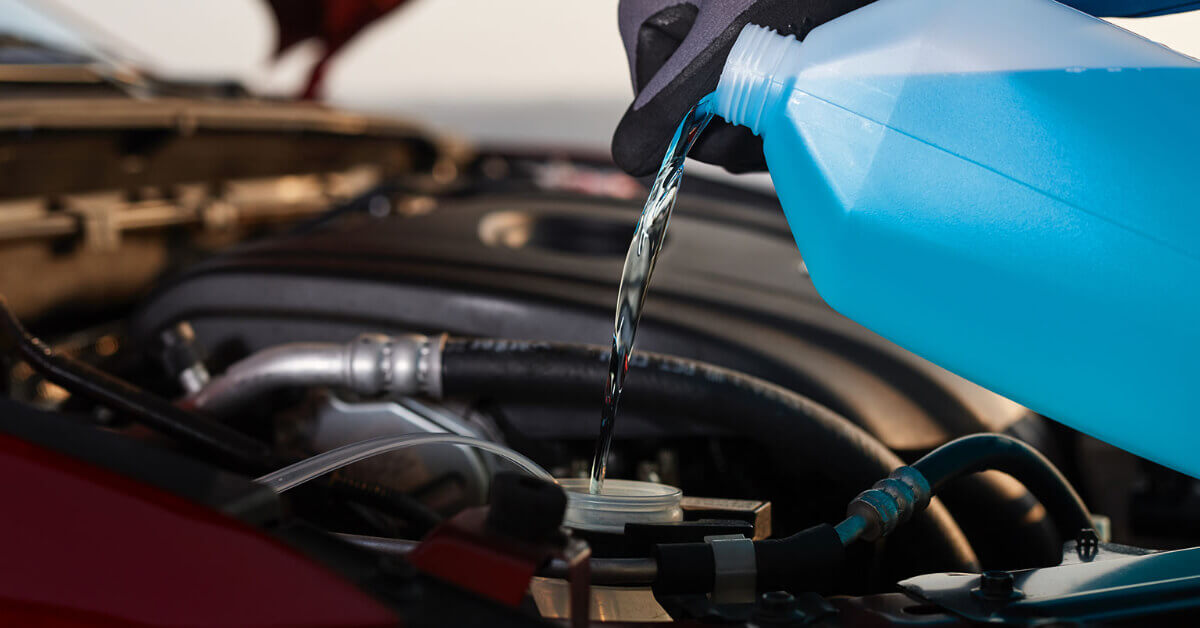 If your vehicle's hoses are clogged or have cracks, they will not work correctly, which is why you might find that your motorhome or tow vehicle will start overheating or losing coolant. Have your mechanic check and replace any faulty hoses. A hose could cost around $200 to replace, but if left unfixed, it could lead to severe engine damage, costing upwards o
10. Heater
You don't want to get frostbite during winter as you cruise around. So, ensure your RV heater is in perfect condition, as it will come in handy during the cold season.
11. Air Conditioning
You must ensure that your RV's air conditioning system is working correctly. This will help provide a comfortable environment, mainly when driving during summer or in warmer climes.
12. The Dashboard
Have your mechanic check the dashboard and ensure all indicators work correctly.
13. The Suspension
Check your RV's or tow vehicle's suspension and ensure it's in good working condition. The suspension controls your vehicle's ability to absorb the impact of bumps and potholes, thus making it possible for you to remain on the road. If the suspension is inadequate, you and your family will feel every bump, making your trip a nightmare for people who often get car sickness.
14. Remove Corrosion on Your Batteries and Check Battery Fluid
Your mechanic should check the state of your battery and ensure it's corrosion-free by cleaning any visible rust on your battery with a wire brush. It's recommended to have your RV battery checked annually, especially if it's more than two years old.
After your mechanic gives you the go-ahead, take your motorhome, tow vehicle, or Toad home and get ready for your road trip by:
● Clearing All the Trash
Nothing is more disgusting than spending hours in a motorhome or tow vehicle that smells dirty and smells. So, ensure your RV's or tow vehicle's interior is clean by removing the mats and washing them. Clear out all the trash from your vehicle. And ensure your storage compartments are clean as it's where you'll store your luggage. Don't forget to give your car's exterior a good wash.
● Ensure All Your Documents Are Updated
Ensure all your documents are up to date, including your driver's license, car insurance, and vehicle registration. Keep them within reach, as they will come in handy if you get pulled over or have an accident.
● Have a First Aid and Tool Kit
Every driver must have an emergency medical kit in their car. This will come in handy if you or any family member falls ill, and the hospital is far away. The items in the kit will help you tide over the time until you can get help.
You should have a tool kit for those instances in which you are stranded on the road with no help in sight. Your kit should include a jack, air pump, fuel, and fluids.
What Are the Benefits of An RV Life
Traveling in an RV across the country means you don't have to spend thousands of dollars on flights. This helps you save money and avoid the hassle of missing flights, lost luggage, or renting cars.
An RV life is fulfilling as it allows you to slow down, live in the moment, unwind, and take in your surroundings, which is impossible when working a nine-to-five job. You can explore different states, and if you are tired of driving across states, you can find a local auto transporter to ship your RV to another state. You can fly in, get your RV, and start your journey again.
Final Thoughts
RVing is a great way to travel and live on a budget. It will also help you get out of your comfort zone and interact with people as you travel. Once you get started, you will start loving the RV lifestyle as it will allow you to explore the country, learn new things, and save on travel and living costs. But before you hit the road full-time with your RV, double-check the stuff you just learned about in this article.