FTC Disclosure: I get commissions for purchases made through some of the links in this article for more information, visit our Advertising Disclosure Page.
RV Sunscreens, Annexes and Awnings: What is the Difference?
Find out the difference between RV awnings and annexes and sunscreens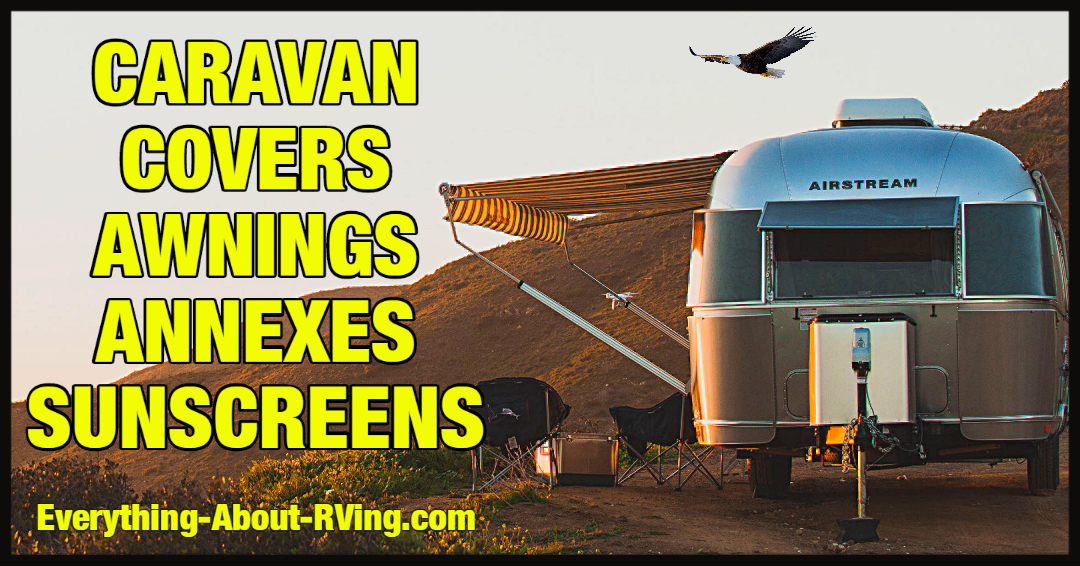 By Alex McLay
Sprawl out your caravan (RV) with these options, bringing the outdoors indoors with these options. Easy to use and flexible for most caravans but which is the right option for yours? Find out the difference between awnings and annexes (screen room) and sunscreens.
Share This Page
Save 10% on campground fees when you become a Good Sam member Today!
Sometimes, your caravan's interior size is not enough when you are enjoying a holiday. There will be times when you would want to enjoy the scenery around your caravan and stay there for a long time, especially if the weather is just right. While caravans don't usually have exterior features that will protect you from the elements, there are add-ons that you can try on such as awnings, annexes and sunscreens. 

Each one of these three can provide you with shade and extend the space you can move on around your caravan. But, what makes them different from one another and how can you pick the right one for your needs?

Here is a short guide below on how you can differentiate from one another:

Awnings
Don't Miss New Year Savings! Good Sam Travel Assist Plans Starting at $59.95! Learn More!

Awnings can create a shade beside your caravan as if you have a shaded patio for your caravan. They come in various sizes, materials and shapes depending on the size of your caravan and how much shade you want. Some even allow users to have a full awning that will create a large shaded space in the same size of your caravan and can be accessed just by stepping out of your caravan. 

What makes awnings great is the fact that they are very compact and easy to set up. You simply put the main structure on the roof or wall of your caravan and extend it to your desired space size. Some caravans do come with pre-fitted awnings which you can unroll when you are in your caravan site. When it is unrolled, you can secure it in place using pegs which you can stick to the ground as if you have an open tent. 
When buying awnings, you should check how it is opened and closed because it may present as a challenge when you use them in certain areas and weather conditions.
Annexes (Screen Room)
Save 50% Off Campsites with Passport America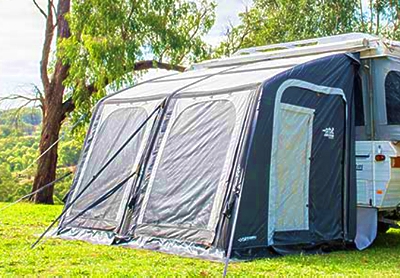 If you are after an add-on that will allow you to make more 'rooms' for your caravan, you should consider annexes. These annexes are made from composite materials that make up the shade walls and the roofing systems, which are often made from fabric or nylon. They also have their own structural systems to help them stand alone which are either made from metal or plastic. 
Unlike sunscreens and awnings which come in standard sizes (but can vary in terms of their fabrics, unfolding structures and sizes), annexes are custom built depending on the caravan, RV or camper that will use it and the preferences of its owners. There are freestanding or premade units already available in the market, such as the European annex, which stands independently and can be used as a tent. 

Annexes are also perfect if you want to have an open kitchen or bedroom without having to worry about the elements. If you own a small campervan, you will definitely benefit from the space these annexes provide. 
Sunscreens
If your caravan comes with an existing awning and you want to expand its shade, you can go for sunscreens. Sunscreens are made from special fabrics which can protect users from the harsh rays of the sun as if it is a tent. 

It can be added anywhere in your campervan, even in front of it to protect your windows which are under direct sunlight. 

Since sunscreens use thick fabrics to keep the sunlight out from your caravan or the spaces beside it, it also works well as a privacy screen. It can keep other people away from your space and keep you safe from the sun. 

Tips in buying a sunscreen, awning and annex
When picking the right caravan add-on to give your caravan a shaded space for your holiday, always consider your preferences before buying one. 

Ask yourself the following questions to help you decide which one of the three fits your needs

How often will you use it? 
If you do not regularly go out on trips with your caravan, it would be best to use its built-in awning or a sunscreen to give you shade because they are cheaper than annexes. Consider annexes if you will be going out on trips regularly, as well as larger awnings. You should also consider annexes if you have the budget for them because, as mentioned above, they are custom-made. 

What will you use it for?
All three can provide you with extra space and shade when you are on a holiday. If you will only be using it for a temporary shade, awnings or sunscreens will do. If you want a lot of space that can stand on its own, annexes are ideal. 

How many people will use it?
You also have to consider the number of people that will be using the extra space these three can deliver. Awnings or sunscreens can work great for small to medium sized groups depending on the size of your caravan. However, if you need more space, annexes are recommended because they can be customized to fit a user's preference. 

Conclusion
When you are on a vacation, you shouldn't stay in your caravan until it is over. Enjoy the outdoors by using one of the three caravan addons that can provide you shade. Check what you need to know about each one and see if it will fit your requirements. Once you 

you can easily pick which one of the three add-ons can help you in your next holiday. 

About The Author
Alex McLay is a Marketing Consultant at RV Parts Express. He enjoys travelling and the outdoors, which lead him to offer his services with RV Parts Express. For all your caravan needs visit RV Parts Express for anything at all related to caravans, including parts and accessories.
Do you have any suggestions or comments on this topic? You can add them to this page by using the comments section located below.