FTC Disclosure: I get commissions for purchases made through some of the links in this article for more information, visit our Advertising Disclosure Page.
Top 15 Boondocking Accessories
Top 15 Boondocking Accessories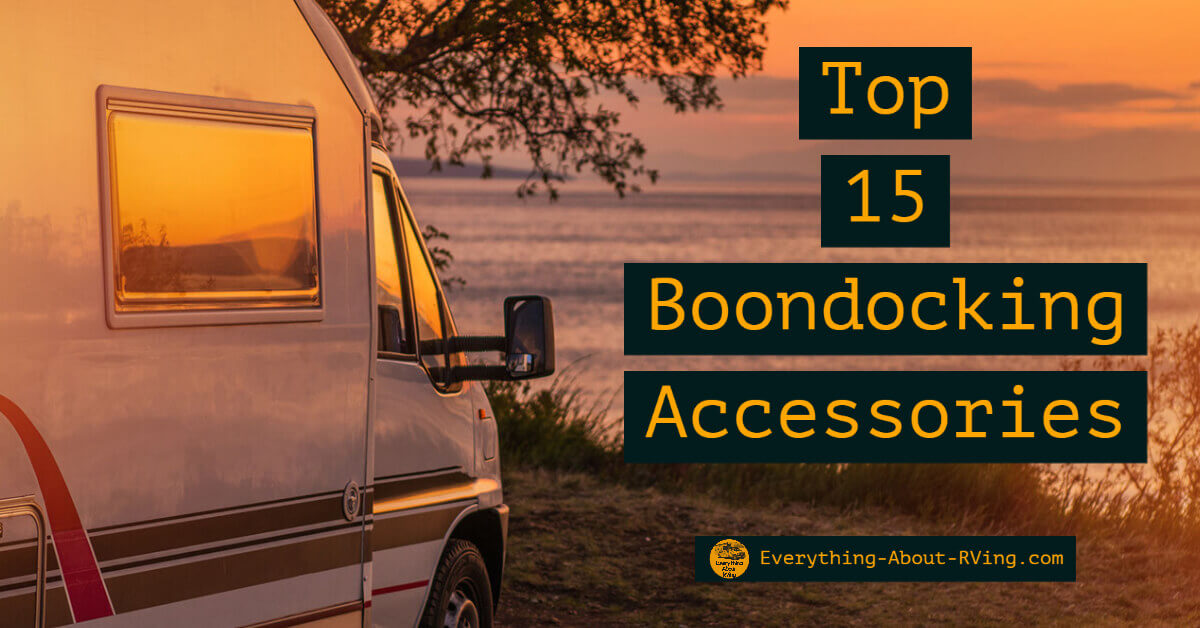 By Mariam Simmons
These top 15 boondocking accessories will come in handy If you are planning on boondocking in your RV
Boondocking, by definition, means free camping on public lands; it could be on a beach, in a forest, or even on a mountain. It's a great adventure that will expand your horizons and connect you with mother nature. But to ensure you enjoy a stress-free and luxurious camping experience, you need to check out these top 15 boondocking accessories.
Share This Page
Save 10% on campground fees when you become a Good Sam member Today!
1. Folding Table and Camping Chairs
You won't get the great fun boondocking experience without having some BBQs, birdwatching, and stargazing. But enjoying all these activities isn't possible when in your RV.
Some folding chairs will give you a good outdoor experience without consuming much space in your RV, as folding chairs are light-weighed and flexible. Complete your camping chairs set with a folding table so you can have your meals under the moonlight and enjoy playing cards with your companions.

2. Solar batteries 
Solar battery setups are an affordable, safe, and eco-friendly way to fuel your campsite. You can use a solar battery to charge your lanterns, smartphone, or laptop, or even enjoy a hot shower. So, you won't leave all life luxuries behind after all.
3. Extra freshwater storage
Where there's water, there's life. So, to ensure your camping trip lasts long and does not lack the one most significant supply, stay ahead of the game; bring along freshwater storage of medium size to effortlessly refill when needed.
Good Sam Travel Assist: Emergency coverage for you, your family, and pets. Plans Starting at $59.99 Shop Now!
4. First Aid Kit
Boondocking campsites are usually distant from residences and local hospitals, making obtaining medical assistance in an emergency out of the question. So, taking precautions and having a quality first aid kit is one of the top 15 boondocking accessories; it will enable you to treat injuries temporarily until reaching professional assistance.
5. Weather Radio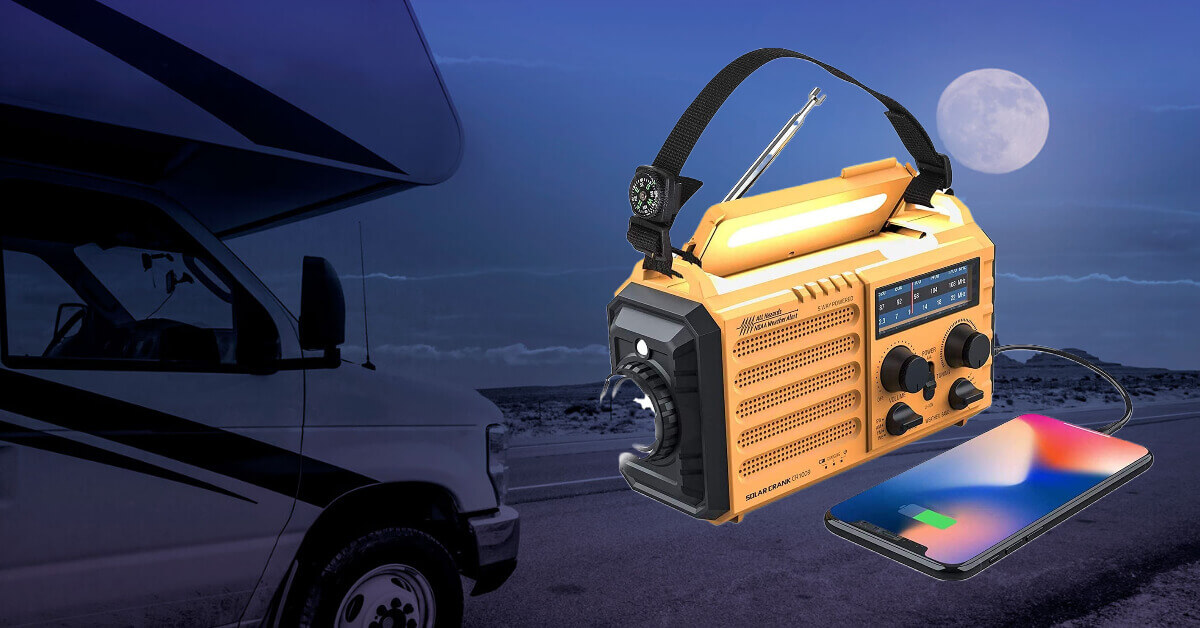 The weather is the factor that decides whether you will be stuck in your RV for the rest of the day or enjoying the outdoors. So, being updated regarding the weather forecast is essential.

The advanced technology won't serve you well when in the arms of nature. Phones might not be able to function, especially if you are in a remote area and the cell signal is weak. Weather radios, on the other hand, work pretty much everywhere. So, ensure to include a quality emergency weather radio in your boondocking gadget.

6. RV Lock
Not all campsites are in remote areas; some could be close to residential areas and accessible by many people. So, if you can't make yourself home, you must be vigilant by locking your RV. An RV lock is a remote keyless door lock that involves codes; it increases security and ensures no one but the code holder can access the vehicle.
7. Generator
If your vehicle doesn't contain a built-in generator, investing in a portable one is a must. A generator will help you charge your RV's battery bank and keep its system running effectively. The best generator for boondocking should be quiet, fuel economy, and medium-sized.
8. Composting Toilet
Composting toilets are a clean and eco-friendly alternative to traditional water flush toilets. This kind of toilet is the better option when boondocking because it's dry; it doesn't consume water whatsoever.

Instead of the waste going into the sewage system, it will turn into natural compost. Ensure you pick an easy-to-install, comfortable, and odorless one because it will be a long trip.

9. Water-Saving Showerhead
Since you do not have a primitive camping experience, there's no excuse for you to stink. Actually, most RVs support small showers, enabling campers to clean themselves and stay fresh.
However, since you are in the middle of nowhere and the amount of water your RV has isn't sufficient to have a regular long and relaxing shower, you have to be economical. Water-saving showerheads are a great way to increase the water pressure without wasting much. Ensure your water-saving showerhead has a pause function and is less than 0.2 gallons per minute maximum.

10. Flashlights and Headlamps
Your boondocking site could be a forest, a mountain, or a desert; these places are usually inhabitant, consequently, not lightened. So, that's why packing your own lighting gear, flashlights, and headlamps is included in the top 15 boondocking accessories. Ensure they're of very high quality, and consider their durability, beam distance, and battery life.
11. RV leveling Blocks
One of the most important things to do as soon as you arrive at your campsite is leveling your RV's rig. Safely leveling the RV requires using some sturdy blocks; they will help reduce the stress from the frame, keep the fridge even, consequently food in good condition, and last but not least, improve sleep.

There're many options for RV leveling blocks, and they come in different materials, models, and colors. So, ensure you pick the ones suitable for your RV and the quality of your campsite.

12. Portable Propane Fire Pit
The campfire is a VIP guest for boondocking, as the cozy atmosphere and the romantic vibe it provides is unparalleled. However, we're in 2022, and the traditional wood fire isn't the only way to warm yourself.
The portable propane fire pit is a great alternative to woodfire, as it's safe, saves you the campfire mess, and is easy to start. In addition, government bans woodfires at specific times of the year. So, a propane fire pit will serve you well.
13. Thermal Clothing
Whether it is cold or hot, keeping your body at the right temperature is essential for survival. Thermal clothing is great for your summer and winter camping trip, as it removes sweat fastly.

The structure of camping clothes also keeps the body cool in the summer and maintains heat in winter. The camping clothes' fabric is also breathable and antibacterial.

14. Multi-Purpose Knife
A good knife is an essential gear to complete your camping chores effectively. You will use it for primitive fire creation, cutting ropes, hunting, preparing food, and many others. Ensure it's reliable and strong enough, as you will rely on it heavily.
15. RFID Wallet
Public campgrounds might accommodate tens of people from all around the country. And even though a crowded campsite might provide a special social experience, those people are still strangers, and one can't trust them.
Theft strategies are in continuous development, and professional scammers can steal your credit card information without even seeing it. So, investing in advanced technology to protect your personal data is worth it. Get a secure RFID wallet!
This kind of wallet is an advanced technology that protects a credit card's data against theft; an RFID wallet is designed to block any radio waves that might reach your credit card, scan its information, and be able to use it. 
I hope that this top 15 boondocking accessories list has helped you prepare for your next RV boondocking adventure.
About The Author
Mariam Simmons is an outdoor enthusiast and a storyteller at Alpine Swiss.  She loves traveling to the world's top stylish destinations and gets inspired to create helpful fashion and lifestyle guides. With over a decade of writing experience, her main goal in creating content is to ensure readers learn something useful and provide value instead of noise