FTC Disclosure: I get commissions for purchases made through some of the links in this article for more information, visit our Advertising Disclosure Page.
Best Fishing Destinations for Rvers
Best Fishing Destinations for RVers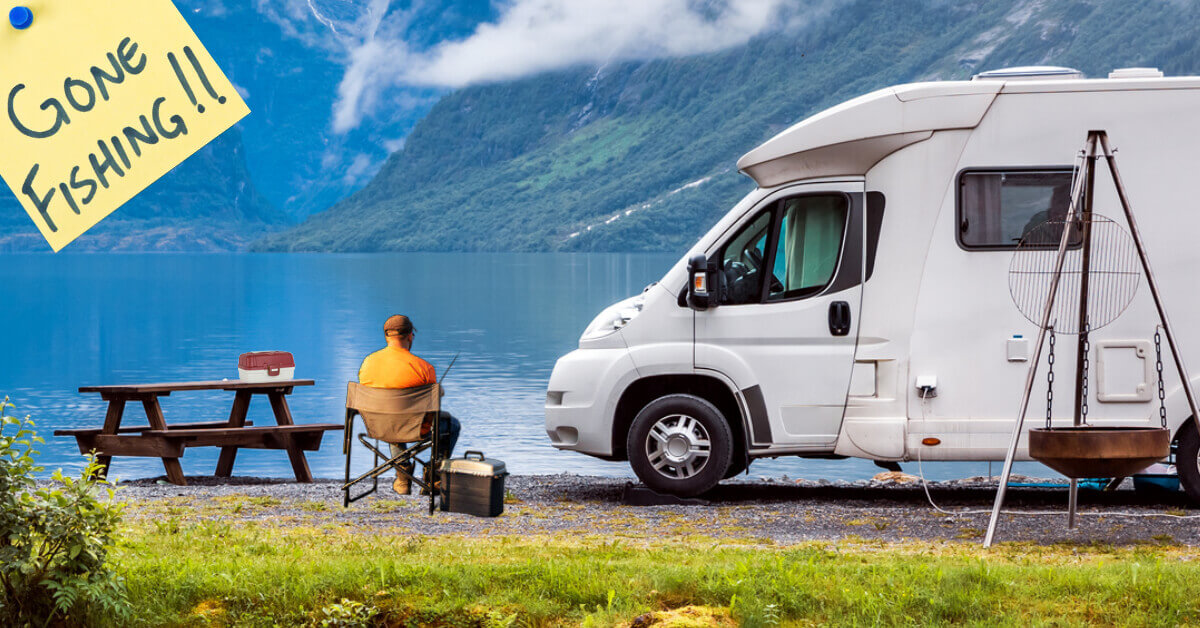 Here are the Best Fishing Destinations for RVers, Explore Stunning Locations Perfect for Your Next RV Fishing Adventure
Are you an RV enthusiast looking to combine your love for fishing with a memorable road trip? If so, you're in luck! In this article, we will unveil some of the best fishing spots across the United States, ideal for RV travelers seeking stunning locations to cast their lines. From tranquil lakes to majestic rivers and breathtaking coastal areas, these fishing destinations offer recreational opportunities and a chance to connect with nature. So, pack your gear, stock up your RV, and get ready to discover the best fishing destinations for RVers
Share This Page
Save 10% on campground fees when you become a Good Sam member Today!
Introduction
Combining the freedom of RV travel with the thrill of fishing can create an unforgettable adventure. RV fishing trips allow you to immerse yourself in nature, explore diverse landscapes, and enjoy the tranquility of fishing from the comfort of your RV. Whether you prefer freshwater or saltwater fishing, numerous picturesque locations await discovery.
Benefits of RV Fishing Trips
Embarking on an RV fishing trip brings several advantages that make it an appealing choice for outdoor enthusiasts. Firstly, RVs provide the convenience of readily available supplies and equipment, allowing you to be self-sufficient during your fishing journey. You can easily store fishing gear, camping essentials, and cooking supplies, making your trip more comfortable and enjoyable.
Secondly, RV fishing trips offer the flexibility to explore multiple fishing spots within a single trip. You can plan your itinerary and visit different destinations, each offering unique fishing experiences. This allows you to diversify your catches and encounter various fish species, expanding your angling horizons.
Lastly, RVing allows you to enjoy your surroundings' natural beauty and serenity. Wake up to breathtaking sunrises over calm waters, experience the sights and sounds of wildlife, and immerse yourself in the peacefulness of nature. RV camping near fishing spots gives you the opportunity to fully appreciate the environment and create lasting memories.
Factors to Consider When Choosing Fishing Spots for RV Enthusiasts
Several factors should be considered when selecting fishing spots for your RV journey to ensure a memorable and successful trip.
Accessibility and Proximity to Camping Sites
Convenience is vital when planning an RV fishing trip. Look for fishing spots that are easily accessible and within a reasonable distance from camping sites. This allows you to minimize travel time and maximize your fishing experience. Consider the availability of RV-friendly campsites with amenities such as hookups, showers, and waste disposal facilities.
Fish Species Available
Different fishing spots are known for their specific fish species. Research the types of fish that are prevalent in the area you plan to visit. This information will help you prepare the right fishing gear, bait, and techniques for targeting your desired catch. Whether you're aiming for bass, trout, salmon, or catfish, choosing a fishing spot with abundant fish populations will increase your chances of success.
Facilities and Amenities
While the main focus of your trip may be fishing, it's essential to consider the availability of necessary facilities and amenities. Look for fishing spots that offer clean restroom facilities, picnic areas, boat ramps, and fish-cleaning stations. These amenities provide a more comfortable and enjoyable experience during your RV fishing trip.
Scenic Beauty and Natural Surroundings

Part of the allure of RV fishing trips is the opportunity to explore stunning landscapes. Choose fishing spots that are known for their scenic beauty, whether it's picturesque lakes surrounded by mountains, pristine rivers flowing through forests, or coastal areas with breathtaking ocean views. The beauty of the surroundings enhances your overall experience, creating unforgettable moments during your fishing adventure.
Top Fishing Spots for RV Enthusiasts
Now, let's dive into the best fishing destinations for RVers across the United States that are perfect for RV enthusiasts seeking remarkable fishing experiences.
1.

  
Lake Tahoe, California/Nevada
A crystal-clear alpine lake renowned for its trout fishing and stunning scenery.
RV campsites are available near the lake, offering easy access to fishing opportunities.
2. Redfish Lake, Idaho
Nestled in the Sawtooth National Recreation Area, known for its trout and salmon fishing.
RV-friendly campgrounds are nearby, allowing you to wake up to the beauty of the surrounding mountains.
3. White River, Arkansas
Famous for its excellent trout fishing, including trophy-sized brown and rainbow trout.
RV parks and campgrounds are situated along the river, providing a serene and picturesque setting.
4. Outer Banks, North Carolina
A paradise for saltwater anglers, offering opportunities to catch various fish species like red drum, flounder, and striped bass.
RV-friendly campgrounds are available near the coastal areas, allowing easy access to fishing and beach activities.
5. Lake Okeechobee, Florida
Known as the "Bass Fishing Capital of the World," offering incredible bass fishing experiences.
RV parks and campgrounds are located along the lake, providing convenient access to fishing hotspots.
6. Kenai River, Alaska
Renowned for its salmon and trout fishing, with breathtaking scenery and wildlife sightings.
RV campsites are available along the river, offering a unique opportunity to fish in the heart of the Alaskan wilderness.
7. Lake Powell, Arizona/Utah
A stunning reservoir known for its striped bass, walleye, and smallmouth bass fishing.
RV-friendly campsites with beautiful views of the lake and surrounding red rock formations.
8. Bighorn River, Montana/Wyoming
Famous for its world-class trout fishing, particularly brown and rainbow trout.
RV parks and campgrounds are situated along the river, providing easy access to prime fishing spots.
9. Lake of the Woods, Minnesota/Ontario
A massive lake known for its excellent walleye, northern pike, and muskie fishing.
RV resorts and campgrounds are available, offering both fishing opportunities and recreational activities.
10. St. Lawrence River, New York/Canada
RV parks and campgrounds are located along the river, providing convenient access to fishing and water activities.
11. Lake Fork, Texas
One of the premier bass fishing destinations in the country, known for its trophy-sized largemouth bass.
RV parks and campgrounds near the lake, offering a range of amenities for anglers.
12. Colorado River, Texas
RV campsites are available along the river, allowing anglers to fish from the comfort of their RV.
13. Cape Cod, Massachusetts
A popular destination for saltwater fishing, with opportunities to catch striped bass, bluefish, and more.
RV-friendly campgrounds located near the coast, providing access to both fishing and exploring the scenic Cape Cod area.
14. Great Lakes, Michigan
The Great Lakes offer incredible fishing experiences for a variety of species, including salmon, trout, walleye, and more.
Numerous RV parks and campgrounds dot the shoreline, providing access to world-class fishing and beautiful lake views.
15. Columbia River, Oregon/Washington
Known for its salmon, steelhead, and sturgeon fishing, offering both freshwater and saltwater angling opportunities.
RV campsites are available along the river, allowing you to enjoy the stunning scenery while pursuing your favorite catch.
Tips for a Successful RV Fishing Trip
To make the most of the best fishing destinations for RVers, here are some essential tips to keep in mind:
Research and Plan Ahead: Gather information about your chosen fishing spots, local regulations, and seasonal patterns. Plan your itinerary accordingly to maximize your chances of success.
Pack the Right Gear and Equipment: Ensure you have the necessary fishing gear, bait, tackle, fishing rods and safety equipment. Remember to pack camping essentials, cooking supplies, and personal items for a comfortable trip.
Follow Local Fishing Regulations: Familiarize yourself with fishing regulations, such as bag limits, size restrictions, and licensing requirements. Respect the environment and follow catch-and-release practices when necessary.
Stay Organized and Clean Up After Yourself: Keep your RV and fishing gear organized to maximize your space. Dispose of waste properly and leave the fishing spots cleaner than you found them.
Respect Nature and Wildlife: Observe wildlife from a distance and avoid disturbing their habitats. Minimize your impact on the environment by practicing responsible fishing and camping techniques.
Conclusion
Embarking on an RV fishing trip is an excellent way to combine your love for fishing with the freedom of the open road. The best fishing destinations for RVers mentioned in this article offer a range of scenic locations and abundant fish populations, ensuring an unforgettable experience. Remember to plan ahead, pack the right gear, and follow local regulations to make the most of your trip. So, hit the road, cast your lines, and create lifelong memories in the beautiful fishing destinations that await you.
Frequently Asked Questions about the Best Fishing Destinations for RVers
Fishing opportunities vary at each location. Some spots provide RV-accessible fishing areas, while others may require additional access or boat rentals. It's best to research each spot and contact local authorities or campgrounds for specific details.
Most RV parks and campgrounds accommodate various sizes of RVs, but it's always a good idea to check with the campground beforehand to ensure they can accommodate your specific RV size.
In most cases, you will need a fishing license to fish legally. Fishing licenses are typically required for both freshwater and saltwater fishing. The specific regulations vary from state to state, even between different fishing spots. Obtaining the necessary fishing license before casting your lines is crucial to avoid any legal issues.
Certain fishing spots may have specific gear restrictions, such as limitations on the use of certain bait or fishing methods. It's important to familiarize yourself with the local fishing regulations to ensure you are using permitted gear and techniques.
Absolutely! RV fishing trips are an excellent opportunity for a family adventure. Many fishing spots offer family-friendly amenities, including playgrounds, swimming areas, and hiking trails. It's a chance for your loved ones to enjoy the beauty of nature while experiencing the joys of fishing together.