FTC Disclosure: I get commissions for purchases made through some of the links in this article for more information, visit our Advertising Disclosure Page.

How to Select the Best Compact Binoculars for Camping
Find out which binoculars are right for your next RV camping trip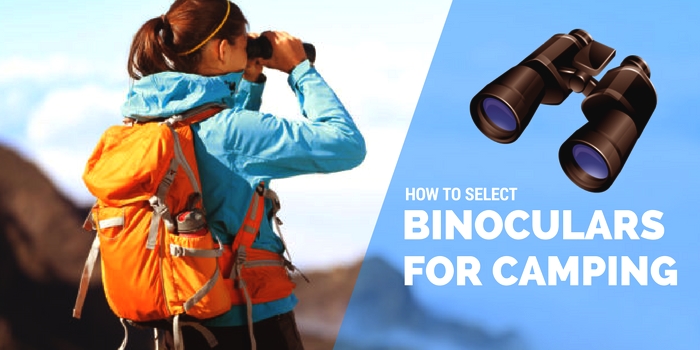 By Todd Meeks
Nothing makes a person more connected to nature than spending time enjoying the great outdoors. One of the best ways to enjoy the outdoors is RVing.  RVing gives you a perfect camping experience where the beautiful skies become your ceiling and the sweet sounds of the birds are your morning alarm clock with the croaking of frogs and chirping of crickets being your nightly lullaby. An RV allows you to enjoy the beautiful scenery, while also being able to enjoy the comforts of your home on wheels.
For some amazing views that are a bit faraway you can use a pair of binoculars to help you see them clearly. Specially designed to enable us to see further and clearer than we normally do.  With a wide range of purposes, binoculars can enhance your camping and outdoor experience. Binoculars allow you to see birds, animals and scenery much clearer than you can with your naked eyes. For many RVers a pair of binoculars is must-have  for any RV camping trip. 

There are different sizes of binoculars. The full size binoculars are quite heavy and are mostly used for serious or professional wildlife viewing and for viewing objects from boats. They are not convenient to move around with and normally have the largest magnification and objective lens. Mid-size binoculars are normally the most used for all round purposes. They are usually not the best in any category but, generally do everything well. They are usually used for general wildlife viewing and for sports viewing.

Without question, compact binoculars are the best choice for RVers and campers because they are easier to hold an they are lighter than full size and mid-size binoculars. They are used most often in outdoor activities such as camping and hiking.  With recent advancements in the manufacturing of binoculars, there are very little differences between the different sized binoculars in terms of technical specifications.

As an RVer, you have a lot of options when it comes to choosing the best binoculars for your outdoor experience. Compact binoculars are easy and convenient for those quick moments when you want to view an object or for the long sessions you will spend enjoying the scenery. That's why choosing the best compact binoculars for outdoors and camping is important so that you end up with the best binoculars for your particular needs.
Before choosing a pair of binoculars for your next RV camping trip, it is important to understand the following binocular technical terms:
Magnification power: This refers to the number of times an object will appear closer than it actually is. For a pair of binoculars with a magnification of 8 an object that is 240 yards away will appear to be only 30 yards away. Higher magnification while generally better, can also hinder steady viewing.

Objective lens diameter: This is the diameter of the objective lenses stated in millimeters. Larger objective lenses (the ones further from your eyes) results in more light penetrating into the binoculars leading to better viewing especially in dim conditions.

Eye relief: This is the distance between the eyes of the viewer and the eyepiece when looking in your binoculars. Longer eye relief generally means more comfort when using the binoculars. People who put on glasses need slightly more eye relief than those who don't.

Field of view: This is the width of an area that you can view from your standing position. Normally, high magnification binoculars have narrower fields of view.

With this information in mind there are several factors that you should keep in mind when choosing the best binoculars for your camping experience. These factors include: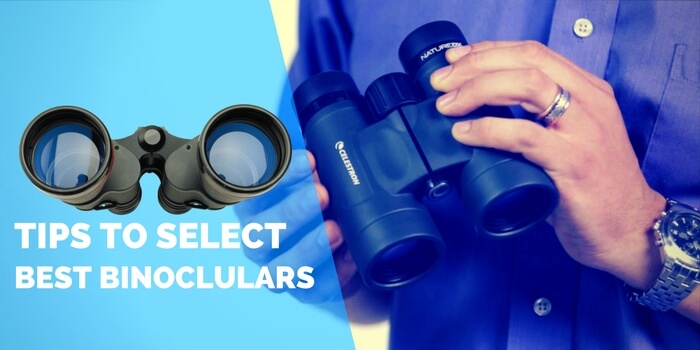 PURPOSE OF THE BINOCULARS
While the general purpose of binoculars are to make objects being viewed closer, as an RVer you will most likely have a specific function you want to perform with your binoculars. If you have a specific use such as hunting or bird watching, then it is highly recommended to get a pair that is specifically designed for hunting. Normally this would be a high magnification binocular. If your plan is to view all that nature has to offer ranging from terrain to wildlife, then a good all-round binocular is what you need. A pair that will work perfectly for shorter distances and just as well for the objects much further away.
Many people do not focus on the importance of these factors and end up buying a pair of binoculars similar to what a friend owns. As a result they end up with a pair of binoculars that does not fit their personal needs.

WEIGHT
While most compact binoculars are generally light, some pack a few more pounds than others. A slightly heavier pair of optics could help especially when focusing on objects far away as they are more stable than their lighter counterparts. However, the heavier ones are also heavier to carry around and so if you plan to do a lot of hiking and back-packing, it is better to choose the lighter ones. If you plan to stay next to your RV most of the time then a heavier model will be okay but if you plan to move around and experience nature first hand then a lighter pair should be your choice.

EXIT PUPIL
The exit pupil size can be calculated by dividing the size of the objective lens by the magnification of the binoculars. A smaller exit pupil translates into poorer images in dim conditions. Basically, smaller binoculars have smaller exit pupils. If you are going to be viewing objects in darker conditions such as in dense forest cover or during the early mornings and late evenings, it is best to look for binoculars with larger exit pupil sizes preferably over 2.5. The higher the better in this case.

MAGNIFICATION POWER
This may come as a surprise to many but higher magnification is not always a plus. Higher magnification results in a narrower field of view and much more difficulty in keeping the binoculars steady. Higher magnification will help you see more detail but, it will limit the width of what you can see. Most experienced campers and outdoor fans will tell you that they prefer those with a magnification of 7 or 8. They work relatively well in almost all conditions, whether it be dense forests or open fields. The wider field of view also means that you can easily follow a moving object such as a running deer or a bird in flight. You can also quickly scan the surrounding terrain. Images on these binoculars also tend to be much brighter. 
FIELD OF VIEW
A wider field of view means that you can look over a large area and quickly point out objects of interest. Wider field of view however also means lower magnification. If your plan is to view scenery rather than focus on an object, then a binocular with a wider field of view is your best bet. Field of view also comes into play when choosing between two pairs of binoculars with the same magnification. In this case, the one with the higher field of view is a better option.

EASE AND SPEED OF FOCUS
This is one feature that is often overlooked. Ease and speed of focus helps with objects that are moving rather fast such as birds. Slow focus may lead to you missing what you were looking for. Recent advancements in the manufacturing of binoculars have led to variable speed focusing gears on some binoculars. This means that focusing takes longer while zooming out is much faster. As a result you can easily focus on your quickly moving target and at the same time easily zoom out to focus on a different object.

EYE RELIEF
Eye relief really determines the comfort you have when using your binoculars. If not comfortable enough, your eyes could end up getting tired and strained which makes the entire experience unpleasant. Eye caps keep stray light from affecting your eyes but also help in regulating the eye relief as they keep distance between the lenses and your eyes. If you wear glasses, this is an even greater factor to consider as you need more eye relief than people who don't wear glasses. An eye relief of 11 millimeters will work just fine if you do not wear glasses and 15 millimeters is okay if you do wear glasses. 
WATER AND FOG-PROOFING
This is a feature that is largely dependent on the conditions that you will be exposed to when using your binoculars. Most basic binoculars can handle light rain and humid conditions without suffering any damage. But if you intend to use them in highly rainy and humid areas then this feature is very important. Fog proof binoculars are filled with inert gases in their barrels that prevent fogging which can occur when exposing the lenses to extreme temperatures. These types of binoculars also prevent small and potentially destructive debris like dirt and sand from getting into the barrels and causing damage to the internal components. 

PRICE
The price of the binoculars is one of the most important factors in determining the best compact binoculars to get. There are many options out there ranging from the binoculars that cost less than $100.00. After looking at the different technical specifications, you should look at the price to decide which pair of binoculars best fits your budget. While in most cases the higher the price the better the pair of binoculars, there are some exceptions where you could grab a pretty decent pair of binoculars at a really bargain basement price. It is well-worth your time to search out these bargains.

Armed with the above pointers, it will easier to choose the best compact binoculars for your next RVing trip. Not surprisingly, most people that purchase compact binoculars regularly end up choosing the same types. There is an agreement among owners of binoculars that the binoculars listed have some of the best optics you could get. They all vary in price and have slightly different specs from each other but, they are all high-quality products worth considering and are a good starting point if you are looking to get a compact pair of binoculars in the near future.

Zeiss 8×25 Terra ED Compact Binocular
It has a fiber glass reinforced body and is as waterproof as it gets. The lenses are hydrophobic and resistant to fog. At 10.9 ounces, it is very lightweight. With a magnification of 8 and an objective lens of 25 millimeters, the Zeiss can definitely handle pretty much anything you throw at it. This is quite simply one of the best if not the best compact binocular out there. But at a cost of 901 dollars, it is not exactly cheap and out of the price range of most people.
If you however do not mind the hefty price tag, this is as good as they get. This one is for the RVer who does not compromise on quality in favor of price.

Leica 8×20 BCR Ultravid Compact Binocular
This pretty piece packs a stack of high end features. Adjustable eye cups and quick focus wheels are just the tip of the ice berg. It is as expected, waterproof and fog proof and even repels water from the outside that could hinder your view. Hailed by many as the best binocular for bird watching, they are also quite rugged so you do not have to worry about them getting spoiled. At 729 dollars, they are rather expensive but dollar for dollar they offer the best value for your money.

Vortex Optics Viper HD 10×42 Binocular
A lifetime warranty is the first thing that will catch your eye on the specifications. They are quite strong and can deal with extreme outdoor life and camping. It is no surprise that they are water and fog proof meaning that no location is off limits.
The high magnification is a good thing for those who want to view things that are further out but it also means that stability is a bit of an issue. The 499-dollar price tag is reachable for a larger number of people and with the amount of beating they can take and still remain intact; this is one pair of binoculars that could outlive your RV.

Polaris Optics SkyView Ultra HD 8X42
While they may be slightly on the larger size they make up for this in multiple ways. They have a wide objective lens so low light is not an issue for this big boy. They are also water and fog proof and are known for their durability. At 179 dollars, these binoculars are affordable to pretty much everybody and are a great starting point for most campers. If you plan to stay close to your RV most times then these are perfect for you.

Nikon 7548 MONARCH 7 8×42 Binocular
When it comes to performance, these optics do not fool around. The nitrogen filled binocular can work perfectly in bright or low light. They also pack their fair share of technological tricks. Some folks believe that these are  the best 8 by 42 binocular you can buy today. The price of 434 dollars is affordable for a lot of people out there. If you want nothing but impeccable performance get yourself one of these. If you do a lot of traveling across different terrains and climates then these should be your choice.

Celestron 71330 Nature DX 8×32 Compact Binoculars
A special mention for the only sub 100-dollar binoculars on the list. At 94 dollars, they still produce clear and glare free images. They are fog and water proof. For any RVer on a tight budget, look no further.  They are also seriously light and come in 8 by 25 all the way up to 12 by 56 giving you plenty of options to choose from. 

Choosing the best compact binoculars for outdoors and camping activities can be quite a challenge for some RVers. There is a lot of misleading information coming from all sources especially people with little knowledge of RVing that could leave you even more confused than you were initially. However, with all the information above you are now knowledgeable enough to choose the best binocular to fit your needs and budget. 

Get Your Article Published on Everything About RVing
If you have written an article about RVing, Camping or the Great Outdoors and you would like us to publish it on Everything-About-RVing.com, please visit our
Submit An Article Page.
Do you have any suggestions or comments on this topic?  You can add them to this page by using the comments section located near the bottom of this page.

Shop Best Prices on RV Fridges, Kitchen Appliances, Griddles, Stoves, Gas Ranges, Fireplaces at Way Interglobal Today!
Get Your Article Published on Everything About RVing
If you have written an article about RVing, Camping or the Great Outdoors and you would like us to publish it on Everything-About-RVing.com, please visit our
Submit An Article Page.
Fill out the form below to receive The Free
Everything About RVing Gazette
Newsletter