FTC Disclosure: I get commissions for purchases made through some of the links in this article for more information, visit our Advertising Disclosure Page.
Books That Will Make RVing With Your Dog Easier
Books That Will Make RVing With Your Dog Easier 

"If you enjoy taking your dog with you while you travel in your RV, you might enjoy some of these books and resources"

By Jessica Blackwell
If you enjoy taking your dog with you while you travel in your RV, you might enjoy some of these books and resources. The descriptions and reviews are included below exactly as provided by the booksellers. 

Dog Friendly's Campground and Park with your Dog in the U.S. and Canada will tell you everything you need to know to determine the best places to stay with your pooch. You'll learn which campgrounds allow pets, how many are permitted per campsite, if there are breed restrictions, and if there are extra fees for pets. Also included is information about pet walk or off-leash areas. Thousands of campgrounds are listed and there is plenty of detail about each one.

Dog owners will also appreciate a guide listing dog-friendly campgrounds along 25 highways, a special chapter on nearly 500 campgrounds that allow dogs in camping cabins, and a chapter devoted to where you can stay along the beach with a dog. And each campground profiled also notes its other amenities -- swimming pools, golf courses, fishing, and the regular RV stuff -- dump stations, hookups, etc. New to this edition is a day use park guide which suggests, in addition to the over one thousand parks with campgrounds, other dog-friendly day use parks that do not have camping. These parks make convenient hiking and walking points on trips, picnic areas and day trips. Available in Paperback, Publisher: Dogfriendly.Com Inc; 4 edition (May 2010) ISBN-10: 0979555108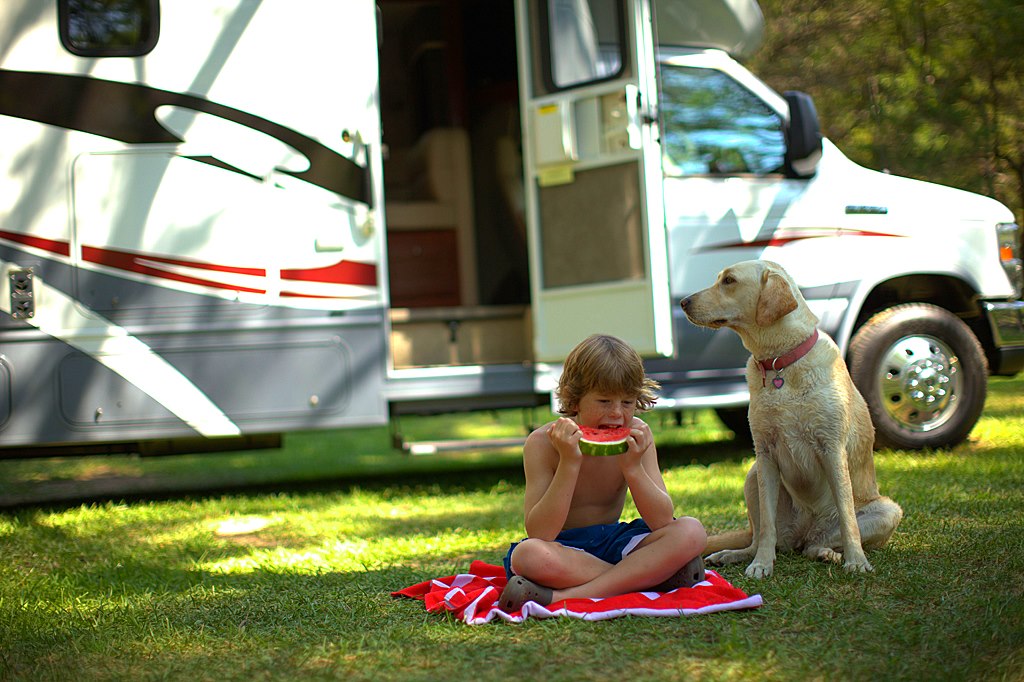 Travels with Charley, by John Steinbeck.  This may be the best book about RVing ever written, even though you'll almost never find it in any camping or RV bookstore. In 1960, author John Steinbeck, then 58, set out with his French poodle Charley to discover America. Steinbeck drives interstates and country roads, dines with truckers, and encounters bears at Yellowstone and old friends in San Francisco. Traveling alone, he is sometimes lonely. But often, as is the case today, the unexpected kindness of a stranger lifts his spirits. In 1960, there were no motor homes as we know them today.
Steinbeck had his RV custom built, and everywhere he went it attracted attention. Nowadays, we'd call it a truck camper and consider it primitive. But it was a warm and cozy home for Steinbeck and Charley and led them from one end of the country to another with many adventures along the way. If you're not yet an RVer, you will likely be fueled with desire to be one after reading Travels With Charley. If you already travel by RV, you will be charmed by Steinbeck's descriptions of his life on the road, many of which will ring true. You will love this book and may end up reading it over and over again. Paperback, 224 pages, Publisher: Penguin, ISBN-10: 0142000701.
Pet E.R. Guide: A Directory of 24-Hour and After-Hour Veterinary Facilities in the United States. Being prepared and well informed 'before' a pet emergency occurs can help you more confidently obtain the medical care your pet needs. Whether you are at home or traveling with your pets, being able to quickly locate a veterinary facility that is open and nearby can be critical. The 198-page Pet E.R Guide, published by Trailer Life Books in 2008, provides information to help you plan ahead and care for your pet in the event of an emergency. The focus on the book is its extensive state-by-state directory of 24-hour and after hour emergency veterinary facilities in the U.S with addresses, phone numbers, websites and descriptions of the facilities of each.
If something happens to your pet while on the road, this directory can be a lifesaver. The liberally illustrated guide also includes a 'pet travel checklist' to identify the necessities you need to keep your pet happy, safe and comfortable on your next trip. And very important for RVers who often operate in unfamiliar territory, there's a list from the ASPCA of the 10 most poisonous and toxic and non-toxic plants that you and your pet will want to avoid. Whether you travel with a dog, cat, bird or perhaps your granddaughter's guinea pig, you would be wise to pack along this comprehensive resource. Paperback: 198 pages, Publisher: Trailer Life Books (January 28, 2008), ISBN-10: 0934798893.
Do you have any suggestions or comments on this topic? You can add them to this page by using the comments section located below.
Return To The RV Lifestyle Articles Page From The Books That Will Make RVing With Your Dog Easier Page