FTC Disclosure: I get commissions for purchases made through some of the links in this article for more information, visit our Advertising Disclosure Page.
The Best Boondocking Locations
Boondocking is becoming an increasingly popular form of camping for RVers
By Evan Storch
Why camp in an RV park when you can take in the serenity of the great outdoors smack dab in the middle of it?
Boondocking is becoming an increasingly popular form of camping for RVers across the country and even Canada. Full-timers and part-time RVers are both boondocking. For those that don't know, boondocking is basically free camping out in the middle of nowhere – hence the name "boondock"ing. It takes you away from the hustle and bustle of established campgrounds!

Boondocking allows you freedom from the overly strict rules that you find at most RV parks. It's a challenge of its own to survive in the wilderness without fancy amenities like electric, water, or sewer hookups. Boondocking for multiple days, weeks, or even months on end provides its own series of logistical challenges ranging from having enough food, water, fuel for the generator, and propane to maximizing the limited space you have in your black and grey tanks.
My wife and I love the challenges of boondocking, but we do it because we love to be right in the middle of the wilderness!

I'm ready to boondock. How do I find the best boondocking locations?
Sign and Drive Coverage with Good Sam Roadside Assistance! Plans Starting at $49.95! Shop Now!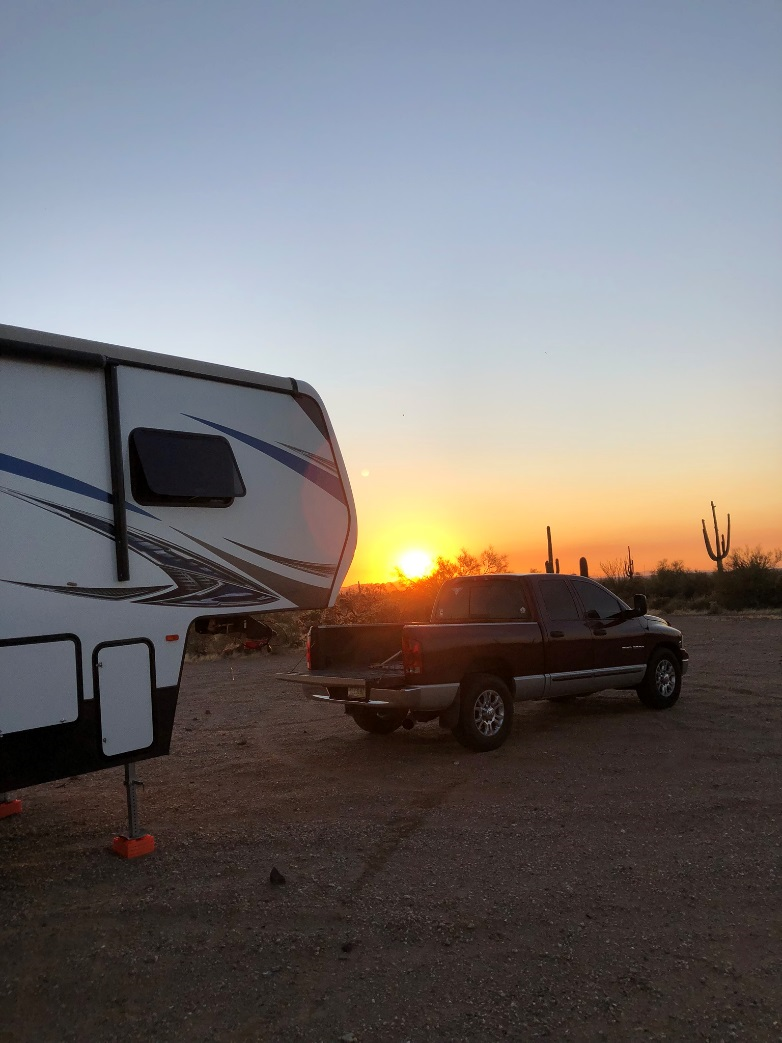 Every person has a different interpretation of what might be the best boondocking location. It's all a matter of personal opinion of what the "best" is. Some will say the desert, while others might say the mountains. Frankly, the best boondocking location should be what suits your personal tastes. I'm not here to tell you that one location is better than the other. All I am here to do is help you find the best boondocking location THAT SUITS YOU! 

The first step in this process is to research a location that you want to boondock in!

Your best bet for finding great boondocking locations is to find public land. This can be National Forests, National Grasslands, National public land Conservation Areas, State Trust Lands, etc. Most of these places do allow for boondocking, but it's always important to check first. Some regulations may prohibit boondocking in certain areas of these public lands. 
Most public lands will have a cap on the length of stay. It is usually 14 days. After that point you need to pick up and move along.

How do we select a site to boondock at?
Since becoming RV owners, we have boondocked multiple times with both our travel trailer and toy hauler fifth wheel.

I personally use several resources for finding a potential location for boondocking. I like the AllStays Camp & RV App on my iPhone. It is a good place to start when looking for locations that offer free dispersed camping and sometimes offers pertinent details for each location such as elevation, amenities nearby, how large of a rig can fit, and if any sort of special permit is required. This information isn't always accurate though and should always be verified through additional research. Aside from AllStays, I also use Google Earth for satellite imagery of the location. This gives me an opportunity to view what the roads in the area look like and any physical challenges or barriers to get in or out. Sometimes you will even get lucky enough to see other RVs in the satellite image which can be great in determining if you might fit! I also like scouting out a site in person too if I'm able to. I'll talk about this later though.

Different RVs and trailers provide their own series of challenges for finding the best boondocking location.  There are so many factors to look at to determine the practicality of boondocking at a certain location – size of your rig, terrain, fire danger, distance to emergency services, distance to other resources, wildlife in the area, and weather conditions. I'll cover some of this below.

I will tell you, SIZE MATTERS! 
Save 10% on campground fees when you become a Good Sam member Today!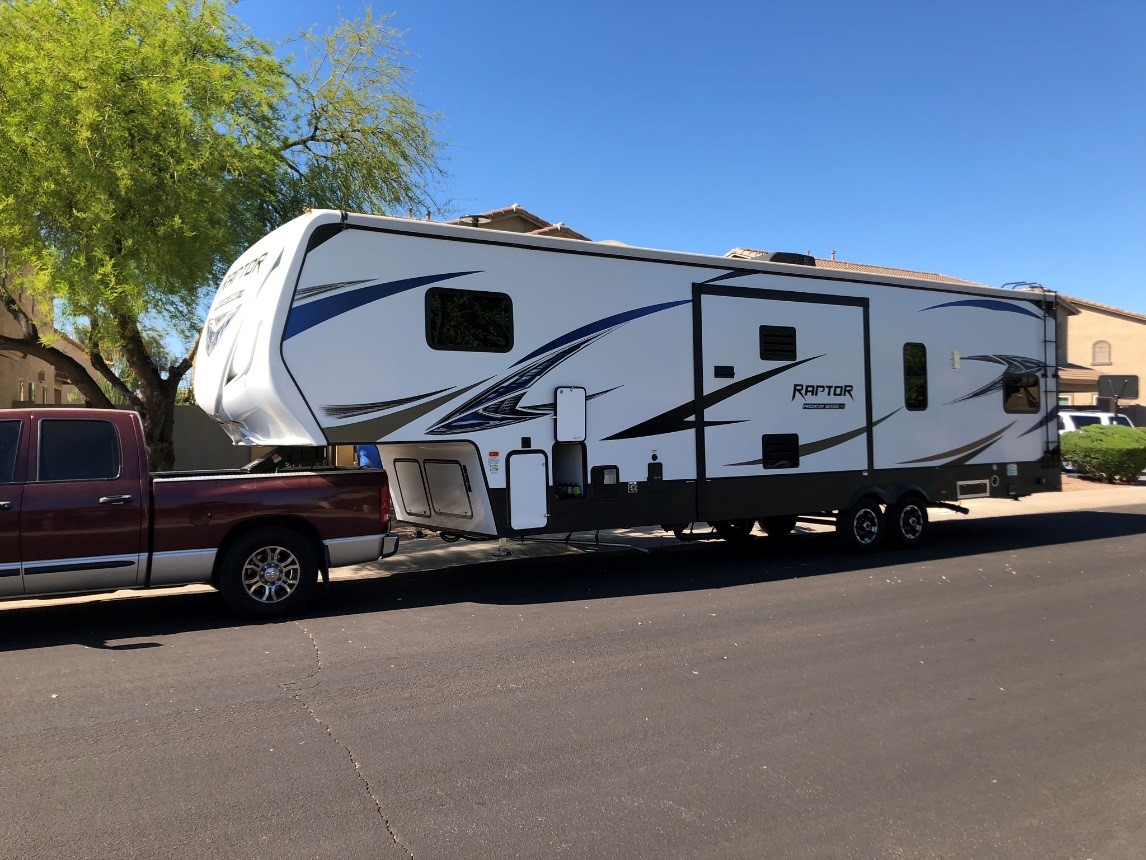 The last thing you want is to be driving your 40ft toy hauler fifth wheel miles down a narrow forest service road only to find out that you can't even fit where you wanted to go and now there's nowhere to turn around either! Looks like you're backing it out.

No, that is not what we want and this is why boondocking does require some level of planning. You need to know your rig…how long it is, how tall it is, and how sharply it can turn!

We have had our own share of gaffes while boondocking, one of which involved size. Last fall before we got rid of our 28ft travel trailer we took it out near Oracle, AZ to camp for a weekend. The area was heavily covered in cholla cactus. The spot we were trying to get to forced us to navigate through some narrow areas surrounded by cholla. At one point I managed to rub both sides of the trailer against chollas! Yikes! It scratched the trailer pretty good, but a lot of it I was able to buff out fortunately!

This is why it is important to scout your location beforehand if at all possible. Drive out to where you plan to boondock (without your trailer obviously) and look for any challenges you might have. Scouting will give you a good opportunity to determine whether to continue with your planning or scrap it all together.

Terrain
Just as size matters, so does terrain in finding the best boondocking locations. Most boondocking involves some sort of off-road driving. You need to know the surface you are driving on and the capabilities of your vehicle!

If you only have a two-wheel-drive truck to tow your trailer with or you're in a motorhome (which are usually two-wheel-drive anyways), then picking a boondocking spot in the mud or soft sand probably isn't the best idea! 

I found this out the hard way once again.

For those that don't know me I have a two-wheel-drive truck. A year ago, I found out just how bad two-wheel-drive does in mud. During a trip to the White Mountains in Arizona, I got stuck in the mud. It had been raining all day just outside Big Lake and the ground was literally soup. This two-wheel-drive truck of mine didn't even have posi-traction, so really I was only driving one wheel. That makes you really, really stuck. Luckily a friend was able to yank me out, but that was another lesson learned. I still have the truck and we still use it all the time. I just know my limitations (I did at least install a posi rear end after that!).

Besides the whole two-wheel-drive versus four-wheel-drive debacle, ground clearance is very important. You want to know that the path you are taking isn't littered with boulders that are going to break your sewer pipe off or tree branches that are going to snag and knock your air conditioner off the roof!

Scouting is just as important here as well!

Fire Danger
Before you give your stamp of approval to your boondocking location, check the fire danger for the area. Personally, we avoid camping in areas where fire danger is "very high" or "extreme" for a couple of reasons. The heightened fire danger means just that – conditions are favorable for fire. The last thing we want is to be caught in the middle of an inferno (should a fire start nearby) with limited ways out. 

Our second reason is less about safety and more about ambience. When we boondock we always like to get a fire going early in the evening to sit around and enjoy the warmth, especially when the evenings get cool.

Either way, if you choose to camp where the fire danger is high, just have a plan in place. Know your path out of your location to safety. It never hurts to have multiple ways that you could leave an area. If you're in a motorhome, having an alternate mode of transportation is good. I'd rather let my rig go up in flames than let the fire get me or my family.

Distance from Emergency Services
Know where the nearest emergency room is. Life while boondocking can be unpredictable and accidents do happen. It also never hurts to have adequate medical supplies just in case of a medical emergency. You may not be close enough to emergency services to completely rely upon their expertise for care. Knowing how to splint a leg or arm in the event of a break or using a tourniquet should you or someone else lose a limb or suffer a serious arterial bleed could be lifesaving.
As part of planning you should know where you get cell phone reception. Sometimes we boondock just for the sake of being away from cell phones. But knowing where you get reception might be critical to finding help if you are having a medical emergency in the wild. Most cell phone carriers publish maps where their networks extend to. Learn where your service extends to!

Distance from Resources
Have you ever had your propane tanks run out on a cold night? It might not be that bad if you're camped in an established campground with electric hookups where you could plug a space heater in. But if you are out in the middle of BFE with no hookups and the closest town is an hour away, you're out of luck.

It's best to go boondocking with full tanks of propane, plenty of gas for your generator, and a full tank of water on your trailer. 

However, it never hurts to find a spot where you're not far away from these resources if it comes down to it. The best boondocking locations are those where you can easily make a trip to town should you run out of supplies.

Wildlife in the Area
Camping off-the-grid offers plenty of wildlife viewing opportunities. There's nothing more surreal than waking up to rattlesnakes under your steps or bears digging through your trash. 
Well maybe that isn't that so surreal. Wildlife can be very dangerous. When boondocking be aware of the type of wildlife in the area that you are camping. 
Bears, mountain lions, javelina, rattlesnakes, scorpions, spiders, bees, etc. are dangerous and precautions should be taken to avoid injury or death from contact with them.

Avoid leaving food and garbage lying around your campsite. This will make your campsite less attractive for hungry animals like bears or mountain lions looking for a meal. If boondocking in an area known for rattlesnakes, always check around the entry steps and tires of your rig to make sure you aren't going to unexpectedly step on top of one. Never pick up large rocks unless absolutely necessary. Many snakes like to hide under them. Scorpions can also be a nuisance in the desert regions. The Arizona Bark Scorpion in particular is the most poisonous scorpion in North America. They tend to hide out in piles of dead wood or under rocks. Luckily they glow under UV light, so if you're boondocking in the desert carry a blacklight with you.
Weather Conditions
Nothing plagues a good camping trip than bad weather. Bad weather might turn some places that would normally be the best boondocking locations into the worst boondocking locations. 

When planning you boondocking trip weather needs to be a major consideration. Rainy conditions might make for a muddy mess that a two-wheel-drive truck or motorhome would have trouble driving through. Snowy conditions could likewise make accessing certain areas difficult and colder weather could make you burn through propane faster as you try to keep your rig heated.

Just because it's going to storm does not mean you necessarily need to cancel your boondocking trip. Just make sure to plan accordingly for all conditions!

Important Items to Bring When Boondocking
I've compiled a list of common items I like to pack when we boondock. I feel that these items can be critical to the overall success of any boondocking trip and allow us to have a means to fix most problems we may encounter.

My List
• Sufficient tools to tackle most problems with either the truck or       trailer
• One 5-gallon can of gas
• One 5-gallon can of diesel
• A collapsible 5-gallon water jug to fill with potable water in the      event you run out
• A cooler with plenty of ice
• Enough layers of clothing for all weather conditions
• A heavy comforter for sleeping in cold weather
• An electric space heater (to be run off generator) if very cold
• Enough firewood for several night's worth of fires
• Source of ignition for fires (lighters, matches, torches, etc.)
• Plenty of food for several days
• Enough propane to run the fridge and heater for several days
• Portable grill with several propane cylinders
• At least two flashlights and batteries to power both
• Enough bottled water for drinking
Selecting the best boondocking location is not a "one size fits all" process. Some might not be experienced boondockers and would prefer staying close to civilization should something go awry. Others that are experienced in boondocking might prefer being miles away from town and way off the beaten path. Everyone has their comfort zone. It's best to stay within it and go with what works for you when selecting the best boondocking location!

About The Author
Evan and his wife have been part-time RVers since 2018. Their eventual goal is to travel all of the continental United States, Canada, and Alaska by RV. They recently completed a 5,000 mile journey from Arizona to the Canadian Rockies and back with their two-year-old son.
Evan works a full-time job as a police officer for a large agency near Phoenix, AZ. In his free-time Evan maintains their blog, Lower 48 In Tow. Evan has written several informative articles including Crossing the Canadian Border with an RV and The Ultimate Survival Guide for RVing with Infants, Toddlers, and Small Children.
Do you have any suggestions or comments on this topic? You can add them to this page by using the comments section located below.