FTC Disclosure: I get commissions for purchases made through some of the links in this article for more information, visit our Advertising Disclosure Page.
Bad Camping Etiquette: Five Ways to Make Your Fellow Campers Despise You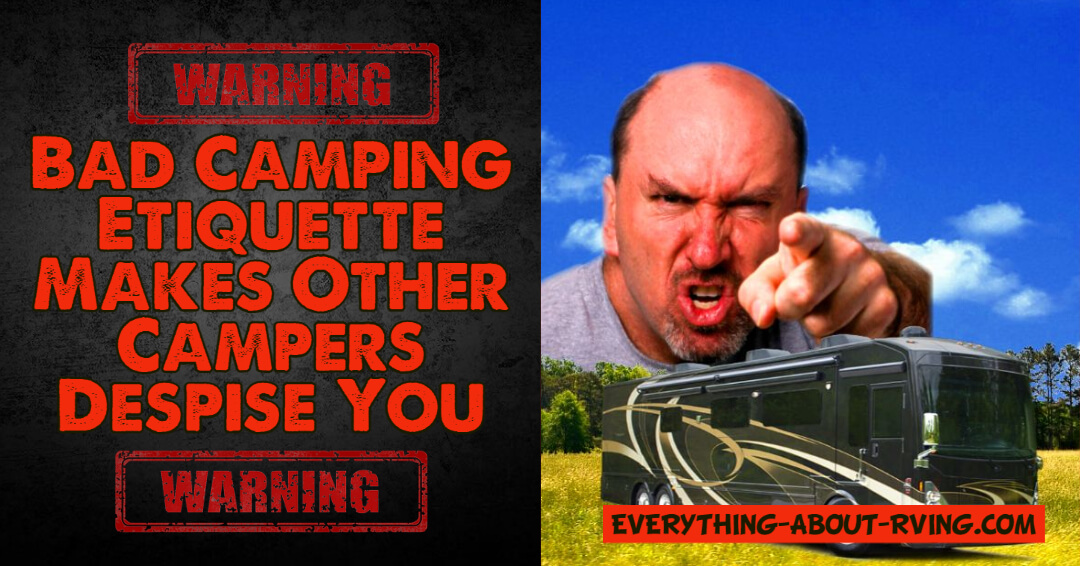 By: Karen Ho Fatt
Do you have bad camping etiquette?
When I was a teenager at school we studied Maslow's Hierarchy of Needs, which is a five-step list of the stages of growth and maturation that all humans experience.
You might remember the "needs triangle." (Pictured above; Source: Wikipedia.com)
Sometimes, when I'm camping, I wonder if some people will ever make it past the first step.  More often than not, there is that family, usually camped right next to me, that makes me wonder how on earth they made it to adulthood.  It's as if they thumbed their noses at poor Maslow and said, "Take a hike." 
I have to wonder if these people are purposely trying to get under everyone's skin or if they are truly self-unaware.  As a result of my musings, I've compiled a list of things you can do to roll back any progress you've made in personal development—at least when you're camping.
Ways to Deny Yourself Acceptance By Others
1.     Do Not Take Care of Your Campfire
While everyone else is enjoying an evening sitting around their fire pits, go ahead and leave yours unattended.  In fact, if the wind is blowing, throw some trash in there so the smoke wafting into your neighbor's camp will carry with it a little toxicity and a lot of stink.  For good measure, let it smolder for hours.  With any luck, everyone's RV upholstery will smell of smoke for months afterwards. 

 2.    Please, Let Your Kids Run Wild
Aside from stranger danger, unfriendly dogs, campfires and matches, knives, deep water, wild animals, poisonous plants, biting insects, speeding cars, steep drop-offs, snakes, and bullies, there's really nothing that can hurt them. 
When you see your precious little offspring wandering through other campsites, be sure to go back inside for your afternoon nap.  Responsible parenting demands that you are  well rested for later when you yell and swear at them because you can't find your cigarette lighter.
3.   Everyone Loves Your Dog as Much as You Do

Shredder, your saber-tooth Doberman is as kind and gentle as a baby chick and would never hurt anyone.  When he bit that little boy's thumb off last month it's because he was provoked.

If Shredder barks all night long, all the nearby campers will understand.  He must have been provoked.  It has nothing to do with the fact that his chain is tangled up in the picnic table and all he got for dinner was that one hotdog that fell into the ashes when you were cooking dinner.
Dogs love to run and play and explore as much as kids do, so unleash those 70 pounds of kid chasing, food stealing, and poop making happiness so that he can just be a dog.

Save 10% on campground fees when you become a Good Sam member Today!
4.   Camping is About Noise  

If there ain't noise, it ain't camping!  Turn your radio up full blast.  It would be a shame if that retired couple from Vancouver drove three days to be here and didn't get to jam to some serious #@&*!ing hip hop at least once before they go home.  Yo, yo, yo, everybody loves the shizzle. Fireworks—check.  Honking your horn to get someone's attention—check.  Loud generator after hours—check, check, check.  Now, that's camping!5.   Midnight Isn't Really That Late
Hey, you have a job, and you work hard, so when you arrive late at night, it's A-ok to shine your headlights into other campers, use loud voices, and leave your diesel truck idling while you set up camp.
Save 50% Off of Campsites with Passport America

5.   Mi Casa es su Casa
When you camp next to someone, they will be more than pleased if your slide outs hang over into their space.  Each time they bump their head they will apologize to you for any inconvenience they cause.  You can hit them up for damages later.
If you forget which campsite you have reserved, no problem, just pull into that one along the beach with the big shade trees and full hook ups.  When the rightful occupant arrives, they will understand your plight and the hardship it causes you to have to pack everything up and move.  All campsites are equal, and they shouldn't mind finding something else.
Once you have settled into "your" campsite, go ahead, and put your dog kennel below the neighbor's slide out.  Park your ATVs on their grass, and if you must move some of their lawn chairs, or borrow some firewood, they won't mind.  When relatives come to visit, have them park in the road.  If people can't maneuver around them with an RV, they shouldn't have bought it in the first place.
But Seriously
This tongue-in-cheek look at camping etiquette pokes a little fun at some of the things that really do happen in campgrounds.  Most people aren't bad; they just don't realize that camping is about everyone's fun, not just their own. I have learned over the years that the majority of people have the best of intentions and haven't yet learned the rules for courteous camping.  The best way to keep them from spoiling your experience is to have a dark sorcerer curse all of their vehicles so they won't start.  If you are unable to arrange this, you're going to have to be a good and patient camp neighbor. St. Augustine told us, "Patience is the companion of wisdom.
About The Author
Karen Ho Fatt is a freelance writer who makes her home in the beautiful Canadian Rockies. 

Return To The RV Lifestyle Articles Page From The Camping Etiquette: Five Ways to Make Your Fellow Campers Despise You Page