FTC Disclosure: I get commissions for purchases made through some of the links in this article for more information, visit our Advertising Disclosure Page.
10 Considerations When Choosing An RV Campground 
Here at 10 tips to help you find your ideal RV Campground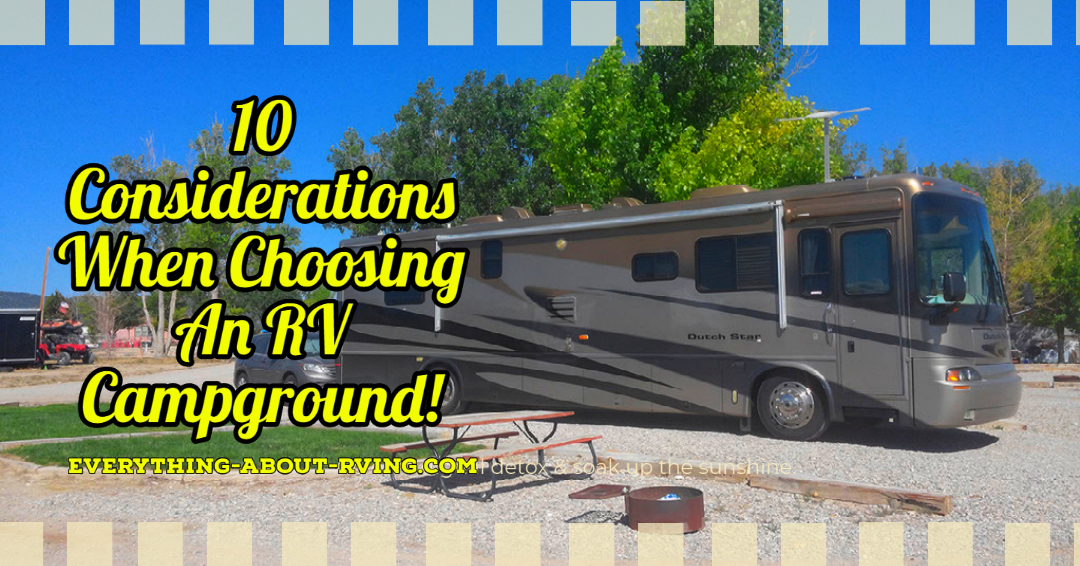 By Beatrix Potter
One of the most important aspects of RVing is the actual RV campground that you stay in. After all, choosing a campground that meets all your needs will help to ensure that you have a fun and comfortable trip. Here at 10 tips to help you find your ideal RV campground.
Choose Your Location
When you are choosing which RV campground to go to, location should be at the top of your list. Firstly, think about the type of climate that you want to spend your time in. This will help to determine whereabouts in the country you might travel to and help you to narrow down the location which is most suitable for you.
Check All Costs
Save 50% Off of Campsites with Passport America

Your budget is an important factor to consider. Make sure that you find out exactly what's included in the cost, besides the daily rate. For instance, are there any specific amenities you have to pay extra for? You don't want to have any unexpected costs at the end of your trip, so take some time to find out all the costs involved.

The Length Of Stay
Restrictions are different at each campground, regarding length of stay. Decide early on what length of time your trip might last. If you're looking for a longer getaway, you may need to search for a specific long-term RV campground. It is also worth calling the campground and finding out whether it is possible to extend your stay if you decide you want to stay a bit longer
Available Amenities
Make sure that you check which amenities are available at the RV campground and whether there are any additional costs involved for these. For instance, you might need on-site laundry services or WiFi if you are staying for an extended period. If you're looking to relax in the sunshine, you will want to check whether the campground has a pool area. 
Activities That are Offered
Some RV campgrounds offer organized activities, such as game nights and ice-cream socials. There are some that even organize day trips to go to nearby cities or to go fishing or play golf. If you'd like to stay somewhere that offers such activities, make sure that you find out what's on the schedule and factor that into your plans.
Choose The Type Of Experience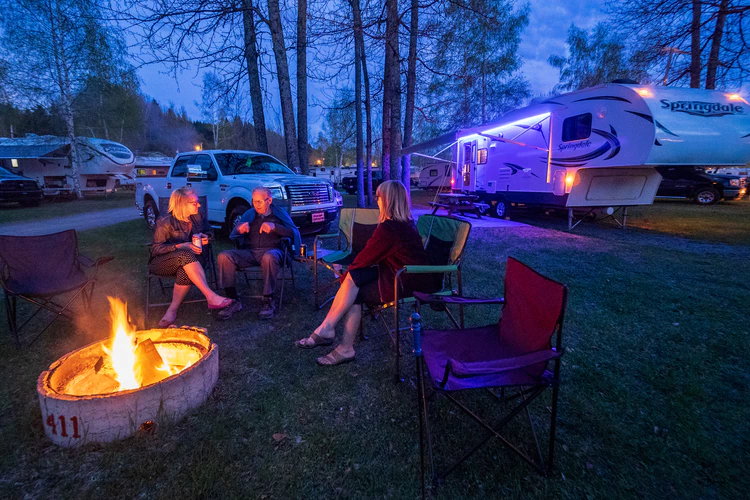 Decide what type of experience you would like to have. Maybe you're looking for a sociable environment which has a sense of community with lots of group activities and the opportunity to meet new friends. Alternatively, you might want to find a quiet, relaxing space away from traffic and noise sources. Make sure that you take the environment and style of the RV campground into consideration when making your choice.
Places Nearby
If there are any specific activities or places you would like to visit during your trip, make sure that you choose an RV campground that is located close to these. Check the distance between the campground and the activities or places you want to visit. Ensure that it is a comfortable distance to travel before booking the RV campground.
Pet Restrictions
It's important to check whether there are any restrictions on pets at your chosen RV campground, including whether they are allowed. Make sure you ask whether there are any additional costs associated with bringing pets and what the rules are for waste removal and leashes
Check Reviews
Reviews can give you useful insights into what people liked or disliked about the campground. It's important to look at individual reviews rather than just the overall rating, as sometimes this can be misleading and not fully reflect the park. It can also be helpful to see how the owner responded to and resolved problems, as this can help to give you an indication of the type of service you might expect if you stay there.
Check Refund Policies
It's important to ask about the RV campground's refund policy before they take your payment. It might be that you don't like the campground once you arrive, or some unforeseen event causes you to be unable to go. Make sure that if you are traveling to a popular campground or during a busy period that you book your spot as soon as possible to avoid disappointment.
About The Author
Beatrix Potter is a professional writer for both at Do My Assignment and Essay Paper Help writing services. She also regularly tutors at Essay Writer website. Bea enjoys RVing throughout the country and she has a lifelong passion for yoga.

Do you have any suggestions or comments on this topic? You can add them to this page by using the comments section located below.