FTC Disclosure: I get commissions for purchases made through some of the links in this article for more information, visit our Advertising Disclosure Page.
RV Family Camping
"Planning a RV Family Camping trip is definitely a family affair"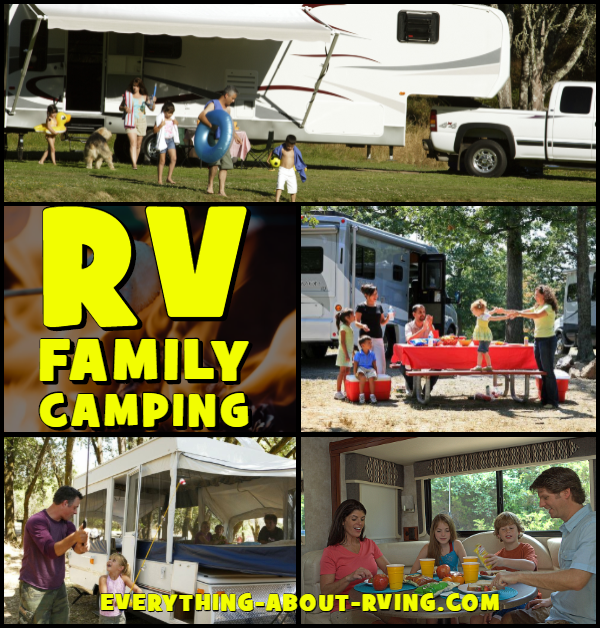 RV Family Camping

By: Piet Van Lier
You are planning to go on a RV camping trip with the family. How can you make it a memorable and enjoyable experience? Get the family involved! Each family member probably has a different idea what the RV vacation should be like. Give them the opportunity to express where they would like to go and what they want to do. 
Planning a RV trip is definitely a family affair. Discuss what each person needs to take along on the trip including personal items such as books and CD's to keep them occupied during the slack time of the trip. If they are old enough, make them responsible for their own items. A RV checklist is extremely helpful in preparing for an extended trip. 
Make a list of the places your family has decided to visit. Then enter these destinations into a web site that offers free trip planners. Follow the prompts, and print out the results. The printout will give you valuable information such as mileage between locations, travel time required, cost of the trip, and road conditions you can expect to encounter.
individual destination, write down what you want to see and do. For example, if one of the choices is a favorite lake, you might list fishing, boating, hiking, and a side trip to a historical location. By making such a list you will know ahead of time what to pack for each situation. Do this for every intended major stop.
NOTE: Just because you have made these lists does not mean your plans are etched in stone. You can still be flexible enough to change your plans, but at least you will have packed the items you need. 
Save 50% Off Campsites with Passport America

Selecting your campground: Where you spend each night can be the most important factor of your trip and with some pre-planning you greatly reduce your chances of being disappointed. There are many different types of RV campgrounds and RV parks available; from the very deluxe five-star membership only RV resorts to primitive sites with no water, sewer, or power. 
Selecting a campground site where you want to spend the night or a few days is relatively easy. It is important, however, to do your homework before a final decision and if necessary a reservation is made. You will want to stay at a camp- ground that will meet the needs of the plans that your family made at the very start.
You can find a list of campgrounds near the area where you intend to stay by looking up on the web directories of RV parks and campgrounds. Review each possible RV park listing for their rating (most of these parks are inspected by other rv'ers hired by the directories) and facilities such as laundry, store for RV camping supplies, number of spaces, picnic areas, etc. Then call the RV park for reservations. It is best to guarantee your space with a credit card since you cannot be certain of what time you will arrive. There are just too many variables that can arise during the day's trip to assure an exact arrival time
If you don't require all the extra amenities offered by the RV parks but simply want water, power, and perhaps a sewer hookup, there are several camping alternatives available. National Forest campgrounds often have spaces for RVs as do state parks and county parks. They are usually less expensive than their commercial counterparts and offer a safe environment for your family. The NFS campgrounds honor the Golden Eagle Pass for seniors which entitles you to substantial discounts. You might also consider the unimproved sites available with limited or no hookups. These campgrounds can be found in a listing of BLM or Corp of Engineer web sites. These unimproved RV sites cost as little as five dollars a night and the surroundings can be breathtaking!
Finally, if your family is the adventurous type and enjoys the boondocks for activities such as hiking or riding off road vehicles in the sand dunes, you might want to consider dry camping. This type of camping is where there are absolutely no facilities available. You are simply camping where you park. Dry camping, however, usually requires the use of a power generator. The importance of pre-planning and proper packing is paramount when dry camping because of the lack of any facility readily available close by. 
Family camping can be a great experience for all, and especially for RV campers. When the trip is over there will be memories to share that will last a lifetime.
About The Author
Piet Van Lier is the owner of a small business that manufactures the Picnic Placemat, the newest and most useful accessory for picnics, rv's, camping, etc. Mr. Van Lier enjoys leisure outdoor activities and spends much of his time traveling with his wife and family in their motorhome.
Do you have any suggestions or comments on this topic? You can add them to this page by using the comments section located below.
Return to the RV Lifestyle Articles page from the RV Family Camping page