FTC Disclosure: I get commissions for purchases made through some of the links in this article for more information, visit our Advertising Disclosure Page.
Tips for Teaching Your Kids to Fish when Camping
By Dale Shetler
Great Tips on Teaching Your Kids to Fish when Camping
When you hit the open road in your RV, the list of gear you have stowed and strapped down can include everything from bikes and binoculars to kites and kayaks.
Share This Page
Save 10% on campground fees when you become a Good Sam member Today!
One category of equipment that should always be on board is fishing gear.
In this article, we'll go over a few ways you can introduce your family to fishing.  Getting kids into fishing is all about returning to basics and having fun.
Read on to pick up some tips on how to have a blast fishing with your kids.
Preparation is Key
If you have a plan of action and all your gear ready to go, you'll stand a better chance of making a fishing trip fun and engaging.
Here's a gear checklist to get you started:

Fishing stuff—Have rods, bait, and tackle on hand, with everything rigged up and ready to go.

 

Drinks and snacks—Keep kids happy with a mid-trip snack, and make sure everyone stays hydrated.

Hats and Sunscreen—Don't let sunburn spoil the fishing fun.

Bug repellant—Flying insects love to hang out near water, so be prepared, and don't let them bug you or your kids.

 

First-aid kit—When novice anglers get around sharp fishhooks, accidents can happen, so have a tube of antibiotic ointment and a few Band-Aids available.
The rod can be a good old cane pole, but it's better to go with a basic spin casting outfit like the classic Zebco 33. For many years, closed-faced reels like the Zebco 33 have been perfect for introducing kids to the art of casting.
As for the plan of action, it pays to know a little about where you'll be fishing. If you're not familiar with the body of water, try to get some local advice.
You can check in at a local tackle shop and get the kids involved as you buy bait, ask for tips on where to go fishing, and make sure you know the fishing regulations that apply to you.

Keep It Simple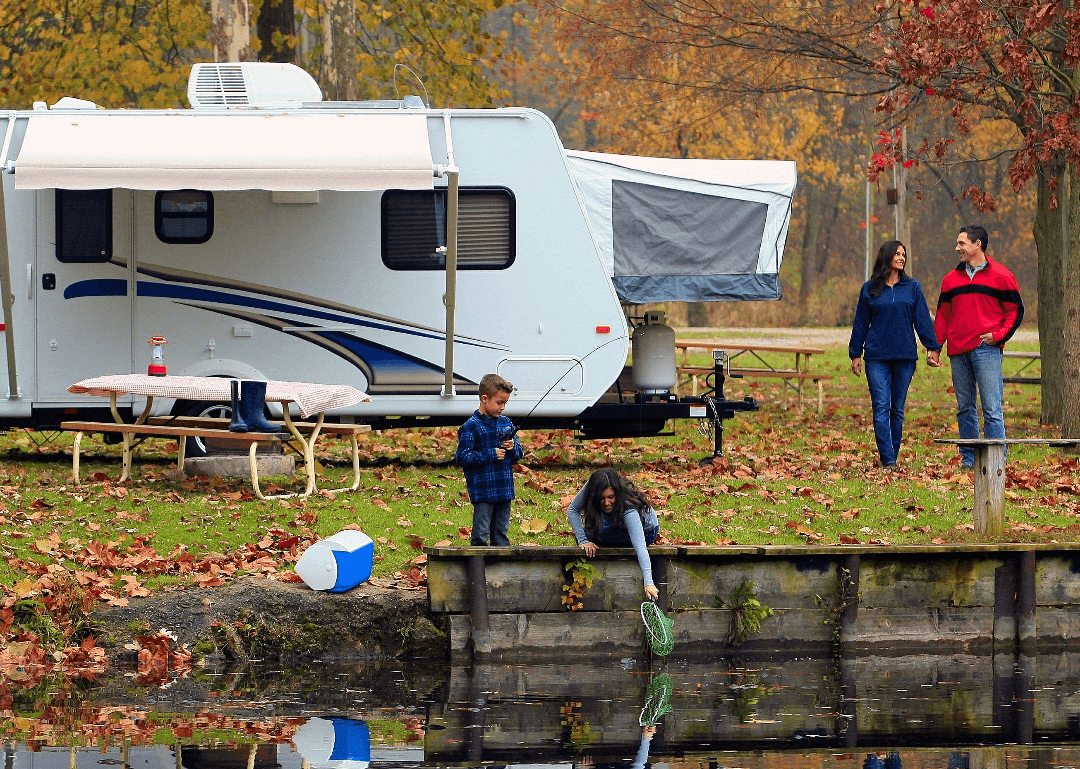 Forget fancy lures and techniques geared toward catching trophy fish. Kids want to catch something, and using live bait is a way to almost guarantee success.

If you set your young anglers up with a worm and bobber, that's the best way to show them what fishing is all about. They'll need to get their bait on the hook and cast to the right spot, and then watch the bobber, experiencing the anticipation of catching their first fish.

When that bobber finally goes under and the fight is on, you'll see beaming smiles and the excitement that comes with a first catch.

Show and Tell
With a little patience, you can show your kids how to cast.
For smaller arms and hands, a sidearm cast is recommended. Here are the basic steps:
Look over your shoulder to make sure nothing will get in the way of your cast.
Move the rod tip back, holding it about waist high.

Swing the rod forward quickly and release the line just before the rod is pointing at the target.

Finish the cast with the rod pointing straight toward the target.
Demonstrate the cast a few times, explaining to your kids what you're doing at each step. Then, let them try it. You can all giggle at the first few attempts and then cheer together when the casts get better. If you give them tons of encouragement, young casters will get on board fast.
Next, show your kids how to hold the rod in front of them at the 10 o'clock position, and watch for a bite.
Save 10% on campground fees when you become a Good Sam member Today!
Make It Fun
You know that it's easy for kids to get distracted. One moment of boredom and you risk losing their attention.
You can make all parts of your fishing adventure fun. Involve your kids in the preparation, build the excitement with the talk of a big fish, and manage expectations with jokes about coming home empty-handed.
If the trip turns into half fishing, half chasing bugs, and squirrels, let it happen. Especially for really young kids, fishing should be a soft sell; too much pressure and you may find yourself ending the day early.

It might go without saying, but you should leave your own rods at home. You're there to help bait hooks, get unsnagged, unhook fish, and cheer on the young angler.

If you liked this article and are interested in getting some advice from experienced anglers about all kinds of fishing gear, check out more great articles at Fishing Refined.