FTC Disclosure: I get commissions for purchases made through some of the links in this article for more information, visit our Advertising Disclosure Page.
Glamping While Popup Camping
This article will share tips & tricks for glamping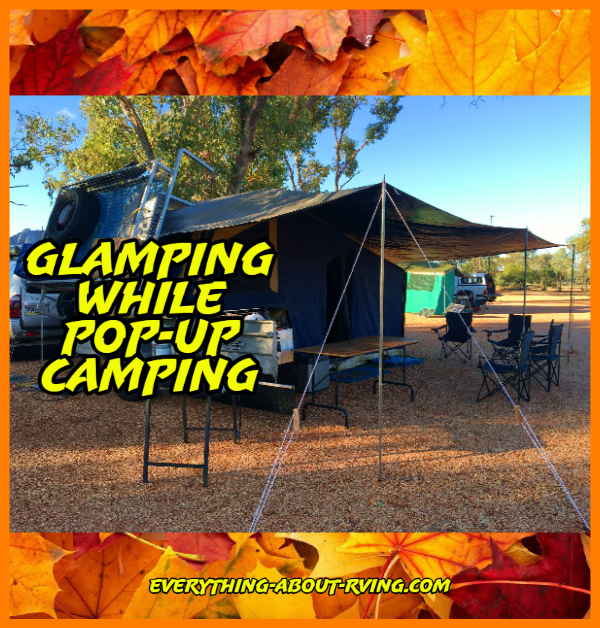 By : Matt Kurtz 

D&G Dealer Services LLC
This article will share tips & tricks for glamping. Our guide will help you navigate…. If you've never heard of glamping before and would like to find out more, keep reading!
Share This Page
Save 10% on campground fees when you become a Good Sam member Today!
Pre-Arrival:
Practice: Setting up the tent camper at home a couple times to help avoid any issues once you arrive at your campsite.  Find a wide-opened parking lot to practice backing up and turning with the pop-up camper attached. 
Pick your campsite out ahead of time.  For example, some campsites will not allow you to bring your own firewood, so always do your homework ahead of time.
Smart to invest in storage bins since space sometimes is an issue while pop-up camping.
Cooking essentials: Plates, bowls, mugs, utensils, tablecloth, garbage bags, paper towels.
Sleeping essentials: Air mattress, sleeping bag, pillows, sheets, and blankets.
Party essentials: Wine, beer, margarita mix / machine. Bottle opener & wine opener. 
Heath essentials: First aid kit, sunscreen, bug spray, aspirin, baby wipes, hand sanitizer.
Group cooking: Before the trip, we recommend putting each person in charge of one group meal, therefore the cooking and expense is spread evenly among all glampers. 
Camping:
Save 50% Off Campsites with Passport America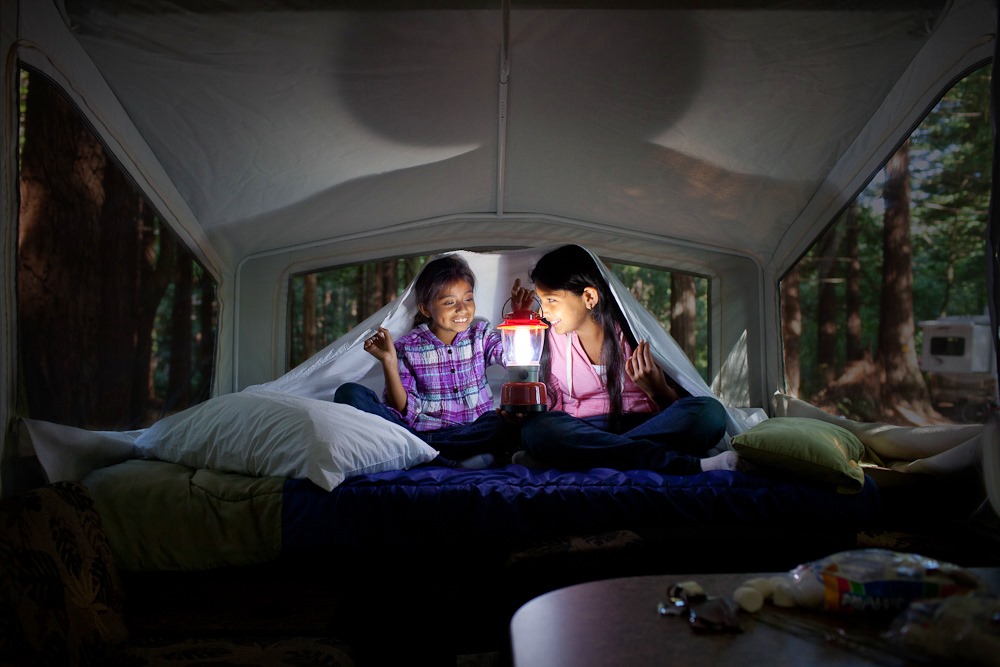 Once at the campsite make sure to park the camper on level ground.  Yes, this sounds obvious but with a lot going on can sometimes be forgotten.
Raise the roof:  Always good practice to set up the camper completely before retiring to bed on the first night.  You will thank yourself in the morning.
Make an effort to meet and greet other campers around you to ensure a good time. 
Many pop-ups come with screens for the front of your trailer so we suggest to set that up immediately to serve as a buffer to keep mosquitos and other pesky bugs out of the trailer.
Camping activities for all ages: Smores over bonfire (white, dark chocolate or even a Reeses since we are glamping) fishing, swimming, game night
Music: Bring a speaker with campfire and late-night playlist or if you musical talented bring a guitar to sit around the campfire and play guess that song
Post-trip: 
When the camping trip is over, make sure to dry off your trailer, since any moisture can create mold or mildew  

While on your drive home, if you are thinking about any mechanical failure that might occur on your next trip, give us a call and we can get you a quote on an extended service contract. 

About The Author
Matt Kurtz is a Senior Account Representative at D&G Dealer Services, LLC. D&G Dealer Services is a Simple, Fast, and Efficient Full-Service Finance and Insurance LLC for Recreational Vehicles. Please follow us on Twitter for more fun tips, blogs, and content: https://twitter.com/dgds_cinci.
Do you have any suggestions or comments on this topic? You can add them to this page by using the comments section located below.