FTC Disclosure: I get commissions for purchases made through some of the links in this article for more information, visit our Advertising Disclosure Page.
5 Options for Doing Laundry While RVing
These 5 options for doing laundry while RVing will help you keep looking sharp in your RVing attire
If you only go on short trips in your recreational vehicle, you don't have to worry much about doing laundry. You can pack what you need for a few days and then wash it when you get home. However, many people like to take cross-country trips in their RVs, staying on the road for weeks or even months at a time. You probably do not have enough clean clothes to last you for your entire trip, and even if you did, your RV wouldn't have enough room to store them. If you take a long journey in your RV, occasionally, you will have to do laundry. Here are some of the options available to you. 
Share This Page
Save 10% on campground fees when you become a Good Sam member Today!
1. Wash Laundry by Hand
There are several advantages of washing your laundry by hand while traveling in an RV. It is one of the most cost-effective options, and it doesn't take too long if you wash small loads at a time. The step that takes the longest is drying the laundry on a portable clothesline, and outside of hanging up the clothes, it doesn't require any effort on your part. While the clothes are drying, you can do other things.
There is even a hack to make scrubbing your laundry easier. You can set the clothes to soak in a bin or tub and put them in the shower of your RV before you take off driving. The vehicle's movement agitates the clothes in the water and detergent, and the shower door contains any spillage. This may sound like something out of the Beverly Hillbillies, as though you should call pool builders near me to build a "cement pond" in which to launder your clothes, but it actually fits in with the theme of camping which often involves doing things in rudimentary ways.
2. Use an Onboard Washer or Washer/Dryer Combo
Some of the more luxurious RVs already have a washer or a washer/dryer combo installed in them. If you do not have onboard laundry appliances in your RV, you can purchase them separately. This option requires a significant upfront investment. It is not a good option if you typically do not hook up your RV to water and electricity or are concerned about how much of these resources your RV washer/dryer may use. However, if you're the type who goes camping for a change of scenery and doesn't like roughing it, this could be a good option. Keep in mind that these appliances do not have a large capacity. 
3. Go to Laundromats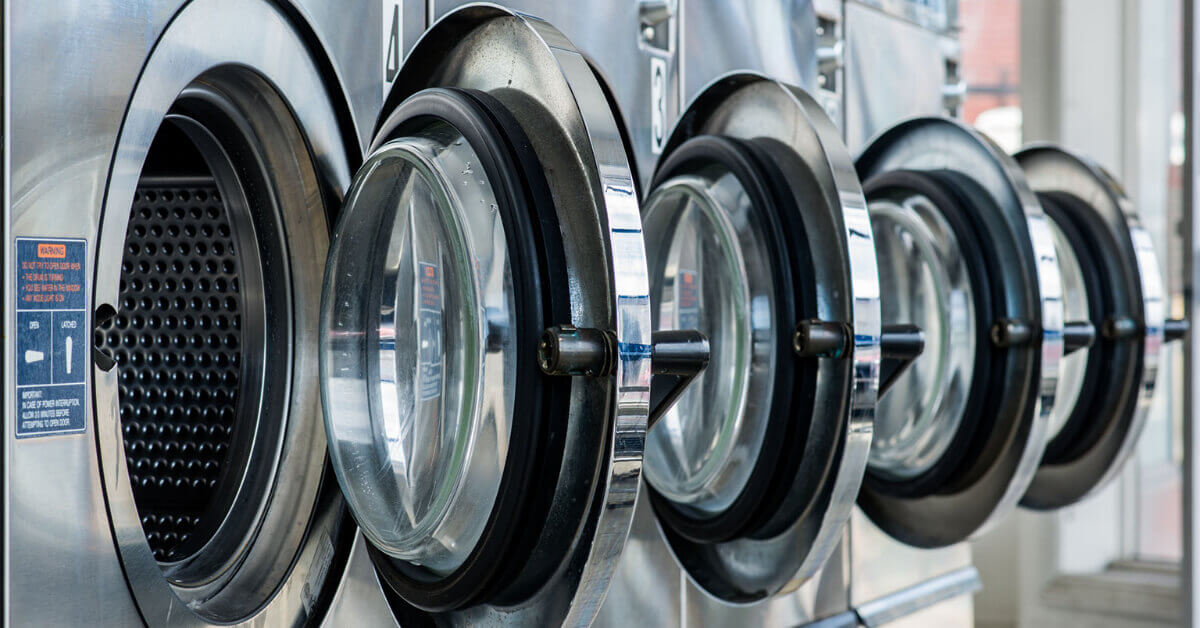 No matter where you stop for the night, there is probably a nearby town with a laundromat. Some laundromats offer drop-off/pick-up services so that you can have your laundry cleaned and folded while you go sightseeing or do something else. 

4. Use a Wash Bin

In the old days, a wash bin was just a tub used to hold water to wash clothes by hand. Today's washbins are tubs with a spinning implement inside. They have been described as giant salad spinners to agitate the clothes for scrubbing purposes. There are manual washbins in which you turn a crank to spin the agitator, and there are also hands-free ones that operate on electricity. 

5. Look for Other Public Options
Many campgrounds offer laundry facilities on-site as an amenity to their guests. These may be free to use but most likely charge a nominal fee. If you don't stay at campgrounds or stop at a campground that doesn't have laundry facilities, see if there is a truck stop nearby. These often offer laundry facilities to benefit long-haul truckers, but they aren't picky about who uses them.

Conclusion

Whichever option you choose for doing laundry while RVing, make sure you do it often and keep the loads small. This makes it easier and cheaper to clean your clothes while on the road.