FTC Disclosure: I get commissions for purchases made through some of the links in this article for more information, visit our Advertising Disclosure Page.
Make the Most of Your Spring Rving Adventure
How to Make the Most of Your Spring RVing Adventure: Tips and Tricks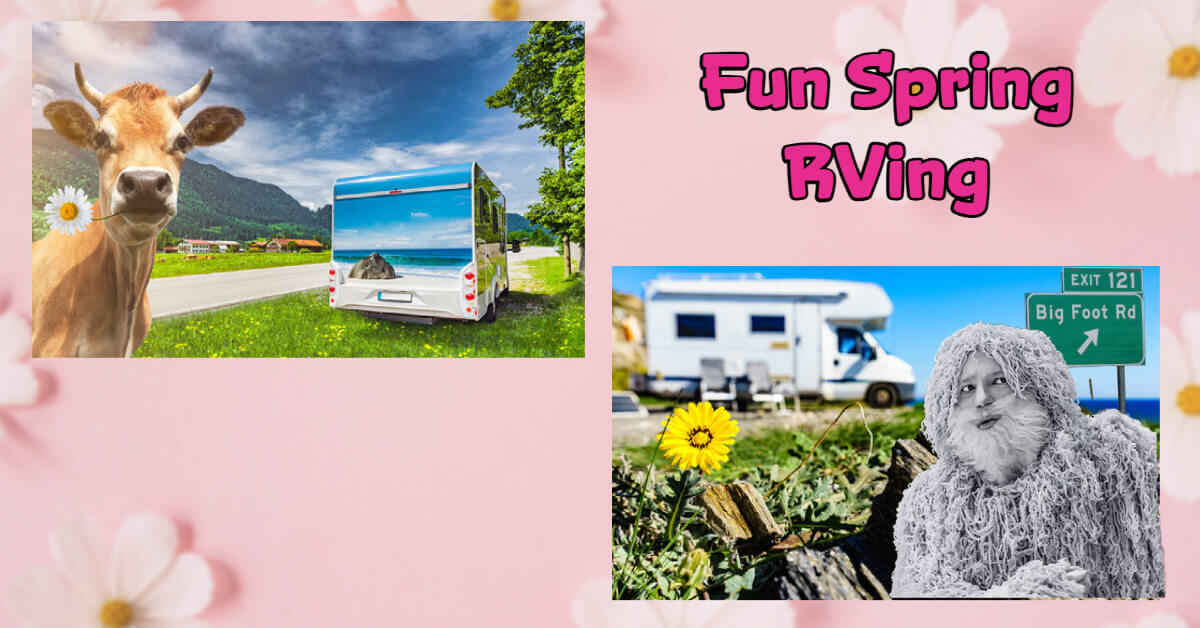 Make the most of your spring RVing adventure with these helpful tips and tricks!
Ah, springtime! The sun is shining, the flowers are starting to bloom, the birds are singing, and the roads are calling your name. If you're an avid RVer, you know there's no better time to hit the road than spring. But before you pack up your RV and head out on your Spring RVing adventure, it's essential to make sure you're prepared for the journey ahead. These tips and tricks will allow you to make the most of your spring RVing adventure and create new memories that will last a lifetime.
Share This Page
Save 10% on campground fees when you become a Good Sam member Today!
1: Plan Your Route
Planning your route is the first step to making the most of your RVing trip. Whether you're looking for scenic routes or the fastest way to get to your destination, having a plan will help you avoid getting lost or worse, getting stuck in traffic.
2: Pack Light, but Bring the Essentials
When it comes to packing for your RV trip, it's important to pack light but bring the essentials. This means bringing items like bedding, towels, and toiletries and leaving behind the things you won't need  The key is a balance between packing light, being prepared, and being a good parent.
IMPORTANT NOTE
Packing light does not mean leaving one of your kids behind, just saying.
Don't Forget the Kitchen Essentials
RVing allows you to cook your own meals. Of course, you can still go to a restaurant. Pack all the kitchen essentials, like pots and pans, utensils, and dishes.
IMPORTANT TIP
Have one of your kids cook for you since you decided to bring them with you.
Pack for the Weather
Spring weather can be unpredictable, so it's essential to pack for all types of weather. Make sure that you bring warm clothes for chilly nights and rain gear for those unexpected showers. With all the weird weather we are having lately, it wouldn't hurt to buy a weather radio so you can be warned the next time fish start falling out of the sky, and yes, that really happens.
3. Stay Safe on the Road
Safety while RVing should always be your number one priority. Ensure your RV is in good working order before you hit the road and take steps to ensure your driving safety.
Get Your RV Serviced
Before heading out on your spring RVing adventure, ensure your RV is in good working order. Get it serviced and checked by a professional to ensure everything is working. If you want to gamble, you can also have your spouse check to ensure everything works
Take Breaks Often
Long drives can be exhausting, so make sure you take breaks often to rest and stretch your legs. This will help you stay alert and avoid accidents. 
REMINDER
Putting your RV on autopilot and taking a nap behind the wheel of your RV is not safe.
4. Have Fun and Make Memories
At the end of the day, RVing is all about having fun and making memories. Make the most of your trip by exploring new places, trying new things, and spending quality time with all of your loved ones.
Explore the Outdoors
Spring is a wonderful time to explore the great outdoors. Whether you will be hiking, fishing, or enjoying a picnic. There's no shortage of things to do outside.
SUGGESTION
Now would be a wonderful time to have your kids start searching for Big Foot.
Embrace Spontaneity
Sometimes the best memories are made when you embrace spontaneity. Feel free to deviate from your planned route and explore new places or try new things like skydiving.
Conclusion
Sign and Drive Coverage with Good Sam Roadside Assistance! Plans Starting at $49.95! Shop Now!
RVing in the spring is a great way to get out and explore the world around you. These steps will allow you to make the most of your spring RVing adventure and have a blast along the way. Remember to plan your route, pack light but bring the essentials, stay safe on the road, and most importantly, have fun and make memories.

Just think of all the fantastic things you can do on your RV trip:
Cooking s'mores over the campfire
Hiking through gorgeous natural landscapes
Singing along to classic road trip tunes
Making friends with Big Foot
If you're lucky enough, you might even spot a Big Foot along the way (don't forget to keep your distance, we don't want any RVer vs. Big Foot incidents).
Let's be honest, RVing can also have its challenges. Trying to navigate narrow roads or backing into a tight spot can be a real pain in the you-know-what. And don't even get me started on trying to take a shower in a cramped RV bathroom. But hey, that's all part of the adventure, right?

And if you're feeling a bit overwhelmed or stressed out during your trip, remember to take a deep breath and embrace the chaos.
After all, some of the best stories and memories come from those unexpected moments and mishaps, like not tightly attaching the sewer hose to your RV and while you're dumping your RV's black water (poop) the hose falls off and sprays black water (poop) all over you.
So go ahead and make the most of your spring RVing adventure and hit the road with confidence. With these tips and tricks, you can make the most of your spring RV adventure and have a blast along the way. Just remember to bring plenty of snacks and your sense of humor.
Good Luck and Happy RVing!

Frequently Asked Questons
Making reservations is always a good idea, especially during peak travel times. This will ensure you have a spot to park your RV and avoid surprises.
Yes, many RV parks are pet-friendly. Just be sure to check the rules and regulations before bringing your furry friend along.