FTC Disclosure: I get commissions for purchases made through some of the links in this article for more information, visit our Advertising Disclosure Page.
Our First Month of Full Time RV Travel Part 1
Epic Fails & Our First Month of Full Time RVing Part 1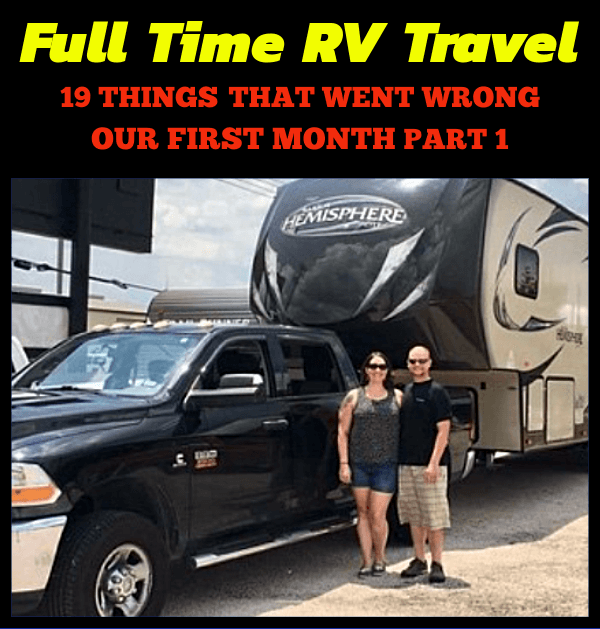 RVing can be fun, but we discovered some jaw-dropping failures. Here is what we learned during our first month of full time RV travel Part 1
BY Andy Shears & Lezlie Garr
Starting a life of full-time RV travel is a fun and exciting experience unlike any other. If you've done any research or reading up on the lifestyle, you've no doubt seen pictures of smiling faces and beautiful landscapes across the country. but we discovered some jaw-dropping failures. Here is what we learned during our first month of full time RV travel Part 1.

What you might not have seen is all the things that invariably go wrong for all of us along the way.

In the name of transparency, we want to give you the full list of mishaps, screw-ups, breakages, and let-downs that we experienced in our first month of full timing. It may seem easy to read, but I assure you writing this blog is very difficult--mostly because my bruised ego says so. 

Aaanyway, whether you are a seasoned RV travel pro, are researching to travel, or are just here for the laughs, I hope you enjoy learning these important lessons from the comfort of your internet device...instead of the hard way like we did.

THE SET-UP 
We decided in January of 2016 to seriously start planning to buy our first RV and take our resume writing business on the road full time. Fast forward to June 27, 2017 - the day we purchased our 35' 5th wheel. 

A lot of unexpected things have gone wrong since then, and that is where our adventure truly begins:

Thing #1
"Sh*t. The sewer hose doesn't reach."

We pulled into our very first campsite--pull-through, of course--and leveled our 5th wheel trailer with our shiny new rv leveling blocks (they are not shiny anymore). We ran through the whole set up procedure as we had learned through reading books and blog entries and watching internet videos. After what seemed like the whole afternoon, the final thing we had to set up was the sewer hose.
I had purchased two 10-foot sections of hardcore sewer hose and a 15-foot hose track, thinking that would be enough. Unfortunately, no amount of stretching made the hoses reach the sewer connection.

Now, a less stubborn man might have unhooked everything, re-hitched the trailer, and pulled back a few feet to accommodate the hose length. Instead, I saw an opportunity. Someday we might find ourselves unable to readjust the trailer to fit to the length of hose. So, I left everything hooked up - with the trailer all nice and level - and promptly tapped my phone screen a few times to receive a 10ft sewer hose extension, which arrived in less than 48 hours. 
Problem solved. Sort of.

As we soon learned from a wise neighbor (and subsequent later experiences), the shorter the sewer hose, the better.

30 feet of poop-tube hanging off your rig isn't just unsightly, the hose is also much harder to work with, and that 15 feet of hose track…is no longer enough.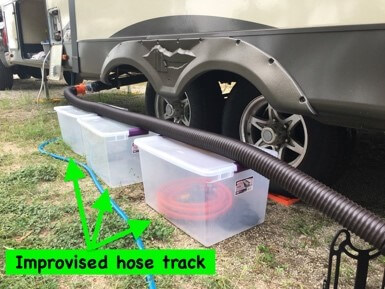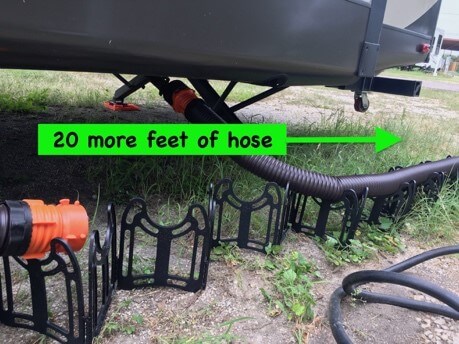 Lesson Learned: Park as close to the sewer connection as possible, and own extra sewer hoses - just in case.

Thing #2

"What's that smell?"

Since we were still in the 'moving in' phase, we were not staying in our rig full time at first. The campground was 2 hours away from the house and we were bringing loads of stuff while staying a couple of days at a time. It was July in Texas and the weather was hot, so we were glad not to be in the trailer full time just yet.

After a few trips back and forth (about 10 days in) everything seemed to be going swimmingly. We were tucked away in our new bed one night, enjoying the air conditioning, when I got a whiff of something nasty. It was late (or early, depending on who you are), so I rolled over and hoped it would go away. 

It didn't.

When I realized (around the third time) that this wasn't a normal blame-it-on-the-dog situation, I woke Lezlie up to verify that I wasn't going crazy.
I wasn't.

So, at 5:00am (that's oh-five-hundred) and before the sun came up, I officially dumped our black tank for the first time. (Sorry, no pictures of that one)

After opening all the windows and turning on all the fans, we waited for the smell to dissipate. We waited some more. A few hours of doubt came and went, and then we were finally validated (and relieved) when we noticed the odor had subsided.

Lesson Learned: From the directions on the black tank treatment container, "For best results, dump tank weekly regardless of capacity." Side note - this duration may be shorter during hot weather conditions.
Thing #3
"That water heater anode bolt looks pretty rusty..."

As instructed by an online course water system maintenance video, I purchased the required gigantic socket (1 1/16in) to remove my water heater anode and check its remaining usefulness. 

(*Side note: Suburban water heaters have anode rods, Atwood's do not. Check your owner's manual for more specific info on your water heater.)
Our rig was only 3 years old, and we were told it was used very little, so I expected the anode to be in good condition. I was wrong.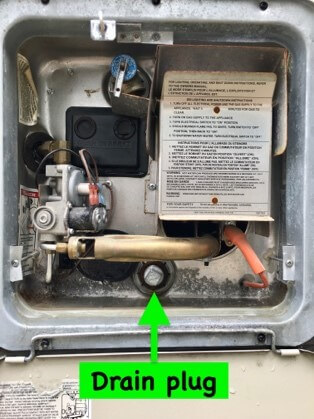 Common advice is to replace the anode every year, or at least when it has been 50-75% depleted. Full-timers should check every 6 months or more depending on local water conditions. The anode I removed was nearly 100% depleted. When I pulled it out of the water heater, literal chucks of sediment were shooting out with the draining water. One was so large it clogged the drain hole and I had to dig it out with a wire brush to continue emptying the tank.

I didn't have the replacement anode yet, so I had to go to the hardware store to buy a drain plug while I waited for the Amazon shipment. 

Lesson learned: People lie, especially salespeople. Do A LOT of research on proper maintenance, and prepare to do that maintenance yourself, or have a certified RV tech do it for you. (Even if the rig is only 3 years old)
Maintenance tip: DO NOT use a heating element on the water heater without the anode. Next time, I'll have the replacement anode BEFORE I take the old one out, but if you have to plug it up before swapping, use your water heater bypass and make sure both electric (if applicable) and propane switches are OFF until the anode is replaced and the tank is full of water again.
Save 10% on campground fees when you become a Good Sam member Today!
Thing #4
"IS WATER COMING OUT NOW?!"

No, it wasn't. (Side lesson: make sure you have walkie-talkies, so you don't disturb your neighbors by hollering at each other through the windows like a bunch of jerks.)
Since we were 2 weeks away from departing on our full-time adventure, I decided to check all the systems that hadn't been used yet, and one of those items was the water pump for the freshwater tank. Since we were hooked in to city water, that pump had gone unused.
To run the pump, you need water in your freshwater tank, so this seemed like the perfect opportunity to sanitize the tank while running the pump.
Being what you might call a 'clean freak' (Lezlie's words, not mine), I definitely wanted to bleach the tanks before we used them in any capacity. So, from internet research, I found the magic bleach-to-water formula for disinfecting fresh water tanks: 1 cup of bleach to every 15 gallons of tank space.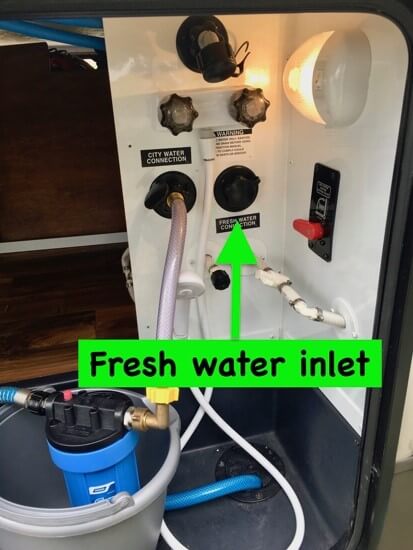 Our rig has a hose connection to our fresh water tank, instead of the common gaping hole found in a lot of other RVs. (We have a separate blog for that.)

With this type of connection, we needed to mix bleach with water and pour that mixture into our hose, then connect the hose to the spigot and let the incoming fresh water push the bleach into the tank. (Thanks internet!)
So, we did all of that, and ruined some clothes along the way. (Learning is fun!)

The next step was to run all the faucets until the bleach water could be detected through smell, and then let it sit for a day before flushing the system.
I flipped the water pump switch to, 'On' and twisted the kitchen sink faucet handle. Water began coughing out. I waited about 30 seconds for a steady stream, then went back to the internet.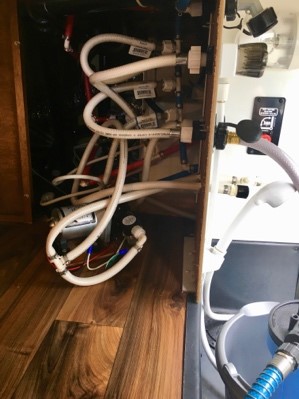 I went to the blogs and tried everything I was comfortable trying, using my limited handy-man skills, to figure out why I wasn't getting a steady flow.

I removed the wall panels in our pass-through storage in order to find the water pump. It was just a couple of screws. Very easy.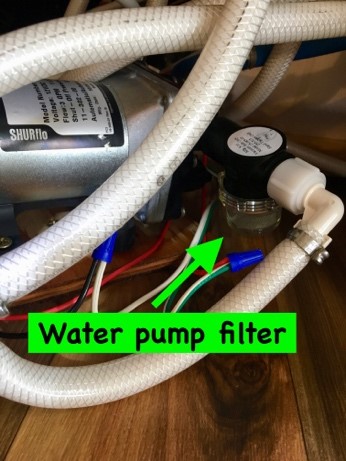 I began poking around and checking connections, but quickly exhausted my knowledge of what I was looking at. (Again, no experience.)

Thankfully, there was a mobile RV repair guy living at the campground, so I gave him a call and made an appointment for some help.

He poked around for a few minutes, hooked up a new water pump, and it worked. He wasn't convinced my pump was bad, so we tried a new filter in the old pump. That was it! The filter had a crack, which was denying the pressure to build.

$70 later, I learned that I could've fixed the pump myself for $10, but it was worth the education.

Lesson learned: When you've exhausted your skills and knowledge, call a professional, and ask them a lot of questions about what they're doing, so you can do the repair yourself next time.
Thing #5 (and #6)
This one…was a bad one.

So bad, in fact, that it gets its own blog post. Check out our blog to read about how We Dropped the %$@&! Trailer.

TO BE CONTINUED…

These were all the things that happened before we even left our first site. We promise more great stories and lessons ahead in Part 2: Things #7 -13 (on our blog now). Subscribe (link below) for the latest updates!

ABOUT THE AUTHORS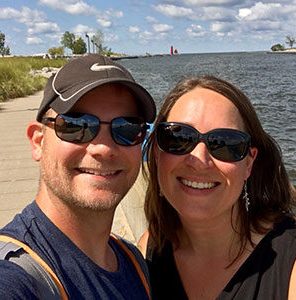 Andy Shears & Lezlie Garr
Andy & Lezlie travel the US full time in their fifth wheel travel trailer while operating a resume writing business ResumeLezlie.com and share their experiences & travel tips through their website Unknown Normal and Instagram @Unknown_Normal. 
Do you have any suggestions or comments on this topic? You can add them to this page by using the comments section located below.