FTC Disclosure: I get commissions for purchases made through some of the links in this article for more information, visit our Advertising Disclosure Page.
Pet Friendly Guide to Rving
Pet Friendly Guide to RVing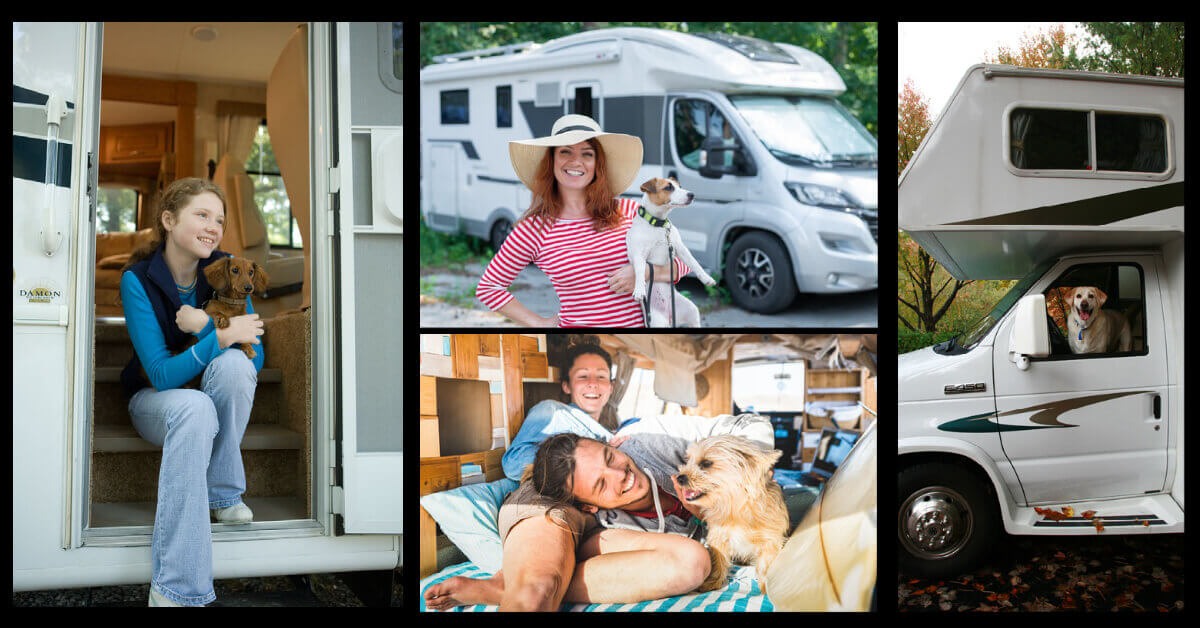 By Andy Satmodo
This pet friendly guide to RVing can make RVing with pets less daunting
As you sit outside your RV, surrounded by the peaceful sounds of nature, a nudge on your leg reminds you that traveling with pets requires patience and planning. The thought may cross your mind that RVing with pets isn't possible, but proper research and preparation by reviewing this pet friendly guide to RVing can help you fulfill and enjoy this experience with your furry companion.
Share This Page
Save 10% on campground fees when you become a Good Sam member Today!
Traveling with multiple pets in an RV may seem daunting, but proper planning and preparation can be stress-free. This guide will provide you with the necessary information to make your RVing experience with your furry friends enjoyable. Remember, you can apply the tips in this pet friendly guide to RVing whether you own or rent an RV.
RVing with Dogs & Cats:
The Essentials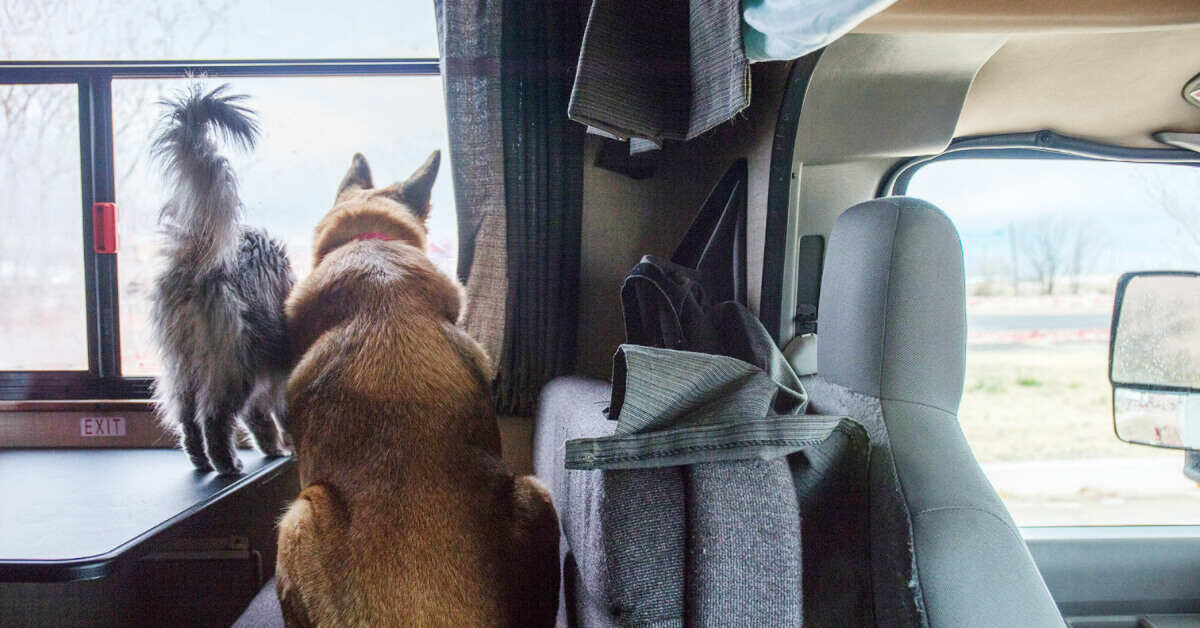 Additionally, it's essential to take into consideration the type of pets you have, as well as their personality and behavior. Some pets may be more adaptable to the RV lifestyle than others.
Make sure to consider your pet's needs, such as exercise and space. It may be helpful to take short trips before embarking on a longer RV journey to see how your pet adjusts to the experience.
Ultimately, RVing with pets can be a rewarding and fun experience for you and your furry companions. With proper planning, preparation, and patience, you can hit the road and enjoy the beautiful sights and sounds of nature with your pet by your side.

With the correct planning and preparation, RVing with pets can be a fun and enjoyable experience for the whole family. Don't get fearful of not being able to bring your pets along to hold you back from experiencing all the amazing sights and adventures that RVing has to offer.
With patience and effort, you can make sure that your pets are comfortable and happy on the road and that you can enjoy your trip together.

Here are the 6 RV Pet Safety Tips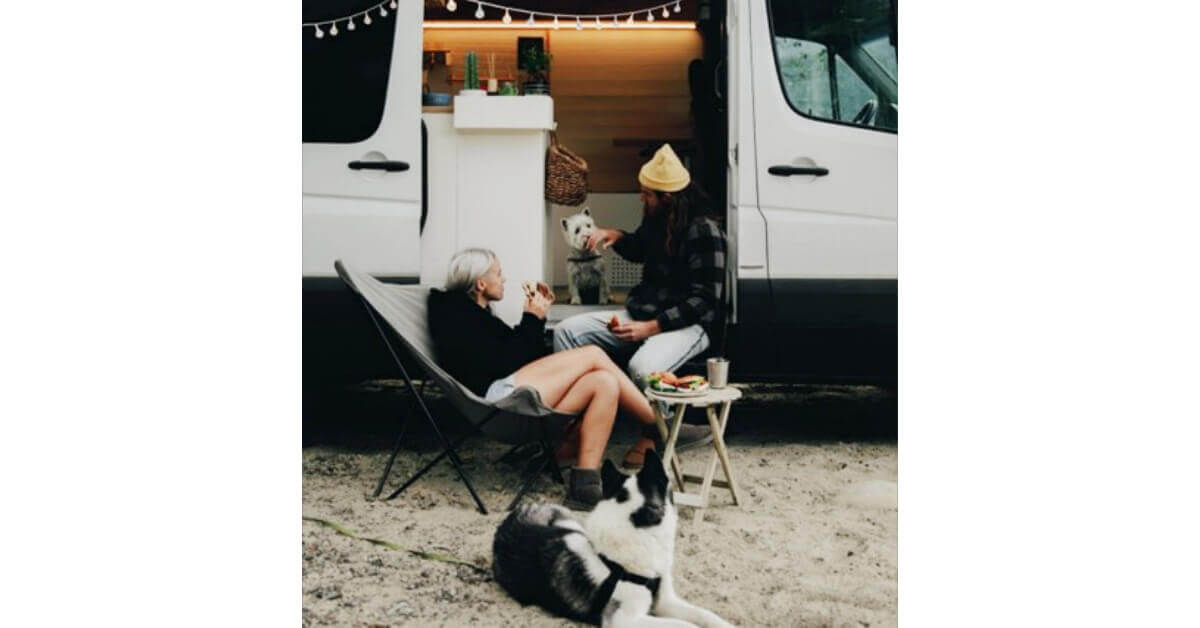 Traveling with pets can be a love-hate experience, as they can be unpredictable. Having them by your side can make the journey more enjoyable, but dealing with a stressed-out or uncomfortable pet can add challenges to the trip.
Taking the necessary precautions to ensure your pet's safety and comfort, such as preparing the RV, verifying they are up to date on vaccinations, and having proper identification.
It's also crucial to consider their personality and behavior and to acclimatize them to the RV lifestyle before embarking on a long trip. Traveling with pets can be a memorable and enjoyable experience with the right approach.

1. Rules of the Road
Letting your pets roam freely inside the RV while driving can be a severe safety hazard. Not only can they become injured in case of an accident, but they can also distract the driver, which increases the risk of an accident.
It's important to have proper restraints or containment options for your pets, such as a crate, a harness, or a pet barrier, to keep them and everyone else safe during your trip. Also, it's a good idea to have a designated area for them to rest and feel comfortable during the journey.
Remember that even if you are a confident and safe driver, other drivers on the road may not be as cautious. Allowing your pets to roam freely in your RV while driving increases the risk of injury in case of an accident.
Additionally, pets moving around the RV can cause distractions to the driver, leading to dangerous situations on the road. By keeping your pets safely restrained or in a designated area, you can ensure their safety and reduce the risk of distractions while driving.
Having the right accessories at hand is essential to keep your pets safe and secure while traveling in an RV. This may include items such as a pet carrier or safety harness, a barrier to keep them confined to a specific area of the RV, and a comfortable bed for them to rest in.
These accessories ensure your pets' safety and make your pet-friendly road trip more comfortable and enjoyable. Be sure to check out the end of this article for a list of essential RV accessories for traveling with pets.
As you can see that safety is the number one priority of the pet friendly guide to RVing
2. Keep the Essentials in Mind
But for the rest of us, a list is a lifesaver. It's also important to pack any necessary medications or supplements for your pet, as well as any grooming or hygiene supplies.
It's important to remember to check the weather forecast of your destination and pack accordingly, such as a raincoat or sunscreen for your pet.
Keeping a list of essentials is a crucial step of the pet friendly guide to RVing because it ensures you remember everything necessary for your pet's comfort and well-being. It also helps to take an inventory of your pet's food, water, and other supplies before leaving, so you know how much you need to bring and stay put during the trip.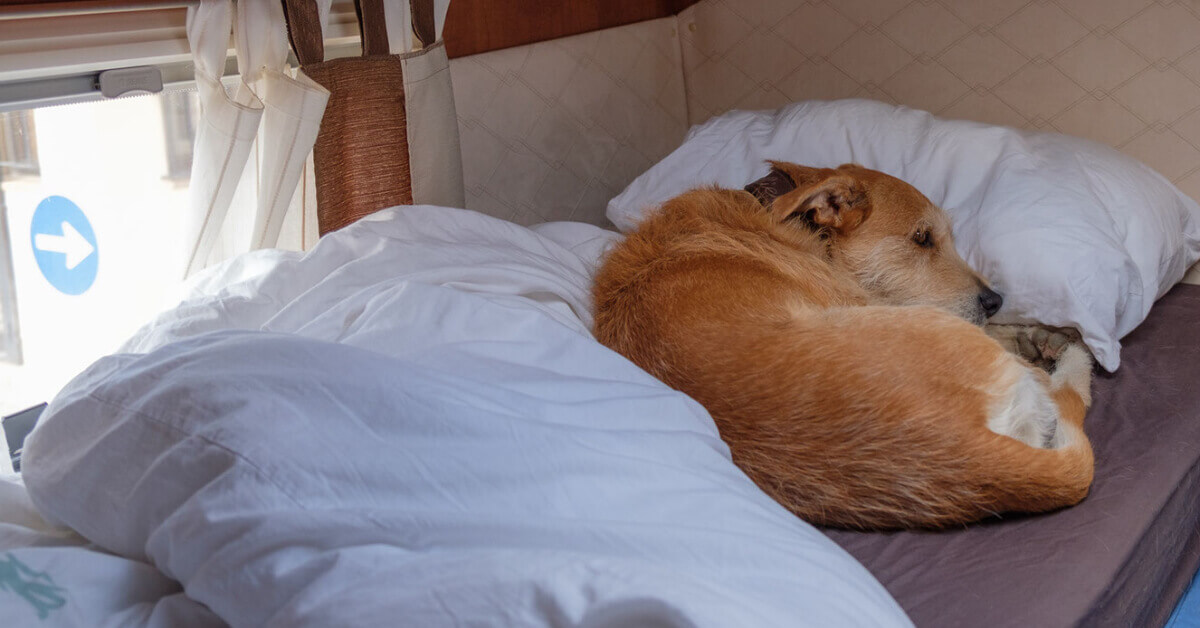 3. Get Your Pet Microchipped

Proper identification is crucial for the safety of your pets while on the road. A microchip or ID tag with your contact information can significantly increase the chances of your pet being returned to you if they get lost.
It's also essential to keep your contact information updated with the microchip company in case you change your phone number or address.
Additionally, it's a good idea to have a recent photo of your pet handy in case you need to show it to someone or post it on social media to help find them.
By taking these simple steps, you can ensure that your pet has the best chance of being returned to you if they ever get lost while on a trip.

4. Always Have Your Pet's Details on Hand
Part of the pet friendly guide to RVing is to have all necessary documentation for your pet when traveling is essential, including vaccination records, proof of ownership, and recent photos.
Campgrounds often require recent vaccination records to ensure the health of all pets on the premises, so having them on hand can save time and avoid any issues.
Proof of ownership, such as registration papers, can also help prove that your pet is truly yours in case of any disputes.

Recent photographs of your pet can also be helpful in case they get lost, as it can help others identify them and increase the chances of finding them.
Pet First Aid Kit
Additionally, if your pet has any allergies or medical conditions, it's important to bring any relevant paperwork, medication, and a first aid kit.
5. Include Exercise as Part of Your New Lifestyle!
An important part of the pet friendly guide to RVing is to remember that pets, like humans, can get restless and bored during long drives. You can bring along their favorite toys or treat-dispensing puzzles to keep them entertained. You can also plan your route to include rest stops or rest areas where your pet can stretch their legs and get some exercise.
Additionally, if you're traveling with a dog, consider bringing a portable water bowl and some treats to give them a little break.

Another option is to bring a crate or a pet barrier to keep them confined to a specific area of the RV; this will help them feel more secure and comfortable during the journey.
With some planning, you can make your pet's travel experience more enjoyable for them and you.
When staying at a campground, it's essential to remember that your pets may become bored and restless if they are left alone for lengthy periods.
To prevent this, plan activities for them, such as walks, playtime, or visiting pet-friendly areas nearby. You can also bring along their favorite toys  to keep them entertained while you're away. It's also important to ensure that the campground you choose is pet-friendly and that you adhere to the rules and regulations of the campground for pet owners.
Consider hiring a pet sitter or dog walker to keep them company while you're away from the RV. Proper planning and preparation can help ensure that you and your pets have a stress-free and enjoyable camping experience.
You also must ensure that your dog is adequately exercised during your stay at the campground. This can include taking them for daily walks to explore the area and allowing them to sniff around and explore their surroundings.
If the campground has a large enough space and allows it, consider playing fetch or other interactive games with your dog to keep them active.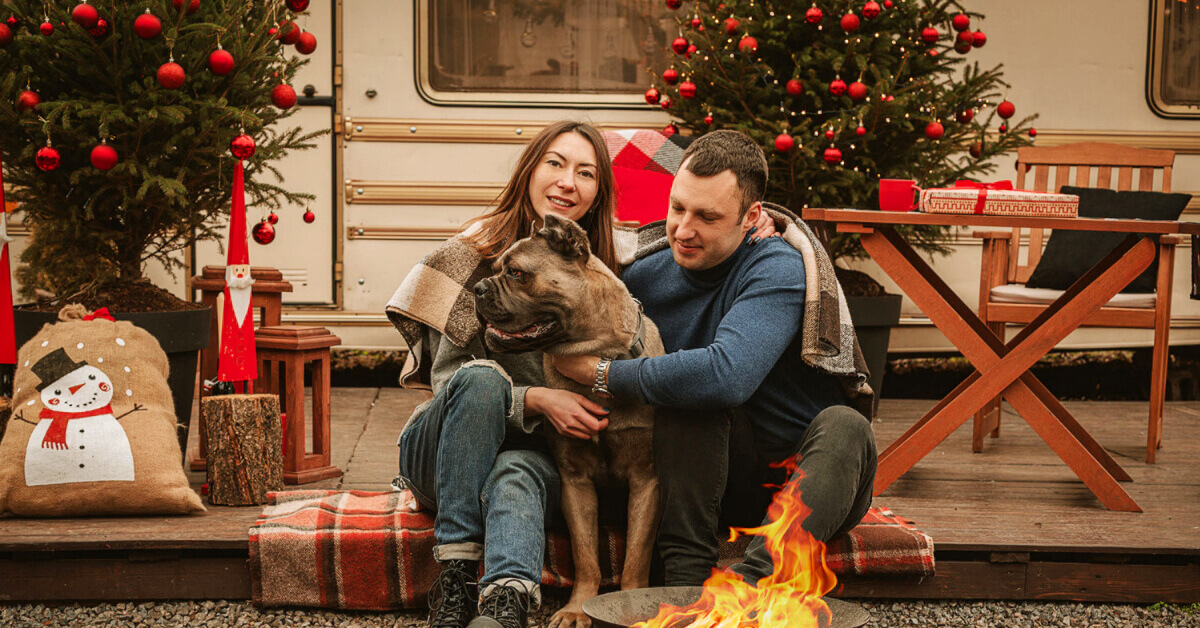 Additionally, you can look for nearby dog parks or off-leash areas where your dog can run and play with other dogs. Overall, keeping your pet active and engaged will help them stay happy and healthy during your RV adventure and make your trip more enjoyable.
6. Satellite Phone
When RV camping in very remote areas (boondocking), a satellite phone can provide valuable communication in an emergency or other unexpected situations. It can also be used to stay in touch with family and friends or to call for help if you are lost or stranded in a remote area with no cell phone service. Satellite phones are available for purchase or rental and typically require an individual service plan.
Some service plans may include coverage for international locations, which can be helpful if you plan on RVing in different countries during your RV trip.

It's important to remember that satellite phones can be expensive to purchase and maintain. Still, if you plan to travel to remote or wilderness areas where cellular service is unavailable, it is wise to have one as a backup.
Now that you have reviewed the pet friendly guide to RVing, it's time to start your RV adventures with your furry friend.
About The Author
I am Andy, a passionate outdoor enthusiast, and blogger from Satmodo.com. I have a wealth of knowledge and experience in camping, hiking, and adventure sports. I have traveled to some of the most remote and beautiful places on earth, and I deeply understand what it takes to have a successful and safe outdoor experience.
When I am not out exploring the wilderness, you can find me writing my Satmodo blog, where I share my tips and insights on camping, hiking, and adventure sports.