FTC Disclosure: I get commissions for purchases made through some of the links in this article for more information, visit our Advertising Disclosure Page.
Our First "Snowbird" Adventure
Part 3: Planning the RV Trip
Planning the RV trip is a matter of personal choice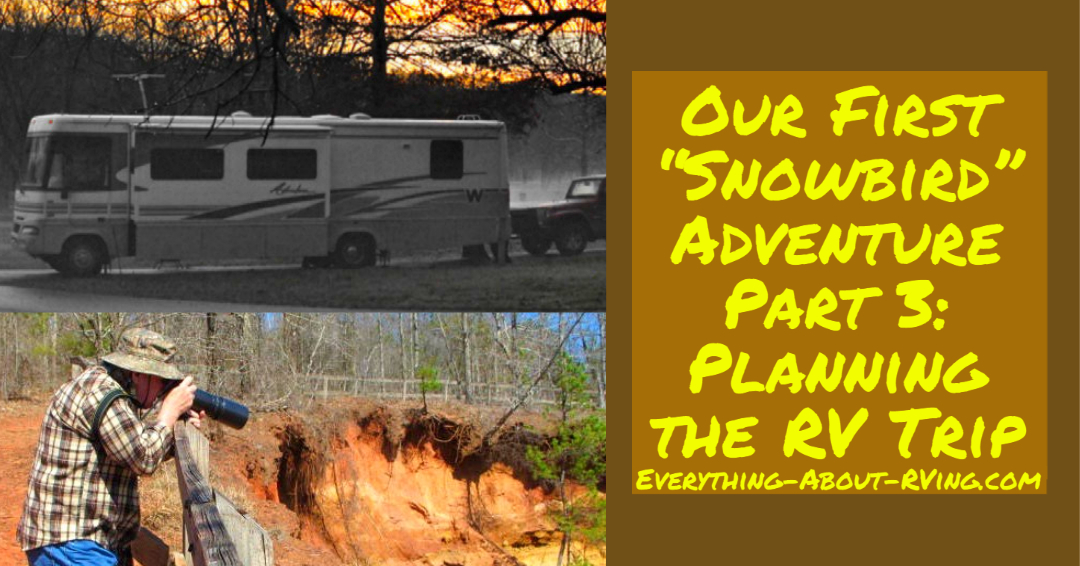 By Micheal Whelan
Planning the RV Trip
Planning the trip is a matter of personal choice. We tend to follow the windshield with only a general direction in mind. Track the weather (both long range and short term) and mold it into your travel plan. Out of necessity we planned to travel six hours the first couple of days to get south of the soon to arrive snow storm. 
Share This Page
Save 10% on campground fees when you become a Good Sam member Today!
We normally like to travel three to four hours per day. I realize that does not sound like much but it gives us time to explore areas we pass through. On one day we only traveled an hour but it got us to a beautiful Corps of Engineers campground. Our "tourist" activity is generally based on the area we find ourselves located. We are not destination attraction oriented. Sure, if we find ourselves near New Orleans we will make time to tour. Some day we will be that direction.
Take advantage of public campgrounds. Our favorites were 

State Parks

 and 




Corps of Engineer campgrounds

. They tend to have large sites, great maintenance and all the necessities of power water, some with sewer and even some with cable 

television

. What we like best is you feel like you are "camping" in the wild (with all the amenities) as compared to staying in the motel like feel of close quarter campgrounds. But that is our style. You may prefer the private owned RV parks and all they have to offer. Try both, see which you prefer. If you are staying at a campground for a entire month the private parks have the price advantage. We tend to stay a week or two at a location so the public campgrounds are more cost effective.
Save 50% off of Campsites With Passport America

When traveling make use of free overnight camping. Why pay $30.00 for a few hours sleep? There are many places that allow travelers to spend a few hours at the outer edges of their parking lots. We have used Home Depot, Cabela's, Walmart and Cracker Barrel on recent trips. Make sure and ask permission. It is always nice to visit their store and pick up supplies or have a meal. Don't put out your awning and 

Lawn Chairs

 Stay non conspicuous and park so you are not in the way of their paying customers. Some have used rest stops and even city streets. We find this option possibly dangerous as they lack any real security from the vermin that may be roaming the area. Use common sense and be nice.

One mistake we made as we moved south was presuming that the local population recreation patterns were similar to ours in Michigan. Imagine our surprise as we arrived at our first Georgia State park to learn that people of the south love to go camping for Christmas and New Years. As it turns out those weeks are some of the busiest. In Michigan it is rare to see someone camping in December or January. Even though the park was full the camping gods were with us and there had been one cancellation. We had a beautiful site for the week.
Consider reservations when traveling during the busy season into the more popular snowbird areas. If you only plan on staying a couple of nights there usually are openings. If you intend to stay a week or two, call ahead and make the reservation. Yes it adds to the cost but it assures you will have a place to stay. We found the further north you are the more sites are available. This is the reason we never went further south than northern Florida. Even there we made it a rule to make a reservation.
To make reservations many public and private campgrounds have turned to the internet. This presented a challenge to us as campground research ate up a lot of our 

cellular

 data forcing us to look for the free internet access offered by libraries, chamber of commerce and fast food establishments. We are not fast food people but learned to stop in have a cup of coffee and use their free internet access. We eventually tried the Mc-breakfast and found the fast food salads to be quite good.



Good food is one of our missions on any trip. Much of our trip followed the coasts of the southeast. Of course sea food was on the menu. To find the best seafood shops we seek out the locals. They are all to happy to tell you where to buy and where to avoid. We received great advice on what is "in season" and how to best cook it. Vegetables are not in season anywhere in the winter yet many of the local population will steer you to the stores that have pride in their produce. When we wanted to eat out we were directed to the local favorite restaurants. Actually there were so many "favorites" that we tried local cuisine more than we had intended. We were sent from local diners to well appointed table clothed restaurants alike. The choice was as wide as the variety of foods was great. Take advantage of the knowledge of the local population.
Repairs on the road will happen if you travel much. We found the chain RV super stores to be higher in price and slower in service. At one point we had the flush valve for our toilet begin leaking. There was a large chain RV center nearby. They had the part, it would be a week before we could get an appointment. I bought the part and did the work myself. Two weeks later we stopped by a mom and pop local RV shop to pick up some supplies. As a matter of curiosity I asked if they had the part. They also had the valve for a third less. The gentleman offered to drop what they were doing and fix it for us right away. If you have time check out the local shops.
Sign and Drive Coverage with Good Sam Roadside Assistance! Plans Starting at $49.95! Shop Now!
There are many more lessons we learned. The best advice we can offer is to plan, stay flexible, ask questions and be nice. During our three months on the road we always felt safe, ate well, saw and learned a lot. We experienced one time we did not like the site. The next morning we picked up our jacks and moved. Snowbird RVing is different from both the full time and the weekend warrior but all of the same principles apply. Plan it, do it and have fun.

About The Author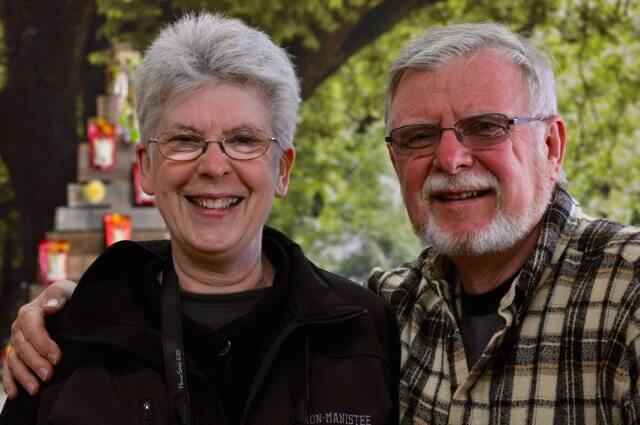 Mike and Diane Whelan
Micheal "Mike" Whelan is a retired wild land firefighter. He and his wife Diane recently retired with one goal of traveling and learning the true history of North America. By the true history he means the culture, the people, who their people were and why they live where they do and how they live. Mike retired from the emergency services in 1995 first working as a consultant and in 2001 starting a software business. The first product was scheduled to be released on September 10. When the attack came on September 11th the old product was shelved and immediately scaled to service the new requirements of the emergency responders. The intended local business went national the following year.
Necessity caused extensive travel across the U.S. and parts of Canada, always working and never having time to visit and get to know the people. The business was sold in 2015. Mike and Diane decided to get their affairs in order and begin visiting all of the places as a tourist often times becoming emerged in the local culture. They are part timers of snow birders having no desire to sell everything and hit the road. Now retired and no longer "working" from their RV on the road their adventure is just beginning.

The travel adventure includes extended two or three month travels as well as short one or two week trips in their 2003 Winnebago Adventurer. On long trips the take their "toad" (a 2014 Jeep Wrangler). Mike and Diane are photographers and explorers. Much of Mikes photo time is nature photography, Diane captures people, the unusual, often seen but seldom observed. They live in Traverse City, Michigan (a tourist capital in its own right) and use their motor home to visit their children and grand child. Blog site is http://michealwhelan.wix.com/whelans-on-the-road
Do you have any suggestions or comments on this topic? You can add them to this page by using the comments section located below.