FTC Disclosure: I get commissions for purchases made through some of the links in this article For more information, visit our Advertising Disclosure Page.
4 Ways to Make Your RV Feel Like Home
Here are four tips that can help you make your RV feel like home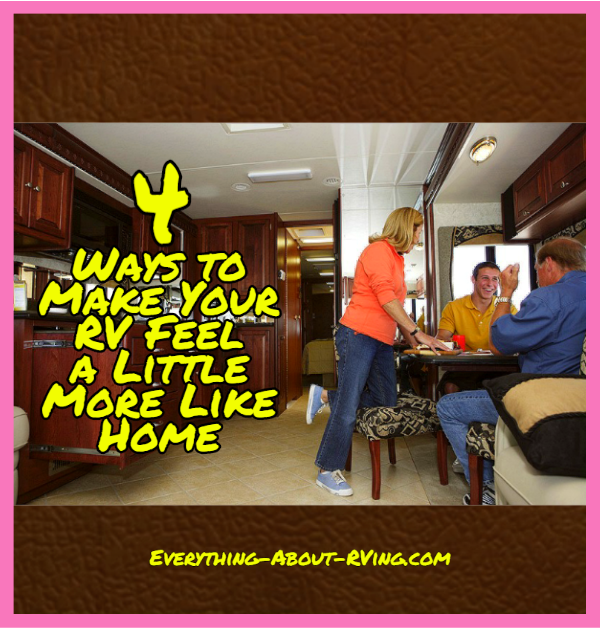 For anyone that has a dream of touring the country and seeing all that it has to offer, investing in a RV could be a great option. When you own a recreational vehicle, you will have a safe mode of transportation and also a convenient and comfortable place to sleep at night. While there are plenty of advantages that come with buying and owning a recreational vehicle, some feel that staying in one for too long can be uncomfortable. Fortunately, there are four tips that you can follow that could help to make your recreational vehicle feel more like home.
Clean it Up and Modernize
One of the best ways that you can make your recreational vehicle feel more like home is by cleaning it up and modernizing it. When many people purchase a recreational vehicle, they will be getting one that seems dated and not very comfortable. Fortunately, this is very easily changed. By investing in some throw rugs, pillows, curtains, and adding a fresh coat of paint, you can brighten it up a lot and make it feel much more like your home away from home. Best of all, this will allow you to design the space to meet your preferences.
Bring Decorations that Remind of Home
While you are busy designing the interior of your recreational vehicle, you should also remember to bring small decorations that you have at home. Some of these items that could remind you of your home can include some smaller pieces of wall-art, family photo albums, and other decorations. These will help to make your lounging space resemble your home family room.
Consider Entertainment Needs
One issue that people have with their RVs is that they can eventually feel like they are not able to relax and be entertained the way they are accustomed to at home. Fortunately, you can usually fix this by remembering to bring some forms of entertainment along with. At the end of a long day, it could be very rewarding to sit back and listen to some of your favorite music or watch a movie. Most RVs today are built to accommodate all of these features as long as you bring them with you on your journey.
Make Some Delicious Meals
Finally, you should remember that your recreational vehicle is also a place that you can make your favorite meals. While it may be limiting compared to appliances and tools that you have in your kitchen at home, there are still plenty of great meals that can be easily cooked in RVs. These meals will help to remind you of home and could also allow you to entertain others while you are on your journey.
Ultimately, owning a recreational vehicle can be a great experience. If you are going to be spending a lot of time in yours, it is important to make it feel like home as much as you can. By following these four tips, you can make your recreational vehicle feel much more comfortable and be a fun place to relax and entertain.
Get Your Article Published on Everything About RVing
If you have written an article about RVing, Camping or the Great Outdoors and you would like us to publish it on Everything-About-RVing.com, please visit our
Submit An Article Page.
Do you have any suggestions or comments on this topic?  You can add them to this page by using the comments section located near the bottom of this page.
LEARN HOW TO RUN 2 RV A/Cs ON A 30 AMP CONNECTION

Recommended Reading For You
Over 1,500,000 successful roadside rescues—Good Sam RV Emergency Road Service
Good Sam Travel Assist: Emergency coverage for you, your family, and pets. Plans Starting at $59.99 Shop Now!