FTC Disclosure: I get commissions for purchases made through some of the links in this article for more information, visit our Advertising Disclosure Page.
RV Theft Protection Tips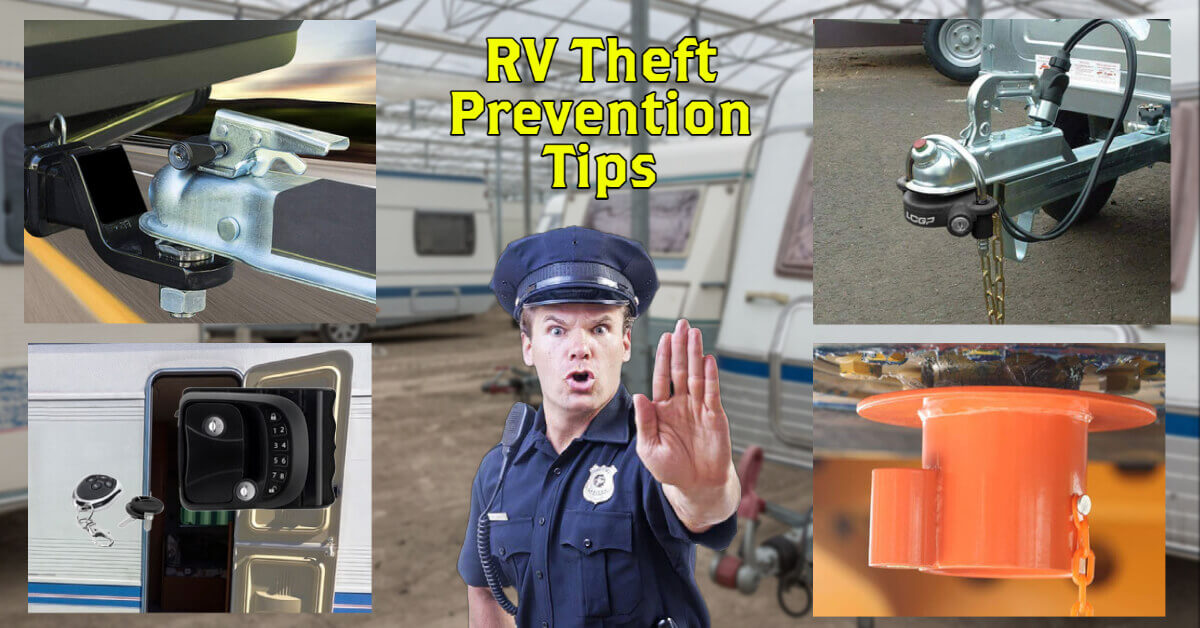 These RV Theft Protection Tips Will Help You Secure Your RV or Boat
These RV theft Protection tips will help you secure your RV. Securing your RV is important, because RVs give you all the freedom to travel wherever you want and offer all the  comforts of your home when you are on the move.

Share This Page
Save 10% on campground fees when you become a Good Sam member Today!
Every one of us loves to lead the RV lifestyle. However, the unfortunate fact is that RVs are not that secure. This is because RV manufacturers tend to standardize their locks to cut back on production costs and this makes RVs vulnerable to attack. So how can you keep your RV trailers and boats secure? Here are some tips:
 1. When you park your RV at a mall, amusement park or any other large venue, make sure you park it in a well-lit spot visible to the security personnel.
 2. Even at times when you have to run out on a quick errand for a couple of minutes, remember to lock your RV. Never leave your RV unlocked as anything can happen in those few minutes.
 3. It is better to avoid parking your RV near ATMs, gas stations, convenience stores and places where thieves are likely to hang around. 

4. Installing motion-sensitive lights in your RV is one of the best ways in which you can detect and be alerted of unwanted activity.
 5. You can even create an invisible fence around your RV by installing RV security systems and vehicle recovery systems. These systems alert you wirelessly or via SMS when someone tries to break into your vehicle.
 6. Don't leave any expensive gadget inside your RV, especially in plain view of trespassers. Before leaving your vehicle, carefully secure your possessions and try to keep them out of sight.
7. Invest in deadbolt locks or trailer hitch locks or a 5th Wheel Hitch Lock for enhanced security. You can reduce the RV's chances of being burglarized by installing these safety lock systems.
 8. Securing your RV also means not leaving any of your personal information such as addresses, credit card numbers, bank account numbers etc., lying around in your RV. Identity theft is dangerous, and thieves can use it to commit crime, fund illegal activities etc.
 9. When you have to leave your RV for the night, make certain that you keep your windows closed so that burglars do not get a peek at what you have inside.
With these few safety measures, you can definitely keep your RV secure, and I am sure your next RV adventure will be even more enjoyable.

There are three things that you should always keep in mind before choosing a storage facility for your RV. The RV storage facility must be secure, affordable and offer 24-hour access to get to your vehicle. Parking your RV next to your home may not be possible, especially if it is large in size. It is also essential to protect your vehicle from sun and rain. So the best option would be to select a convenient and affordable RV storage facility in your locality. 
About The Author
Bunch's RV and Boat storage offers completely fenced, safe and secured Indoor and outdoor storage facilities for your boats and RVs in Hillsboro, OR. We provide Storage in Hillsboro at a great price and with excellent customer service.