FTC Disclosure: I get commissions for purchases made through some of the links in this article for more information, visit our Advertising Disclosure Page.
Frugal RV Travel Tips
"Hitting the road in your RV and the RV lifestyle can be one of the most economical ways to travel"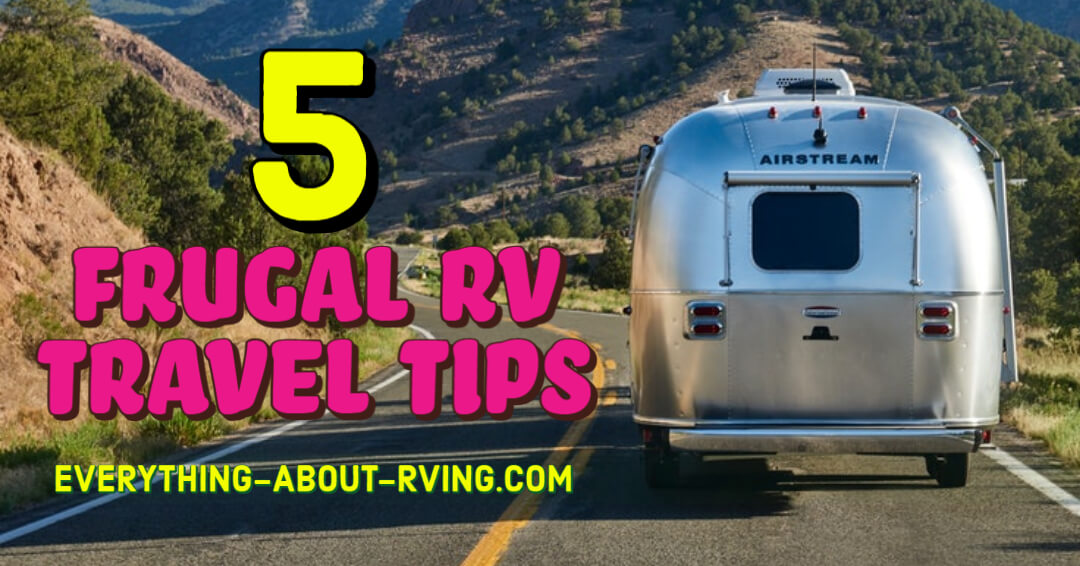 by: John Noble
Hitting the road in your RV and the RV lifestyle can be one of the most economical ways to travel. If you do a little planning and research ahead of time, it's easy to save even more – without ever feeling like you're pinching pennies. 
One obvious way to take the frugal route is to plan your RV travel during the "shoulder seasons" - before and after prime travel time - when discounts are often offered at various campgrounds and attractions.
Share This Page
Save 10% on campground fees when you become a Good Sam member Today!
Here are 5 cost-cutting RV travel tips that are good any time of the year

1. RV Travel on One Tank of Gas
Remember the ending to The Wizard of Oz, when Dorothy says she doesn't have to look any further than her own backyard to find her heart's desire? Well, we're not suggesting camping out right outside the house, but think about going to places not too far away that you've always meant to check out.
You'll be surprised at how many new and interesting destinations are just one tank of gas away. A lot of territory can be covered in just a few hundred miles, and you're bound to discover exciting locations you never knew existed so close to home.
Tip: Your neighborhood library is a terrific resource for researching local and state information and attractions – and most of it is free!
2. Put Your RV On a Diet and Get Better Gas-Mileage

It's a simple fact that the less your RV weighs, the more mileage you'll get on the road. Look around for places in your rig where you can institute a "less is more" policy. 
For example, you don't have to set out with a full, freshwater tank for your RV excursion. Take what you need for the first day's travel, plus a small reserve, and fill up once you've reached your day's destination. 
Forget that bulky, economy-sized can of coffee: empty a smaller amount into an airtight plastic container that you can refill later. (One place not to cut back, though, is tire inflation: riding on fully inflated tires is a sure way to increase your gas mileage.)
Tip: When buying food staples, consider dehydrated items like soup and dried fruit, and transfer cereal and pasta from bulky boxes into heavy-duty plastic bags – not only do they take up less space, but you can also reuse them once they're empty!
3. Plastic not Paper Dinnerware - A More Economical Approach Overall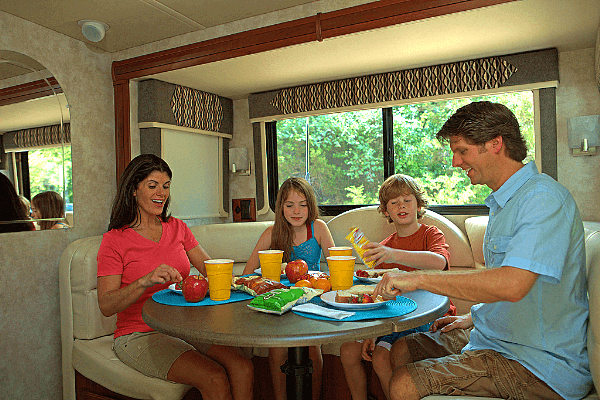 Sure, the eat-and-toss approach of paper plates and cups is the easy way to go – and might even seem economical when you buy in bulk. But lightweight, inexpensive plastic dishes are easy to find, and while they might not last forever, they'll certainly see you through the duration of a long-distance RV excursion. 

Choosing plastic over a big stack of paper goods is also another way to save on weight, especially when you're starting out on your RV trip. 

Tip: Buy your plastic ware in a mix-and-match variety of vibrant colors, and these snazzy dishes will brighten up even the simplest road fare!
4. Drive Less, Stay More - Save on Gas and Get Campsite Discounts

When creating your RV travel itinerary, consider making fewer stops and spending more time at each destination. This will save on fuel and campsites costs as most of them offer discounts for lengthier stays. 
By driving less and staying more, you'll receive an additional benefit: It's much more relaxing to know that once you've turned off the ignition you're settling in for a while. Also, by spending more time in one place, you'll be able to do some more in-depth exploring of the area.
Tip: Look online at the local newspaper for the area you'll be visiting. Check for listings of events that you might not hear about otherwise … and don't forget to look in the classifieds for yard sales and flea markets, too!
Save 50% Off Campsites with Passport America

5. Stop and Shop - At Local Discount or Dollar Stores
When you need to refill on groceries avoid supermarkets and convenience stores where prices are at a premium. Instead, look for local discount and dollar stores and roadside fruit and vegetable stands -- depending on the season. You might not save much money there, but there's nothing better than freshly picked produce. 
Keep an eye open for discount outlets in the area. And stop at flea markets and yard sales where you might find a one-of-a-kind treasure. Not only do these unconventional choices offer the opportunity to find unusual items, but it's also a wonderful way to get to know the local neighborhoods and people.
Tip: Keep your birthday and holiday gift list handy – you might spot the perfect knickknack for a family member at someone's yard sale!
Some Final Frugal RV Travel Tips
Sign and Drive Coverage with Good Sam Roadside Assistance! Plans Starting at $49.95! Shop Now!
Avoid buying your RV "supplies" - like 

toilet paper

 - that claim to be for RVs/motorhomes. Save money and buy the cheap stuff
About The Author
John Noble is the Marketing Consultant for Sky River RV Inc - a California-based sales and service RV dealership featuring Itasca and Airstream RV, motor home and travel trailer units. For 100% customer satisfaction and personal customer care in new and used RV sales, repair/service, parts and RV rentals that has placed Sky River RV 'a cut above the rest' in RV dealers in California go to https://skyriverrv.com/
Return to the RV Lifestyle Articles page from the Frugal Rv Travel Tips: Keeping an Eye on the Road – and your Budget page