FTC Disclosure: I get commissions for purchases made through some of the links in this article for more information, visit our Advertising Disclosure Page.
Rvers Guide to Fall Camping
The RVers Guide to Fall Camping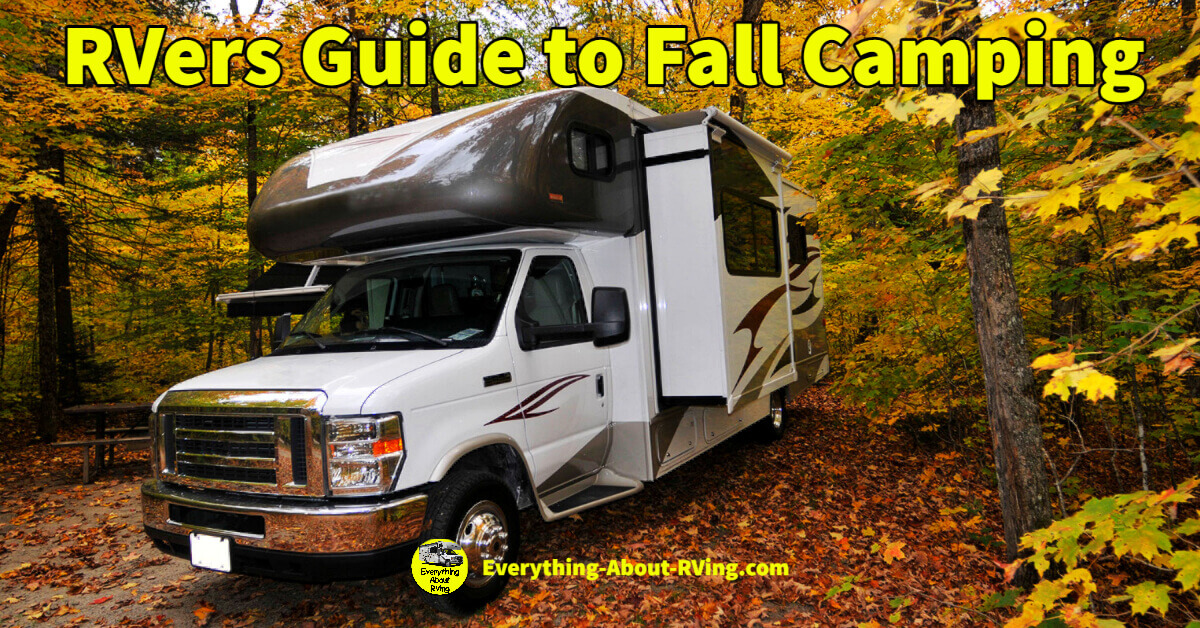 The RVers guide to fall camping helps you plan for a memorable Fall RVing journey
Although summer is considered the best time of the year for RVers and camping, other seasons are highly underestimated.  The fall, for example, could be a wonderful opportunity for RVers. The RVers guide to fall camping helps you plan for a memorable fall RVing journey
Fall camping has so many advantages that can't be found during summertime, as the heat subsides, and booking is way more accessible. At the same time, the warm climate puts the water in perfect condition for fishing. Also, there is a lot to enjoy about fall, from the magical sceneries and falling leaves to cozy sentimental nights. Fall camping has charming magical vibes, perfect for camping in an RV while enjoying quiet time and drinking a cup of warm tea.

There are some minor issues in fall RVing we don't usually experience during summer, for example, cold nights and shorter days. Still, everything is possible with proper planning.

Here are the fundamental steps to follow during fall camping:

Check the Weather
During the fall season, the weather fluctuates dramatically, and the difference between day and night temperature can be huge. So, checking the weather forecast several times in the days before your camping trip is highly recommended. It would help you spot potential changes in weather, like snow, rain, or even extreme heat. Make sure to double-check on the camping day before leaving home.
Follow Fall Driving Safety Rules

Take into consideration that fallen leaves can be significant road hazards, so drive slowly and pay special attention when crossing bridges.  In addition, sunglasses with polarized lenses are essential.  One of the great benefits of camping during the fall season is enjoying the magical sunrise and sunset.  However, while driving, the road glare can be risky, making it more difficult for the driver to see the road ahead or even other vehicles.  To solve this issue, invest in a pair of quality sunglasses in advance and keep them in the vehicle's drawer.
An important part of The RVers guide to fall camping is to help you stay safe.  When heading to an area where rain is expected during the fall, you must watch out for wet pavements.  Wet leaves and roads might result in driving difficulties; you must always keep a safe distance ahead of your RV or tow vehicle, so you can slow down whenever slippery or wet pavement is on the horizon.
Think about Winterizing Your RV
Because of the noticeable difference in temperature between daytime and nighttime during the fall, sudden weather changes can be common at night. The best strategy would be winterizing the RV.

Here is a checklist of all the basic steps you need to take:

Start with checking your RV's doors and windows and making sure all the seals and seams are in good condition
Check that the RV's propane tanks are topped off
Try to find the best way to maintain all RV plumbing and tanks at the right temperature
Make sure that the RV's heating systems are working properly
Finally, and most importantly, make sure that your RV's Generator is working properly
Packing Necessities

To enjoy the experience fully and guarantee your safety, list the most important things you need to pack in the RV.  Planning will help avoid the trouble of forgetting an essential item one might urgently need while RVing.
Being outdoors, particularly in a dry environment with continuous change in humidity percentage during the fall, can get the body dehydrated faster, so always bring extra water more than your daily needs.  Also, having a warm drink before sleeping is a great idea, so keep a box of herbal tea bags in your vehicle.
Additionally, when it gets dark, it's essential to have alternative ways to light up your space. For example, if the RV's interior lights stop working, you will need some emergency lighting.
Lastly, staying warm during your RVing adventure is important.  Bring some extra coats, hoodies, scarves, and gloves.  You might need more than a thick blanket, so don't forget sleeping bags.
Check for Early Closures

Unlike summertime, where most campgrounds are booked weeks earlier, full months are less crowded, which can be an advantage, but in certain areas where it's colder, some parks close earlier than others.
It is always advisable to do quick research to determine which campgrounds or parks are open or closed.  Timing also matters; due to sudden weather changes between one moment and another, the area you booked might close; call and check right before driving to where you are headed.
In conclusion
Although fall camping could be more demanding and requires more preparation than summer vacations, all the planning and work are worth it.  Fall is the best time to be in nature and de-stress.  You will get the chance to gather around the campfire quietly under the starry nights, with no annoying bugs around; RVers get to revel in the marvelous display of autumn leaves colors, watch the sunset, and wake up early to witness the first sunrise.
After Labor Day and the humid summer weather, the parks and famous camping destinations are much less crowded, and the cool breeze is so calming and refreshing.  All you need to do is take some extra steps to prepare your RV for fall camping, and you are ready!  Follow everything we mentioned above, and never hesitate to research online for additional information before going out on your exciting fall camping journey.
Hopefully, The RVers guide to fall camping has helped you plan for a memorable Fall RVing journey