FTC Disclosure: I get commissions for purchases made through some of the links in this article for more information, visit our Advertising Disclosure Page.
Rving on a Budget How to Save Money While Rving
RVing on a Budget How to Save Money While RVing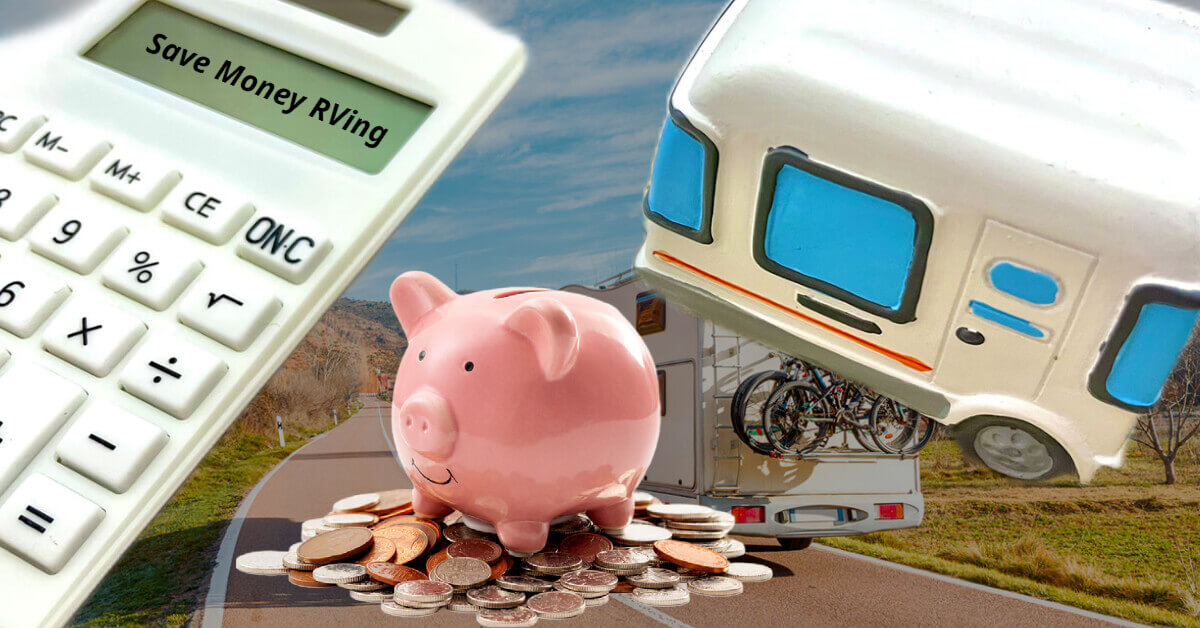 RVing is a wonderful way to explore nature's beauty and the freedom of the open road. It's an adventure that allows you to travel at your own pace and visit new destinations without breaking the bank. However, RVing can be expensive if you don't plan properly. RVing can quickly add up from fuel costs to campground fees, food, and entertainment expenses.

Share This Page
Save 10% on campground fees when you become a Good Sam member Today!
If you're planning an RV trip and want to save money, you've come to the right place. In this article, we'll guide you on how to RV on a budget and enjoy your trip without worrying about expenses.
RVing on a Budget How to Save Money While RVing Tips
Plan Your Route Ahead
Research the Route: Use online resources to plan your route ahead of time. This will help you avoid unexpected expenses and take advantage of free or low-cost attractions.
Avoid Toll Roads: Some toll roads can be expensive. Plan your route to avoid them and save money.
Plan Your Stops: Make a list of the attractions and destinations you want to visit and plan your stops accordingly.
Choose the Right RV
Rent vs. Own: Depending on how often you plan to RV, renting an RV may be a more affordable option than owning one.
Gas vs. Diesel: Gas RVs are generally less expensive than diesel RVs, but diesel RVs are more fuel-efficient.
Size Matters: Choose the right size RV for your needs. A larger RV may be more comfortable but will also be more expensive to fuel and maintain.
Campground Fees and Free Camping
Campground Memberships: Consider purchasing a campground membership to save money on camping fees.
National Parks: Many national parks offer affordable camping options, and some even offer free camping.
Boondocking: Boondocking is a great way to camp for free. It involves camping in undeveloped areas, such as national forests or Bureau of Land Management land.
Food and Drink
Cook Your Own Meals: Cooking your own meals is a great way to save money. Consider investing in a portable grill or stove.
Meal Planning: Plan your meals ahead of time to avoid overspending on food.
Stock Up on Groceries: Stock up on groceries at discount stores like Aldi or Walmart before hitting the road.
Entertainment and Activities
Free or Cheap Activities: Take advantage of free or low-cost activities, such as hiking, biking, or exploring local parks and beaches.
Discounts and Coupons: Look for discounts and coupons for attractions and activities. Check local tourism websites or visitor centers for information.
Explore the Outdoors: RVing is all about enjoying the great outdoors. Take advantage of this by exploring natural wonders, wildlife, and scenic views.
Fuel Costs
Good Sam Club members enjoy instant discounts on fuel. Join Today!
Fuel-Efficient Driving: Drive at a steady speed and avoid aggressive driving to improve your RV's fuel efficiency.
Gas Stations and Prices: Use apps like GasBuddy to find the cheapest gas stations along your route.
Apps for Finding Cheap Gas: Other helpful apps for finding cheap gas include Gas Guru and Waze.
Maintenance and Repairs
Regular Maintenance: Keep up with regular RV maintenance to avoid costly repairs down the road.
DIY Repairs: Learn basic RV repairs, such as changing a tire or replacing a fuse, to save money on repairs.
Find Affordable Service Centers: Research local service centers and read reviews to find the most affordable and reliable option.
Tips for RVing on a Budget
Be Flexible: Be open to changing your plans if unexpected expenses arise or if you find a more affordable option.
Don't Overspend on Souvenirs: Souvenirs can be a fun way to remember your trip but they can also be expensive. Limit your souvenir purchases to a few special items.
Use Discount Cards and Coupons: Consider purchasing discount cards, such as Good Sam Club or AAA, or using coupons to save money on camping fees, fuel, and activities.
Frequently Asked Questions
RVing on a Budget How to Save Money While RVing
The cost of renting an RV varies depending on the size, type, and location of the rental. On average, expect to pay between $150 and $250 per night for a basic RV rental.
Boondocking can be safe if you take the necessary precautions, such as choosing a safe and legal location, bringing enough supplies, and being aware of your surroundings.
Campground fees vary depending on the location and amenities. On average, expect to pay between $30 and $70 per night for a basic campground site.
Conclusion
Our RVing on a budget how to save money while RVing tips have shown that RVing on a budget is possible with a bit of planning and research. Following the tips and strategies outlined in this article can save money on your next RV trip without sacrificing the fun and adventure. From choosing the right RV to planning your route and taking advantage of free or low-cost activities, there are plenty of ways to RV on a budget. So, pack your bags, hit the road, and enjoy your next RVing adventure without breaking the bank.