FTC Disclosure: I get commissions for purchases made through some of the links in this article for more information, visit our Advertising Disclosure Page.
The Top 9 Scottish RV Destinations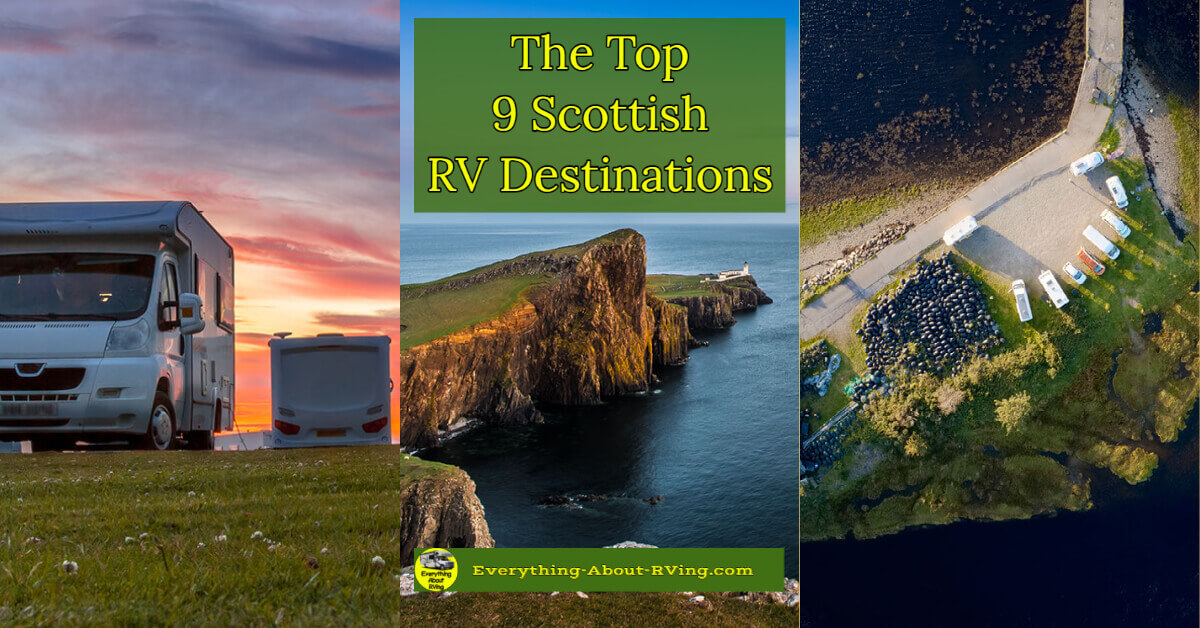 On your RVing journey to Scotland, check out the top 9 Scottish RV destinations
Europe has many magnificent places you can visit and learn about unique cultures. Scotland is one such country that has a lot of history spanning centuries. The beautiful lakes across the countryside, also called lochs by the locals, the countless distilleries, and of course, the famous Scottish music, Scotland has things for everyone to enjoy. However, some places in Scotland are best enjoyed by an RV. An RV allows you to travel around the country at your own pace and enjoy things the way you like them. If you have an RV, consider visiting the 9 Scottish RV Destinations listed below.
Places to Visit in Scotland with an RV
The mesmerizing lakesides, beaches, parks, and even the mountainsides across Scotland have RV Campgrounds. Here are some of the most popular and frequently visited ones:
1. Wailing Widow Falls, Sutherland
This is the easiest way to see waterfalls in all of Scotland because it is very easy to reach the Wailing Widow Falls, even with big vehicles like RVs. You can park your RV near the car park at Route A894 and walk about 300 yards to reach the beautiful waterfall. The fall is about 100 feet, and the water flows from the lake Gainmhich. However, if you want an even better view, go along the gorge north until you reach Allt Crananaidh. Once you are there, look south where the waterfall is located, and we guarantee it will blow your mind. However, be careful where you tread as the steps are rough and slippery.
2. Glenbrittle Campsite, Isle Of Skye
There are over 790 islands across Scotland, which is perfect for those who enjoy the RV Lifestyle! All of these are eye-catching and enjoyable for people of any age. However, what makes the Glenbrittle Campsite different is the truly magnificent view from the island shore and the proximity of the local shops and cafes.
When you wake up and see the incredible sunrise along the brittle beach, you will know that coming here was worth it. The facilities here are amazing, too, with electric connections for your RV, properly maintained showers, and much more.
3. Loch Ness Bay Camping, Loch Ness

Almost all of us have heard about the famous Scottish folklore about the giant loch ness monster that roams the waters of Scotland. While on a trip to Scotland, you must visit the lake where the folklore originated.
Located just a few minutes from Loch Ness Lake, the Loch Ness Camping Bay has many facilities you will surely enjoy. Everything is available in these campgrounds for good quality food, bars, toilets, and showers.
4. Belhaven Bay Caravan Park, East Lothian

The Belhaven Caravan (RV) Park is an excellent place to camp as it allows you to explore wonderful East Lothian. You can visit The Royal Burgh of Haddington, the St Mary's Parish Church, Amisfield Walled Garden, and many other historical places.
The holiday park also has a lot of advanced facilities such as separate disposal points for degradable and chemical waste, Wi-Fi, a kitchen for campers, and many more. This place is fantastic if you want to take a break from nature and enjoy Scotland's architectural wonders.
5. Aberdeenshire coast

Park your RV at the Aberdeenshire Coastal Trail Park and set up a camp nearby to enjoy the beautiful scenery of the Eastern shoreline of Scotland. This coastal trail holds the famous Fraserburgh, the largest shellfish port in Europe.
While in the Coastal trail park, you can visit the local restaurants for fantastic seafood and check the Museum of Scottish Lighthouses and the Kinnaird Head Lighthouse at Fraserburgh. These spots will refresh your mind and inform you about the Scottish marine economy.
6. Aberfeldy Caravan Park, Perthshire

If you love the green and lushness of nature, then this is the perfect place to set up your RV. This park has over 200,000 acres of woodland, giving it the title "Big tree Country." If you have pets, then they are welcome here as well. Facilities include several trash disposal points and service points for your motorhome. The local cafes, bars, and shops are located just five minutes away from the park.
To ensure long distances don't hurt your RV, you need the best RV tires. It is also best to have proper RV repair and maintenance knowledge.
7. Linwater Caravan Park, Newbridge, West          Lothian

Just like East Lothian, West Lothian has a lot to offer those seeking adventure. Unlike East Lothian, West Lothian is pretty quiet and peaceful and depends more on agriculture than the marine economy. Just south of Scotland's Capital, you can enjoy peace and serenity in the countryside of West Lothian.
If you want to travel to the inner cities, you can easily take a public bus from the Caravan Park. There you can enjoy the local delicacies and check out the vivid culture of the countryside of Scotland.
8. Achindarroch Touring Park, Argyll
Scotland is not just about islands, parks, and the countryside. It has a lot of beautiful mountains for those who enjoy hiking and getting a higher view of the world around them. While you stay in Achindarroch Park, you will be able to visit Ben Navis, which is the highest mountain in Scotland.
Not only mountains, but Achindarroch also offers some mesmerizing Scottish Architectural sights such as Glenfinnan Viaduct and the Inverlochy Castle. Additionally, you can also enjoy the beauty of Steall Waterfall.
The touring park also has all the basic motorhome facilities for you, so you do not need to worry about anything during your stay here.
9. Blair Drummond Caravan Park, Stirling

Lastly, we have Blair Drummond Caravan Park, one of Scotland's most famous vacation parks. From mountains to watersports, calming countryside, busy city life, and the famous national parks, you can check everything Scotland offers while camping here.
You can take a boat cruise, go kayaking on the lakes, or enjoy a leisurely walk in the park; the possibilities are endless! There are also kitchens and BBQ areas near the park to enjoy some good food.
Final Thoughts

Scotland is a beautiful country with many parks, beaches, and architectural wonders. If you have a vacation nearby, book your tickets and go on a tour of Scotland.
If you go on national holidays, you will see even more colors, especially on Saint Patrick's Day. Just be sure you have a lot of time on your hand and plan your route accordingly. Traveling at random will waste your precious time, and you will not be able to check everything properly.