FTC Disclosure: I get commissions for purchases made through some of the links in this article for more information, visit our Advertising Disclosure Page.
Tips on How to Select an RV Mattress When You Have a Bad Back
Support and alignment are important factors to be considered in preventing back pain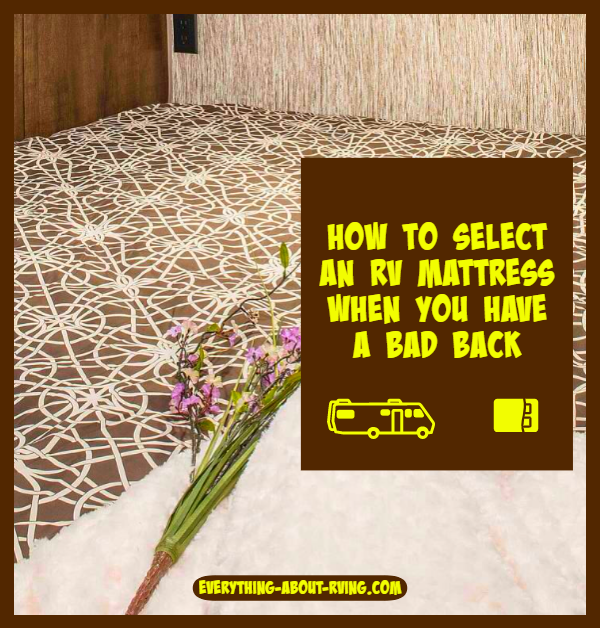 By Jamie Miller
Most recreational vehicles (RVs) are equipped with a bed that gives support to a mattress but with smaller spaces designed for a low profile foam. 
Share This Page
Save 10% on campground fees when you become a Good Sam member Today!
Owners of such vehicles in search of a mattress can choose either a special RV mattress made for RV beds of various sizes or a standard low profile type that fits the RV bedding space. 

RV memory foam mattresses are thin and light, produced with memory foam comfort layers and high-density support, but there are other types of foams that meet the specification in terms of size. 
Most of the RV mattresses available in the market today are innerspring models or foam. This is important for people who prefer hybrids, latex, or airbeds.     

They are less expensive with a height of 6-inches to 8-inches, but there are some standard mattresses with a thickness of 10-inches which may also be used in recreational vehicles, although these stock mattresses are afterthoughts for campers and RVers.

Some RVs are equipped with small bunk beds that can only accommodate RV twin-sized mattresses or RV bunk, but in others, different sizes of RV mattresses can fit in the bed. 
For most campers, RVers, boaters, and those with a bad back, an RV mattress with full support is paramount.

There are symptoms you may experience when you need to change your mattress.

• When you turn and toss while sleeping.
• You wake up feeling tired with pains and backaches.
• When you wake up with pains in the joint.
• If you are more comfortable sleeping on your bed at home.
• The mattress can no longer keep two people apart without rolling towards each other.
If you experience two or more of these, then you need a new mattress. 

It is not advisable to fit-in another type of mattress with a different shape, size, and height into the camper or RV because the RV mattress comes in different shapes and curved corners, for easy access to a bathroom or cupboard.

Unsupportive or lumpy RV mattresses aggravate back pains because they do not release the pressure from the vertebrae when you sleep on them. 

Support and alignment are important factors to be considered in preventing back pain. This means that your mattress must be soft and firm to support the back and align your body.  

Types of RV Mattress
Save 10% on campground fees when you become a Good Sam member Today!

There are three most common RV mattresses. They include Latex, Toppers, and Memory foam mattresses. Each of these solutions has benefits and performance history. 

Latex: This gives a cold feeling when the weather is hot. It helps to avoid getting hot or sweating when you lay on it. Latex mattresses have antimicrobial properties and are hypoallergenic which makes them suitable for outdoor use.

They are expensive when compared to the memory foam mattress, but does not offer the same relief from a bad back and joint pain since their firmness is different. 
Toppers: For most RV owners, choosing the best mattress  involves making a simple choice between a mattress and topper. A topper is a cushioned layer that offers extra padding to increase the height and thickness of a sleep surface. 

Using a topper is more comfortable than protectors or mattress pads because these options are used to avoid stains on mattresses. Toppers can be used in RVs with small spaces for a mattress or the ones with factory-fitted beds, which uses firm and thin mattresses with a costly replacement.

With a topper, you can get almost the same comfort of memory foam at half the cost or 70% less. You can only enjoy it by placing it on another mattress to increase the height. If the existing mattress does not fit, have in mind that a topper won't hide a worn-out or lumpy mattress underneath.   

It is necessary to customize the size of a topper to match the print of the mattress below it, and the best topper should have a thickness of 4-inches and above, to reduce back pain. 

Memory Foam: A memory foam mattress has a poly-foam which provides support with layers and a mattress cover. It is known for distributing weight and removing pressure points. 

These qualities will prevent you from being immersed in the mattress, and it enhances the adequate alignment of the spinal cord while sleeping. 

The memory foam mattress also has its drawbacks. One such turnoff is that they can get hot with the temperature of the environment. Also, your body temperature increases as you sink deeper into it. 

Aside from these drawbacks, customers with bad backs in have reported significant relief from pains when using a memory foam mattress in their camper, recreational vehicles, or boat. 

Conclusion
Before selecting an RV mattress when you have a bad back, you must avoid rushing to make a purchase without having adequate knowledge of what is the best fit for you

Conduct proper research, consider the options provided, and test the product before you make a purchase, to ensure that you discover the best mattress that gives maximum comfort and ease the back pain. 

About The Author
Jamie Miller is a mother to 8 children and an avid cook. She enjoys theatre from both the audience as well as being on stage. She has been writing stories ever since she could put pen to paper and still enjoys doing so today. Her passion for food has her often creating new recipes to try on her family, who are always happy to sample. Jamie graduated with a diploma in Social Services and has worked with children for most of her life. She now writes for Originmattress.com.sg. and helps them in their content promotions.