FTC Disclosure: I get commissions for purchases made through some of the links in this article for more information, visit our Advertising Disclosure Page.
8 Awesome RV Space Saving Ideas
With proper organization you can still carry all the stuff you need in your RV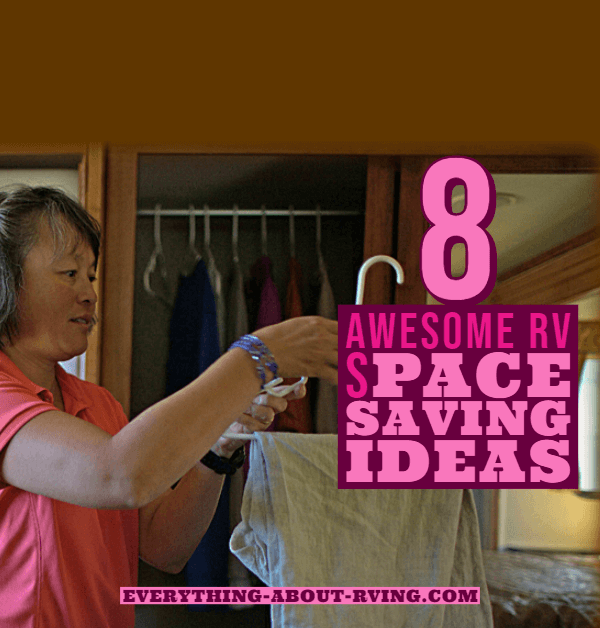 By Vicky Norris
One of the biggest RVing challenges is organization. Because of the limited space, it's easy for clutter to sneak up on you. With proper organization you can still carry all the stuff you need in your RV without cluttering up every inch of space. See my top 8 space-saving tips to keep your RV looking tidy and feeling homely. 
1. Take Stock and Purge What You Don't Need
The first step is to take stock of what you have. Take a pen and paper and write down everything in your RV, broken down into categories. 

This will help you know what you have and how to arrange it efficiently.

As you take stock note what you don't really need. This is going to require some tough decision-making. 

Do you need all those pairs of shorts? Do you ever use all of the 15 plates you have in the RV? What about that stack of books and magazines you've already read?

Here's a tip. If you haven't used something more than once in a year, get rid of it unless it's for an emergency. 

I recommend purging every few months especially if you travel a lot or live in your RV. This not only makes your RV feel more homely, it also makes it easier to find stuff without turning the whole place upside down. 

2. Organize Everything Into Its Own Space 
Usually it's not the big items like a fridge, stove or furniture that take up a lot of space and clutter up your RV; it's the small items that you leave lying around. 

Things like keys, clothing items, books, utensils, fishing gear can create a mess if not properly organized. 
Use the stock-taking list you made to organize everything into its own storage space. 

Have a place for your outdoor gear, another for all your fishing stuff, a small box for loose change and so on. 

3. Organize your Bathroom
The bathroom is small so you need to save even more space than other parts of the RV. 

Get a bathroom organizer that you can hang on the wall. You can then out your toiletries and personal items into specific compartments. 
Small wall cabinets are also a great idea especially for things like medication and electronics that you want to keep out of the way. 

4. Organize your Kitchen 
The kitchen is prone to clutter because of all the items you have to store there from cooking utensils to food and even cleaning supplies. 

The trick is to mix and match different types of storage ideas.

In addition to the floor and wall cabinets, make use of the bare walls to hang up things like a towel rack or a vegetable rack.

Get a magnetic rack for things like knives spoons and other metal utensils. 

Don't forget there's more space under the sink. This is perfect for storing cleaning supplies in plastic bins.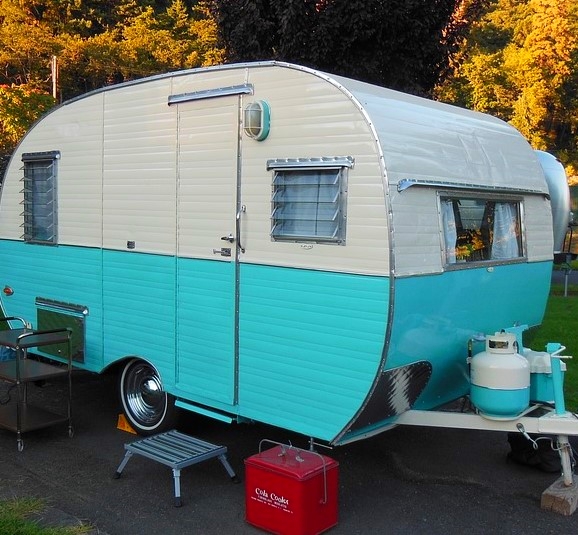 Instead of putting everything in a couple of drawers or shelves,  provide much better organization. 

Use them to store different types of clothing, to store various food items and even for your repair tools and emergency items. 

Make sure you label everything to make it easier to find what you are looking for. 

6. Go Foldable 
A genius way to save space is to use foldable items. This way you can fold them out of the way when you are not using them. 

Examples include foldable tables, chairs, bags and bed.

7. Buy Compact Items 
If the RV is used by 1-3 people, you don't need big appliances or furniture. Go for smaller items that will take up less space but which are large enough for your needs. 

Examples include a mini-freezer, a compact nugget ice machine and a mini microwave. 

8. Buy Multi-Purpose Items  
Finally, get items that can be used in more than one way. This saves you quite a bit of space since you don't have to carry as many things. 

For instance you can get a 3-in-1 body wash, shampoo and conditioner. Another idea is to get a luggage bag that you can convert into storage when you are in the RV. 

About The Author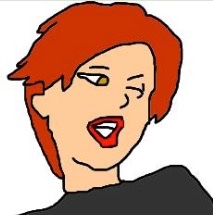 Vicky is a legal professional who enjoys researching, reviewing and writing about the latest developments in home appliances. A fan of saving money, Vicky started IceMakersHub when it became clear that a whole new class of less-expensive portable ice makers was destined to replace what used to be a really expensive built-in kitchen upgrade.
Do you have any suggestions or comments on this topic? You can add them to this page by using the comments section located below.