FTC Disclosure: I get commissions for purchases made through some of the links in this article for more information, visit our Advertising Disclosure Page.
Spooky Places to Visit on Your Next Rv Trip
Spooky Places to Visit on your Next RV Trip
By Richard Saling
Spooky Places to Visit on your Next RV Trip be prepared for spooks and thrills
Here are some spooky places to visit on your next RV trip. The leaves are changing color, it's the beginning of autumn and the spooky season is closing in. Americans love to be scared and the haunted house is a Halloween season staple. But these real-life haunted destinations in the U.S. aren't just fleeting autumn pop-ups. These haunted locations are in towns across the U.S., are the crime scenes for true tales of axe murders and massacres, lost children, and angry demons and ghosts.
Plan your next RV trip visiting these haunting locations across the US and be prepared for spooks and thrills set in a scenic fall backdrop of fall foliage and crisp chilly air.
Take a moment to watch this video to help whet your appetite for your next Halloween RVing adventure.  
WARNING !!!
THIS VIDEO IS NOT KID FRIENDLY
Philadelphia, PA – Eastern State Penitentiary
The nation's first capital has a long history of politics and being a creepy place to visit; Edgar Allan Poe penned some of his most notorious works in the city and M. Night Shyamalan's The Sixth Sense was filmed there. This menacing Gothic-style prison opened in Philadelphia in 1829 and became the first in the U.S. to implement solitary confinement, a hotly debated practice. For an epic RV road trip, take a drive to Philly's Eastern State Penitentiary, where many paranormal investigators have staked out (remember that "Ghost Hunters" episode?) due to the location's dark history.

Salem, MA – Salem Witch Trials
Here is one of the prime spooky places to visit on your next RV trip. There is no spooky road trip complete without a stop in Salem, Massachusetts, home to the horrific 1692 Salem Witch Trials. This eerie East Coast city really embraces its witchy history, from the Salem Witch Museum to October's annual Salem Haunted Happenings event, it's a not-to-miss destination for any creepy RV road trip.

Lizzie Borden Bed & Breakfast: Fall River, Massachusetts
In 1892, Andrew and Abby Borden were found dead — killed by an axe-wielding psychopath. Naturally, the police's No. 1 suspect was Andrew's daughter, Lizzie. Lizzie stood trial for the crimes and was ultimately acquitted, but she spent the rest of her natural life under the shadow of guilt.

Late at night if it is quiet, some say that she can be heard cackling at the top of the stairs near where she gave her stepmother "forty whacks." But she's not the only spirit who haunts the scene of the 1892 crime. Both of her axed parents are said to stalk the grounds, as does a maid screaming for help, according to guests of the now museum and B&B. Lizzie Borden House attracts guests from all over the world, especially for the anniversary re-enactment every August.
That's why this destination should be added to the spooky places to visit on your next RV trip.
Charleston, SC – Old City Jail and the Battery Carriage House Inn
Founded in 1670, this historic Southern city is a mecca for ghost hunters and those looking for creepy destinations to visit. Check out the Old City Jail, built in 1802, it resembles a castle more than a jail and boasts spirits lurking in every corner. Then, ride over to the historic Battery Carriage House Inn that was ravaged during the Civil War and still holds battle scars from long-ago fighting (check out Room 8 and Room 10 where spirits of two men are said to be still haunting the grounds long after their deaths).

Weston, West Virginia – Trans-Allegheny Lunatic Asylum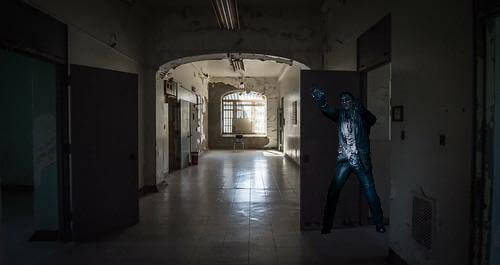 Also known as the Weston State Hospital, the Trans-Allegheny Lunatic Asylum is a massive building that ghost hunters have been investigating for decades. The Trans-Allegheny Lunatic Asylum was constructed between 1858 and 1881. It is the largest hand-cut stone masonry building in North America and is purportedly the second largest in the world. Although it was operated from 1864 and reached its peak in the 1950's with 2,400 patients in overcrowded and generally poor conditions, its doors were finally closed in 1994 due to changes in in mental illness treatment practices. Former inmates are said to still be lurking in the dilapidated ruins.

St. Augustine, FL – St. Augustine Lighthouse
Visit this historic lighthouse and museum on your RV road trip and be sure to check out the guided ghost tours or walk the 219 steps up to the top of the building for panoramic views of the ocean. Visitors and workers of the museum claim that ghostly apparitions appear in the lighthouse, as well as other spooky happenings like voices, footsteps, and unknown nighttime noises.

Savannah, GA – Ghostwalker Tours
Mystery and history collide in this sultry Southern city. Savannah is home to legendary Civil War battlefields, historic homes, and a famous ghost tour that will be the highlight of an epic spooky RV road trip.

Williamsburg, VA – Colonial Williamsburg
Check out this vibrant village in Virginia, known for its ghost tours, witch trials, rich history, and the kid-friendly Busch Garden Theme Park that hosts annual Howl-o-Scream events each October for locals and tourists.

New Orleans, LA – Lafayette Cemetery
Another destination that must be added to the spooky places to visit on your next RV trip is the Lafayette Cemetery.
Located in the city's famous Garden District, Lafayette Cemetery is the last resting place of voodoo queen Marie Laveau. The cemetery was named after the city of Lafayette, which was once the area of New Orleans. With almost 500 wall vaults the cemetery has a rich history of some of the first settlers from Ireland and Germany. Aside from Marie Laveau , some of the most famous people buried in Lafayette Cemetery No. 1 are Mayfair Witches, Lafayette and Jefferson fireman. Take a stroll around the crumbling grounds at dusk to see if the voodoo priestess still haunts the land that betrayed her.

New Orleans, LA – LaLaurie House
American Horror Story: Coven reignited interest in this famous French Quarter haunt. Socialite and serial killer Madame Delphine LaLaurie, orchestrated a torture chamber for slaves at the Royal Street mansion from 1831 until 1834, when responders to a fire uncovered her dark secret. When the local police responded to a kitchen fire in 1834, they discovered the bodies of several horribly mutilated enslaved people in the attic. When the public learned of LaLaurie's grotesque secret, a mob stormed the house, prompting her to flee to France.
LaLaurie's victims are said to haunt the property to this day.
St. Louis, MO – Lemp Mansion
The Lemp family, purveyors of Lemp Brewing Company, a stalwart in St. Louis before prohibition hit. Four members of the family killed themselves between 1904 and 1949, three of them inside the 33-room Victorian mansion where they allegedly still reside, haunting guests of the converted restaurant and inn.

Adams, TN –  Bell Witch Farm
A woman named Kate Batts believed her neighbor John Bell cheated her out of some land, and so, lying on her deathbed in the early 19th century, she swore she would haunt him forever. The story goes that John Bell bought a tract of farmland along Tennessee's Red River. Bell and his family thrived on the farm until they started to see strange looking animals around the property, most notably a dog with a rabbit's head.

From that point on, the family was beset upon by unseen forces, largely targeted at Bell and his daughter Betsy.  The Bell family said they experienced physical attacks, heard chains dragged across floors, noises in the walls and saw odd-looking animals on their farm, including a dog with a rabbit's head.

Franklin, TN – Carnton Plantation
Close to Nashville, the historic and eerie Carnton Plantation is said to be the home of a ghost named "Widow of the South" who lingers in the mansion's many rooms. Take a ghost tour of the creepy home and plantation, then drive to Nashville to enter the "Death Yard Haunted House" attraction.

St. Francisville, LA – The Myrtles Plantation
Long proclaimed to be the most haunted house in America, the Myrtles Plantation home in St. Francisville, Louisiana was built in 1796 and is home to numerous ghosts from its dark history. From the spirit of a young Native American woman, to ghosts of murdered children, this looming destination is a great stop for RV road trips.

Portland Oregon – The Shanghai Tunnels
The last place that should be on your spooky places to visit on your next RV trip list is Portland, which was one of the most dangerous ports in the country during the early 19th century, was the epicenter of an illicit practice known as shanghaiing, otherwise known as human trafficking. It still goes on today with men, women and children and s grossly under reported by the news.

According to legend, swindlers preyed upon unsuspecting men in the local saloons, which were often rigged with trapdoors that dropped the victims directly into a network of underground tunnels. These men were then supposedly held captive, drugged, and eventually transported to the waterfront, where they were sold to ships as unpaid laborers; some worked for several years before finding their way back home. 
The tunnels are said to be haunted by the angry spirits of the captives who died in the dark recesses beneath the city.
Hopefully, we have given some ideas for spooky places to visit on your next RV trip.
About the Author
Richard Saling is the Chief Marketing Officer of RVnGO.
RVnGO (https://www.RVnGO.com) is the truly free, peer to peer online RV rental marketplace where you can list your RV for rent, or rent an RV or buy or sell an RV.
RVnGO brings people together without charging any fees to hosts or guests (the users of our website). We are the only online platform that allows them to keep 100% of their rental income for each booking. RVnGO also provides peace of mind to RV owners and renters by automatically including RV rental insurance for all rentals covering up to $1 million in liability. The insurance covers the host and the guest and the guest pays the deductible.
FAQ
Spooky Places to Visit on your Next RV Trip

Some spooky places to visit on your RV trip during Halloween season include Eastern State Penitentiary in Philadelphia, Salem, Massachusetts for the Salem Witch Trials, Lizzie Borden Bed & Breakfast in Fall River, Massachusetts, Old City Jail and the Battery Carriage House Inn in Charleston, SC, and the Trans-Allegheny Lunatic Asylum in Weston, West Virginia.
Eastern State Penitentiary in Philadelphia, established in 1829, was the first U.S. prison to use solitary confinement. It's known for its Gothic-style architecture and is associated with Edgar Allan Poe's writings and M. Night Shyamalan's film "The Sixth Sense."
Salem, Massachusetts is famous for its witch trials. You can visit the Salem Witch Museum and enjoy October's annual Salem Haunted Happenings event, making it a must-see destination for a spooky RV road trip.
The Lizzie Borden Bed & Breakfast was the site of a notorious 1892 axe murder of Andrew and Abby Borden. Lizzie Borden was accused but acquitted. The house is said to be haunted by their spirits and attracts visitors worldwide.
The Trans-Allegheny Lunatic Asylum, also known as Weston State Hospital, is a massive, historic asylum built between 1858 and 1881. It was home to 2,400 patients and is known for paranormal activity due to its troubled past, making it a spooky spot for RV travelers.