FTC Disclosure: I get commissions for purchases made through some of the links in this article For more information, visit our Advertising Disclosure Page.
8 Must-Haves for Your Summer RV Trip
Here's a great RV summer trip packing list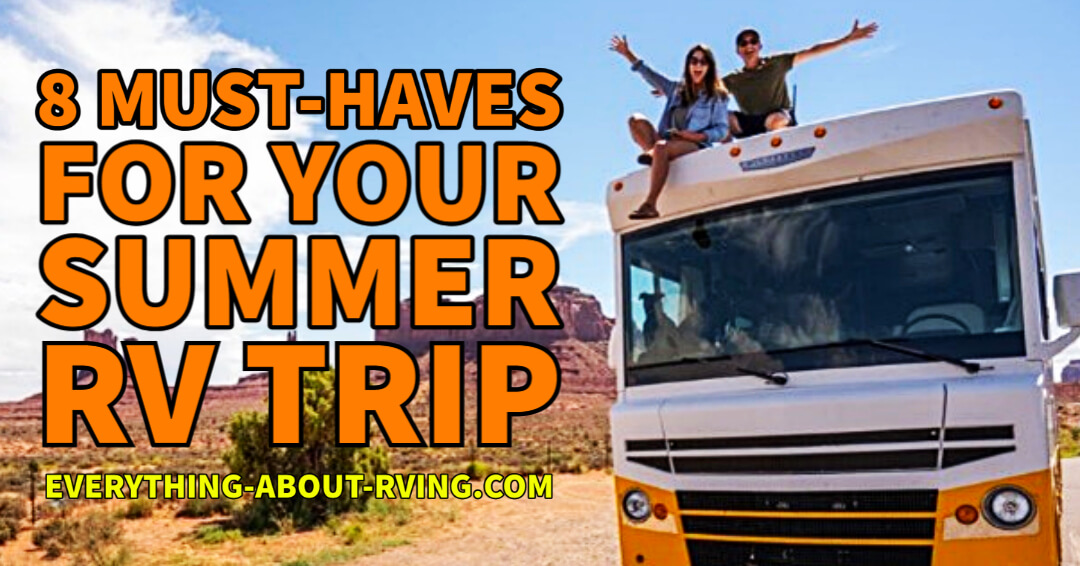 One of the best ways to see the world is to travel by RV. It not only allows you to visit incredible places, but it also serves as your mobile home. There are certain things you should pack for an RV trip, whether you're going on a long weekend RV trip or intend to live on the road for an extended amount of time. It's critical to be prepared for emergencies and understand how to operate systems (such as sewage and water).
Here's an RV trip packing list that includes important things you should not forget to assist you in your planning.

Good Sam Travel Assist: Emergency coverage for you, your family, and pets. Plans Starting at $59.99 Shop Now!
1. Insurance
When you're towing your RV with your custom Defender, it's strongly advised you purchase travel insurance for any trip you take. At the same time, it may appear to be unnecessary while RVing; it can save you a lot of trouble if you get into an accident. Even with health insurance, medical bills can quickly mount up. It can also assist with trip cancellations, rental fees, and last-minute transportation.
2. Emergency Kit
Accidents happen all the time, unfortunately. Having an emergency roadside kit is essential whether you're driving a regular car or an RV. This is especially important if you plan on staying in the RV for a long time. Jumper cables, a flashlight, a reflective safety vest, a whistle, a warning triangle, a pocket knife, bandages, and other items should be included in an emergency kit. You won't have to worry if you find yourself in a less-than-ideal situation with this.
3. Levelers
Levelers are similar to wheel blocks in that they keep your RV level rather than preventing it from rolling away. This is critical because an uneven rig is not only uncomfortable (perhaps resulting in damage), but it also does not function properly. Many appliances, such as the refrigerator, won't work correctly if the floor isn't level. If you continue to use the fridge while it is not level, you risk causing major damage to it that will cost you a lot of money.

Shop Camping World Products on Sale Now!
4. Generator
It is critical to have backup power while RVing. You never know when you'll need that additional energy, whether you're boondocking off the grid or setting up camp at an RV park with hookups. An eco-friendly portable generator assures that you will never be without power, whether you need to charge your phone or laptop.
5. Wheel Chocks
When your RV is parked, wheel blocks are required to keep it from rolling away. While your vehicle has brakes, they are ineffective on their own. Not only will having some wheel blocks help you stay in place, but they will also prevent excessive movement while walking or moving around the cabin.


Join the Good Sam Club Today! The world's largest RV and Outdoor Community Club.
6. Jumper Cables
Imagine being on the road when your RV or tow vehicle suddenly breaks down. You could be stranded for hours if you don't have jumper cables while waiting for help to arrive. Alternatively, keep a pair of heavy-duty cables on hand to ensure that you'll be back on the road in no time!

7. Tire Pressure Gauge
At all times, RVs have a lot of weight on their tires. While the tires are designed to support that weight, most people have had a flat tire at some point in their lives. A tire pressure gauge will tell you if your tires are properly inflated so a tire blowout will not ruin your vacation on the side of the road. Using a digital one gives you simple numerals and, thanks to its lighted LCD screen, allows you to test in the dark.
Save 50% Off of Campsites with Passport America

8. Toilet Chemicals
While RV restrooms are a godsend, they are fairly small. And keeping them clean is essential to having a good time on your vacation. Using toilet cleaning stamps will allow you to go longer between cleanings while also reducing odor. Simply place one on the toilet wall and wait for the flush-activated cleaning to begin!

Being prepared on the road will help make your summer RV adventure worry-free and fun.

Get Your Article Published on Everything About RVing
If you have written an article about RVing, Camping or the Great Outdoors and you would like us to publish it on Everything-About-RVing.com, please visit our
Submit An Article Page.
LEARN HOW TO RUN 2 RV A/Cs ON A 30 AMP CONNECTION

Recommended Reading For You
Over 1,500,000 successful roadside rescues—Good Sam RV Emergency Road Service
Good Sam Travel Assist: Emergency coverage for you, your family, and pets. Plans Starting at $59.99 Shop Now!