FTC Disclosure: I get commissions for purchases made through some of the links in this article for more information, visit our Advertising Disclosure Page.
Teach Your Dog Boundaries
How To Teach Your Dog Boundaries Inside Your RV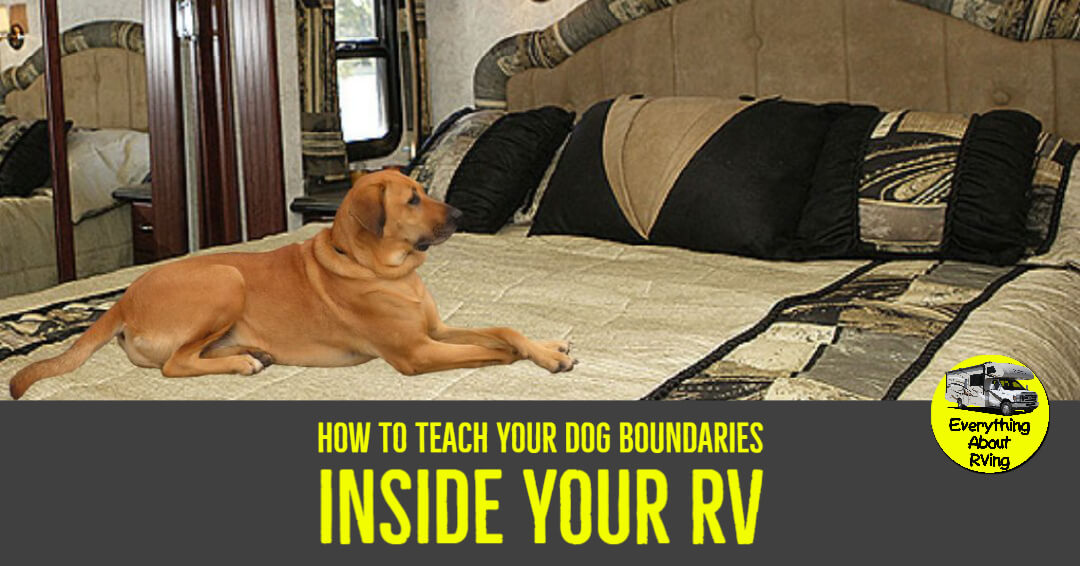 By Professional Dog Trainer
Adam G. Katz

Here are some basic techniques to teach your dog boundaries inside your RV 
The technique to teach your dog boundaries is really cool. It's the same approach we use to teach dogs to stay out of the street, or to not run out the door of your RV.
You can use this technique to teach your dog to: Stay off the sofa, stay off your bed, stay off the driver's seat, not run out the door of your RV… pretty much any area that can be easily distinguished by the dog.
First, your dog should be wearing a training collar and a tab (1 foot leash) any time you're with your dog, in a situation where you may need to correct unwanted behavior– until your dog is 100%. And until then, your dog should be confined to an area where he cannot walk or jump on "the hot zone" without getting corrected. So, if you need to — get a dog crate or use a leash as a tie down.
To start with, throw something (like a toy) on the hot zone, which will tempt your dog to walk on it. As soon as he puts his first paw on the hot zone, say, "No!" and tug the leash (loose-tight-loose) in the direction that is away from the hot zone. [If you feel like you're giving meaningless corrections, please upgrade to a "pinch collar". They're safe and humane if used correctly.)

Here's the concept: You want your dog to think of the whole exercise as a safe zone/hot zone area. The safe zone is anywhere in the RV EXCEPT the area you don't want him to go. (The hot zone should be self-explanatory). Your dog should come to understand that walking on the hot zone is similar to walking on a hot stove. It feels UNCOMFORTABLE, and he wants to get back into the safe zone as soon as possible.

Save 10% on campground fees when you become a Good Sam member Today!
Now, if your dog puts more than one foot on the hot zone, and actually walks to the center of the hot zone… it's okay to drag (quickly) him back to the safe zone. This is one of the few instances where you're actually pulling on the leash, instead of giving a quick "tug and release" on the leash.

Next, tempt the dog again. If your first correction was motivational, you'll see him refuse to walk on the carpet.
WHEN YOU SEE THAT THE DOG HAS MADE THE RIGHT DECISION… PRAISE HIM! WHEN THE DOG HAS MADE A WRONG DECISION, CORRECT HIM, AND THEN GIVE HIM THE OPPORTUNITY TO MAKE THE DECISION AGAIN. IF HE THEN MAKES THE RIGHT DECISION, YOU'RE GOING TO PRAISE HIM.

Sign and Drive Coverage with Good Sam Roadside Assistance! Plans Starting at $49.95! Shop Now!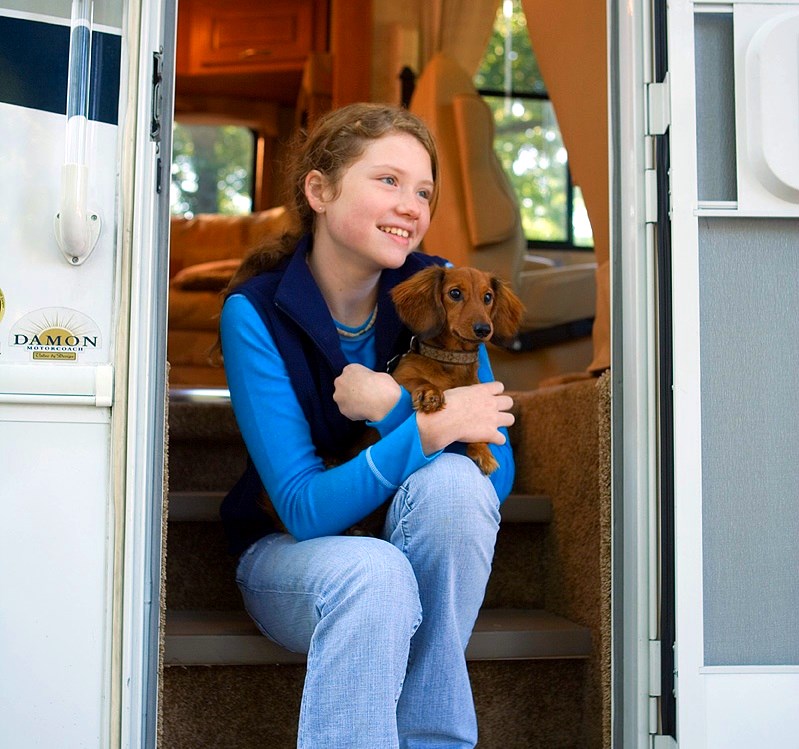 Next, you can start doing the same exercise with a variety of different distractions. If you're halfway across the room and he walks on the hot zone, you'll say, "No!" as soon as his foot touches the hot zone, and then "NO, no, no!" as you walk to him and immediately correct him back into the safe zone.
Your success with this exercise will depend on how motivational your corrections are, how precise your timing is (never correct the dog if he's now in the safe zone) and your attention to making sure that you're consistent in your enforcement until your dogs drop the unwanted behavior.
About The Author
Learn how to get your dog to listen to you, anywhere you go: Sign up for Adam's free weekly dog training Tips newsletter at: http://www.dogproblems.com/
Copyright 2011 By Adam G. Katz and DogProblems.com.  All Rights Reserved.
Return to the RV Lifestyle Articles page from How To Teach Your Dog Boundaries Inside Your RV page