FTC Disclosure: I get commissions for purchases made through some of the links in this article for more information, visit our Advertising Disclosure Page.
The Best Rv for Workampers
The Best RV For Workampers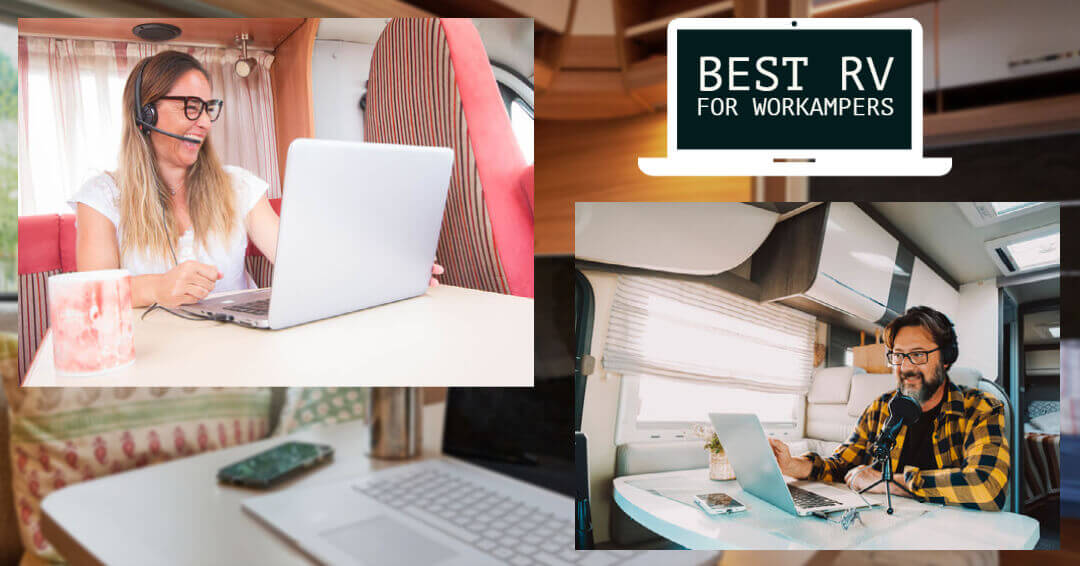 by RV Lifestyle Expert Author 
Jaimie Hall Bruzenak
Choosing the best RV for workampers depends on the type and amount of work you plan to do while RVing
What is the best RV for workampers? This is a great question, but what type of RV to purchase, unfortunately, has no clear-cut answer. It is partly a matter of preference and partly dependent on the type and amount of work you plan to do while RVing.
Full-time or part-time RVer?
First, if you will be living in your RV full-time, you want to choose a rig designed for full-timing. Generally, you are looking at Class A motorhomes and 5th wheel trailers. You want the storage space and especially need to have your tanks enclosed so your water doesn't freeze. The better constructed units have more insulation and storage space.
If you have a homebase and will be traveling to a place to work or volunteer in temperatures that stay mostly above freezing, one of the other types-Class B vans, Class C motorhomes, truck campers- could do. Some mountain locations, though, even in summer can get cold near the beginning or end of the season.
Comfort and convenience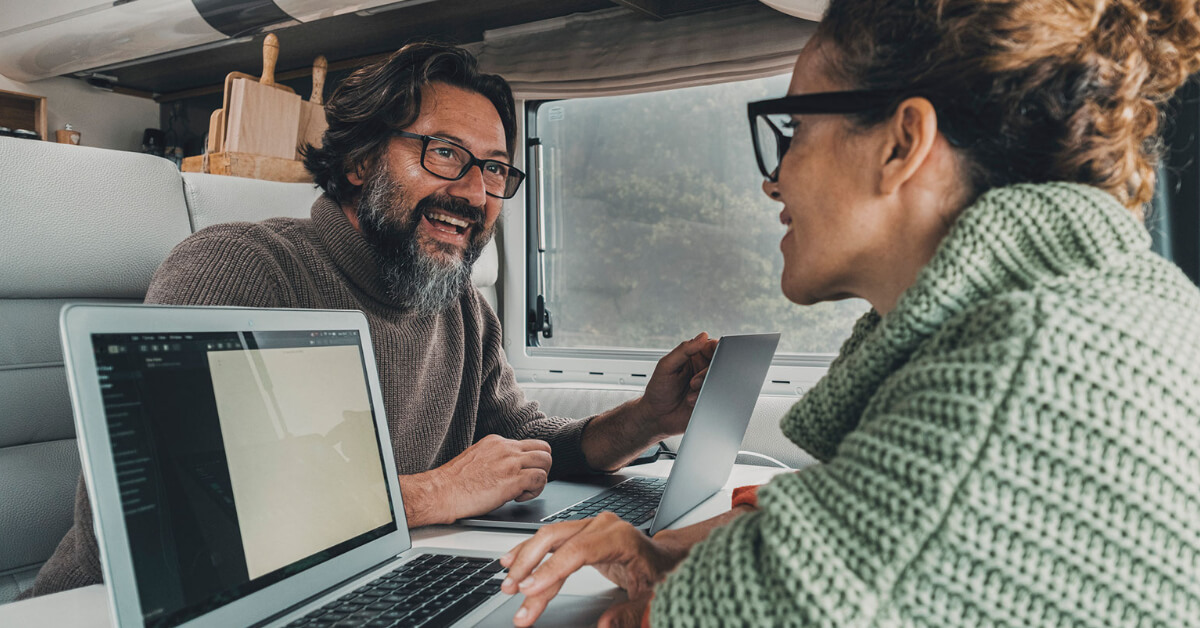 Besides construction, consider comfort and living space. Vans and truck campers have limited space. If you are a solo traveler, you may do fine. Doing the do-si-do in a narrow aisle with a partner for months can get old. Consider also how comfortable the bed and the sofa is. Do you even have a sofa or comfortable chair? George and I traveled in a Lance camper on our Ford 350. It had a small slideout, which certainly increased the room. However, the only place to sit was the dinette. We could put our computers on the table, though the table was higher than comfortable for typing. We also read there. The only other option was lying down on the bed or to sit outside. The Lance was great for short trips but by the end of several months, we knew we needed a larger rig for travel and working on the road.
Smaller rigs like vans and campers have smaller refrigerators. It means more frequent trips to the store. If you are working or volunteering in a remote spot and don't have access to another refrigerator, it will severely limit your supply of fresh fruits and vegetables.
Motorhome or 5th wheel?
The Class A and 5th wheel do have the most comfort and living space and are better choices for living in your RV for extended periods of time. But which is best for Workamping? Things to consider are:
Click here to visit Pine Country Publishing to see all of the books available from Jaimie Hall Bruzenak and all of the other RV Lifestyle Expert Authors
1. One or two engines
With a 5th wheel you have one engine to maintain. With a motorhome you'll probably have a toad (towed vehicle), which means two engines to maintain. Driving a motorhome without pulling a toad means you'll either have to drive your motorhome to the store and Laundromat or bum rides with others. In a remote area, relying on others could prove difficult or cause resentment.
2.  Fuel mileage and convenience
Having a toad can mean that you're exploring and trips to town cost much less than if you use your tow truck. A smaller vehicle could be more comfortable and allow you to drive is less accessible places, particularly if your toad is four-wheel drive. Even driving in a downtown area is easier with a smaller vehicle.
3.  Living space
A 5th wheel is 100 percent living space. In a motorhome, you have the driver's area that can be wasted space.
4. Maintenance
A motorhome should not sit for six months. You'll need to run the engine for 10-15 minutes each week and periodically take it out for a drive. The 5th wheel can sit all season without a problem. 
In the end, it is a matter of preference. If the rest of the year you prefer a motorhome for its advantages, you can certainly live for a few months in it where you work or volunteer.
My experience
Bill, my late husband, and I chose a motorhome for a couple of reasons. One, we could leave the motorhome in a Wal-Mart parking lot for the day and explore in our jeep. We got better gas mileage with the jeep, could go four-wheeling, or drive downtown and find a place to park. Two, we felt safer being able to drive away in our motorhome at a moment's notice if camped. Since we did a lot of boondocking, this was important.
After finding that we spent six months working in one location each year, we often thought that a 5th wheel would have been a better choice. When we purchased a homebase, we downsized to a truck camper. After Bill passed away, George and I tried the camper for a summer and decided we'd stick to his 5th wheel. We did spend several months at Big Bend National Park in Texas in the 5th wheel where he volunteered and found it much more comfortable than a camper. This past summer we traveled in the 5th wheel. Sometimes we were limited to the roads we took. While my little Suzuki has 4WD and goes anyplace, a big dually GMC doesn't do so well on back roads.
Your choice
A recent subscriber survey of subscribers by Workamper News found that 41.73% had motorhomes, 38.13% owned 5th wheels and 9.49% have trailers.
So, there you have it. Each type of RV and setup has advantages and disadvantages. Weigh all the factors, go to RV shows and dealers and walk through many RVs and then you decide on the best Workamping RV is for you.
About The Author
Support Your RV Lifestyle! An Insider's Guide to Working on the Road
Jaimie Hall Bruzenak is an RV Lifestyle Expert. She has been RVing since 1992. She and her late husband weren't retired so RVed on a budget and worked on the road. She is the author of Support Your RV Lifestyle! An Insider's Guide to Working on the Road, and other RV books.
Return to the RV Lifestyle Articles page from the What Type of RV is Best For Working Or Volunteering on the Road? page