FTC Disclosure: I get commissions for purchases made through some of the links in this article for more information, visit our Advertising Disclosure Page.
The Rise of the Class B Motorhome
The Rise of the Class B Motorhome

learn what these compact RVs have to offer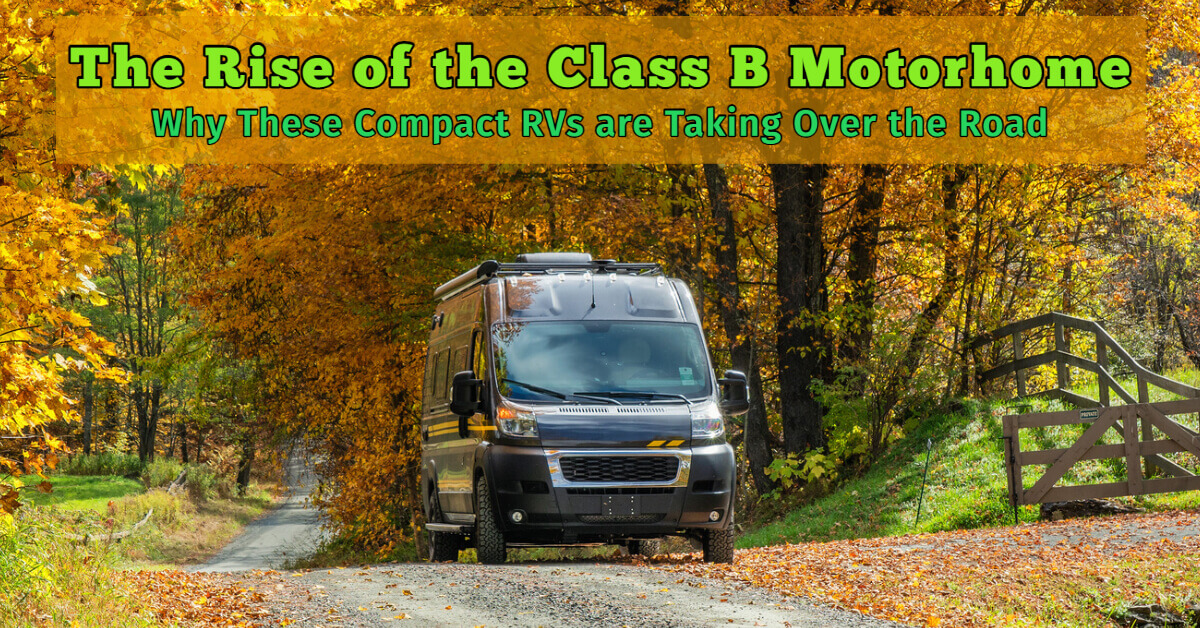 The Rise of the Class B motorhome is extraordinary, learn what these compact RVs have to offer
This RV proves that good things do come in small packages.  It is a standard van that has been converted to a small RV. This article will explain why the rise of the Class B Motorhome is so extraordinary.
Share This Page
Save 10% on campground fees when you become a Good Sam member Today!
About the Class B Motorhome
This RV is also known as a Van Conversion, Camper Van or Touring Coach.  Their length varies between 15 to 20 feet.  They are also available with either a gas or diesel engine.

In this section we are going to discuss how they are made and what type of accessories they have.  We are also going to review the PROS and CONS of owning one.
How They Are Made and The Accessories They Include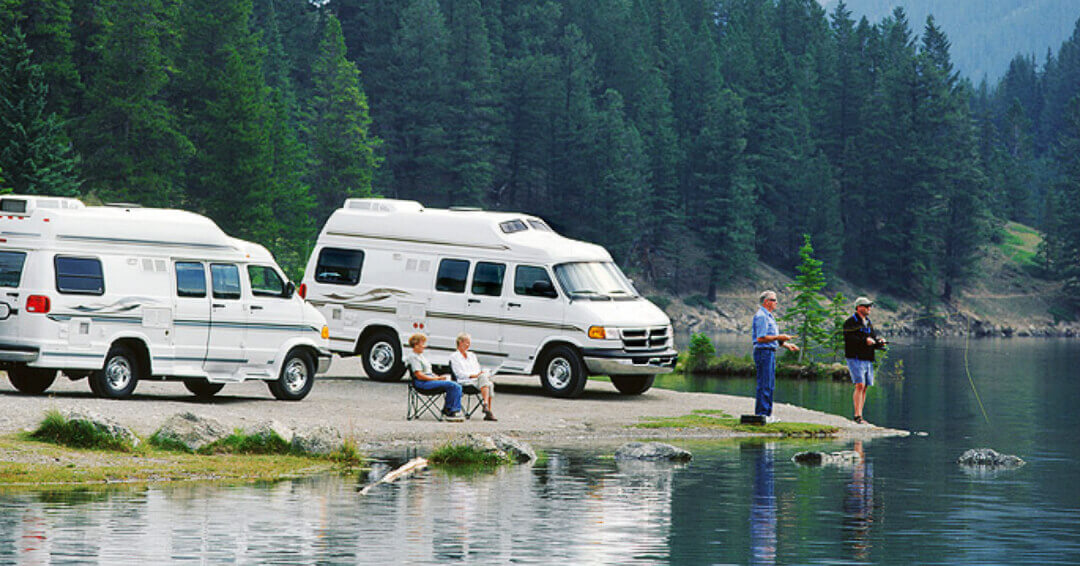 To transform a normal van into an RV first requires that the roof be elevated to allow people to stand up in them (if you are over 6'1" this may not be possible). 
The next step in the process is to add the living necessities.  This can be compared to putting 20 pounds of sand into a 10-pound bag.  
Some of the items you can expect to find in these RVs are a small sink, small stove, compact refrigerator and a couch or dinette that converts to a bed and of course a Television.  In addition, they have hookups for electricity and fresh water and grey water tanks. Some, not all, of them come with a toilet or a portable potty.  If you haven't figured it out already the keyword for this class of Motorhome is small.
Some Interesting Information
You would think that based on their size; these little RVs would not be suited for long-term camping.  That is not so, in some countries the class B Motorhomes are the most preferred type of Recreational Vehicle for short- and long-term camping. 
When gas prices increase so does the popularity of this RV.  The fuel mileage of a converted van is far better than their bigger siblings
Our family's first RV was a 1960s vintage Westfalia VW Campervan.  Believe it or not, we went on many camping trips with 2 adults and up to 3 kids and we were extremely comfortable.  Yes, it was a bit cramped at times, but if you use your ingenuity, you can make the limited space work well for you. 
It is a fact that quite a few RVers spend most of their time outside while camping and only use the RV for sleeping.  This is the ideal vehicle for these types of folks. 
Class B Motorhome PROS and CONS
Before reviewing the Pros and Cons of a Class B RV, you should watch the video below to learn what a Class B Motorhome has to offer.
Good Sam Club members enjoy instant discounts on fuel. Join Today!
PROS of a Class B Motorhome
Costs less than a Class A or Class C

 Motorhome.

Much better fuel mileage than a Class A or Class C Motorhome.

Can be used as a second family vehicle.

Can be used for local sightseeing or errands while camping.

Can be used to tow a boat or a small travel trailer (for the kids).

Very maneuverable, you will be able to travel and camp in areas that a Class A or Class C can't get to.

Will fit in your driveway, no special storage required.

The engine can be serviced by your local mechanic (you don't need a special lift in a garage to get an oil change).

Can be used for tailgating at sporting events.
It takes a lot less time to wash (this PRO is our personal favorite).
CONS of a Class B Motorhome
It is small, if you suffer from claustrophobia, or are over 6 feet tall this may not be the RV for you.

Because the ride height is lower than a Class A Motorhome, your view of the roadway and scenery may not be as good.

Limited in additional equipment you can add (no optional washer/dryer or 

dishwasher

 here).
Limited storage space (you have a choice, either take the BBQ or your spouse).

Some RV parks may not allow you in as they are Class A parks only.

It is not as easy to find where you parked in the Walmart parking lot as a Class A or Class C RV.  You can solve this by installing a 15-foot-high fiberglass antenna with a happy face flag on it.
Conclusion
Hopefully, we have explained why the rise of the Class B Motorhome is so extraordinary and that the above information will be helpful in steering you in the right direction.
If you have decided that a Class B Motorhome is the right type of RV for you, you should now head over to the Buying a RV section of our website to get some more helpful hints.
If you are still not sure, you can continue browsing the other Types of RVs that are available. One thing is for sure, you will never regret becoming an RVer regardless of the type of RV you choose.