FTC Disclosure: I get commissions for purchases made through some of the links in this article for more information, visit our Advertising Disclosure Page.
How to Maximize Your RV Auto Race Tailgating Experience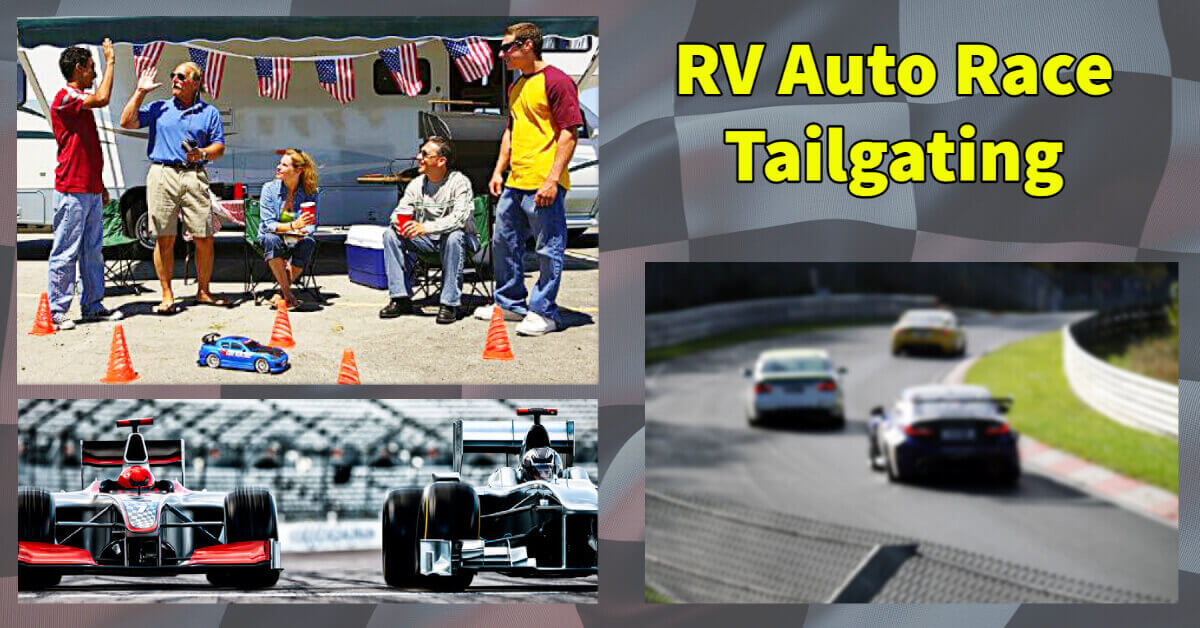 RV Auto Race Tailgating Tips and Tricks
Auto racing such as NASCAR, IndyCar and the NHRA are extremely popular in the USA, attracting several million fans yearly. For many people, the experience of tailgating before a race is just as important as the race itself. If you're an RV owner and a racing fan, tailgating can be the ultimate way to experience the thrill of the track. In this article, we'll provide you with some tips and tricks to help you enhance your RV auto race tailgating experience.
Share This Page
Good Sam members enjoy instant discounts on fuel. Join Today!
Table of Contents
Plan Ahead
Before hitting the road for your RV auto racing tailgating adventure, planning ahead is important to make the most of your experience. Research the event you'll attend and plan your route and parking arrangements. Decide who you'll be going with and what you'll need to bring with you. Make a list of everything you'll need, from food and drinks to camping equipment and entertainment. Be sure to check the weather forecast and pack accordingly.
Pack Smart
When packing for your RV auto racing tailgating trip, it's important to pack smart. Consider the space limitations of your RV, and pack only the essentials. Remember to pack lots of food and drinks, as well as a portable grill, utensils, and plates. Bring along comfortable chairs and a table and remember to pack games and entertainment to keep everyone entertained before the race starts.
Set Up Your Tailgate Area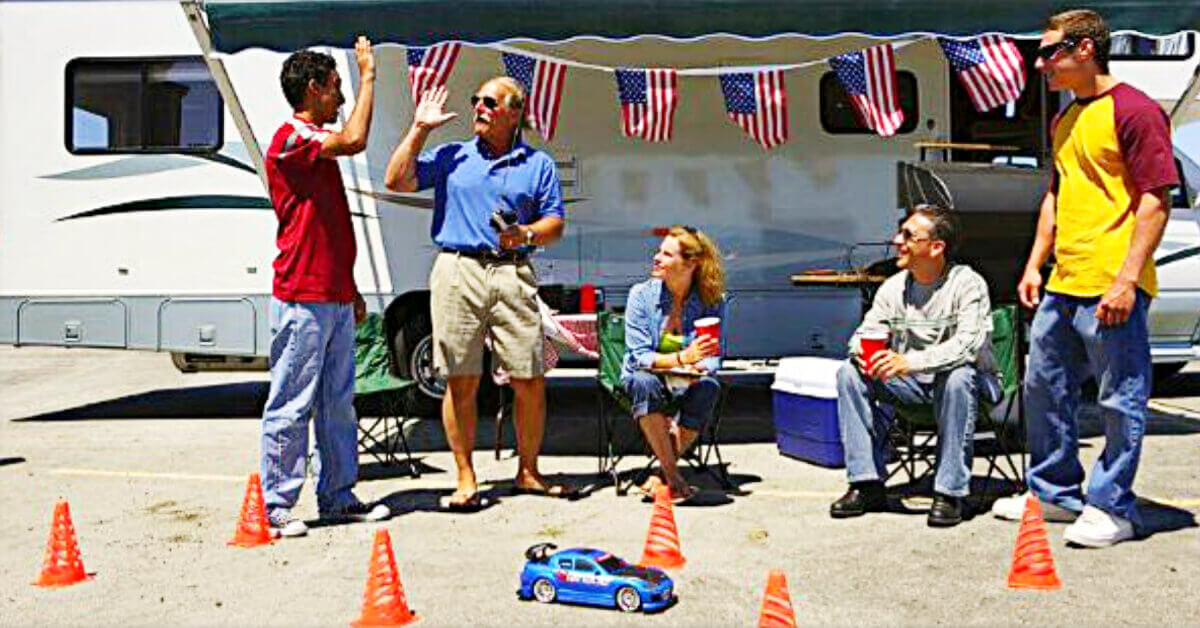 Once you arrive at the race, it's time to set up your tailgate area. Park your RV in a designated RV parking area and set up your chairs and table outside. Use a canopy or awning to provide shade and shelter from the sun or rain. Be sure to put up some decorations or signs to support your favorite driver or team. And remember to bring a flag or banner to wave during the race.
Cook Up a Storm
One of the best parts of RV auto racing tailgating is the food. Take advantage of your RV's kitchen and grill to cook up a storm before the race. Prepare dishes that can be served quickly, like burgers, hot dogs, and chili. Remember to bring snacks and appetizers, as well as desserts and drinks. And be sure to share your food and drinks with your fellow race fans to make new friends and build a sense of community.
Stay Connected
Just because you're away from home doesn't mean you have to be disconnected. Ensure you bring a reliable internet connection, like a portable Wi-Fi hotspot, to stay connected with the outside world. Use social media to share your experience with friends and family and check in with the race updates and schedules. And remember to charge your devices before heading out to the race.
Get Involved
Auto racing tailgating isn't just about watching the race; it's also about getting involved in the experience. Join in on the pre-race activities, like driver autograph sessions and pit tours. Take part in the tailgate games and activities, like cornhole, ladder toss, and beer pong. And be sure to explore the racetrack and surrounding areas to get a feel for the local culture and attractions.
The video below from RV Miles goes over the excitement of RVing at a NASCAR race.
Enjoy the Race
Finally, it's time to enjoy the race. Find a comfortable spot to watch the action, whether it's from your RV or a grandstand. Cheer on your favorite driver or team and soak up the atmosphere and excitement of the race. Remember to bring ear protection, as the noise level can be loud. Use binoculars or a camera to get a closer look at the on-track action. And stay hydrated and take breaks as needed to avoid exhaustion.
Clean Up and Departure
After the race ends, it's time to clean up and depart. Be sure to dispose of all trash and recycling properly and clean up any spills or messes. Disconnect any hoses or cables from the RV and stow away all camping equipment and supplies. Follow the instructions of the event staff for a safe and efficient departure and be patient as you wait in line to leave. And remember to wave goodbye to your new friends and fellow racing fans.
Safety Tips
While RV auto racing tailgating can be a fun and exciting experience, keeping safety in mind is essential. Always follow the rules and regulations of the event and obey all traffic signs and signals. Don't drink and drive, and always designate a sober driver. Keep a first aid kit handy just in case of any injuries or emergencies. And be sure to stay aware of your surroundings and watch out for potential hazards.
Conclusion
In conclusion, RV auto racing tailgating can be an amazing experience for racing fans and RV enthusiasts alike. By planning ahead, packing smart, and setting up a comfortable tailgate area, you can make the most of your experience. Cooking up delicious food, staying connected, and getting involved in the pre-race activities can help you build a sense of community with your fellow racing fans. And by following safety tips and cleaning up after yourself, you can help ensure that everyone has a safe and enjoyable time. So, get ready to hit the road, set up your RV auto race tailgating area and enjoy the thrill of the race!
FAQ
It depends on the specific event and venue.
Check the rules and regulations beforehand to ensure you can bring your own alcohol.

Pets are typically not allowed at racing events, depending on the event and venue. Check the rules and regulations beforehand.
Wear comfortable clothing and shoes and be sure to check the weather forecast beforehand. Dress in layers to accommodate changing temperatures throughout the day.
Popular tailgate games include cornhole, ladder toss, beer pong, and KanJam.
Look for medical tents or personnel stationed around the event. Call 911 in case of a serious emergency.