FTC Disclosure: I get commissions for purchases made through some of the links in this article for more information, visit our Advertising Disclosure Page.
How to Peacefully and Safely Travel with Pets in a Motorhome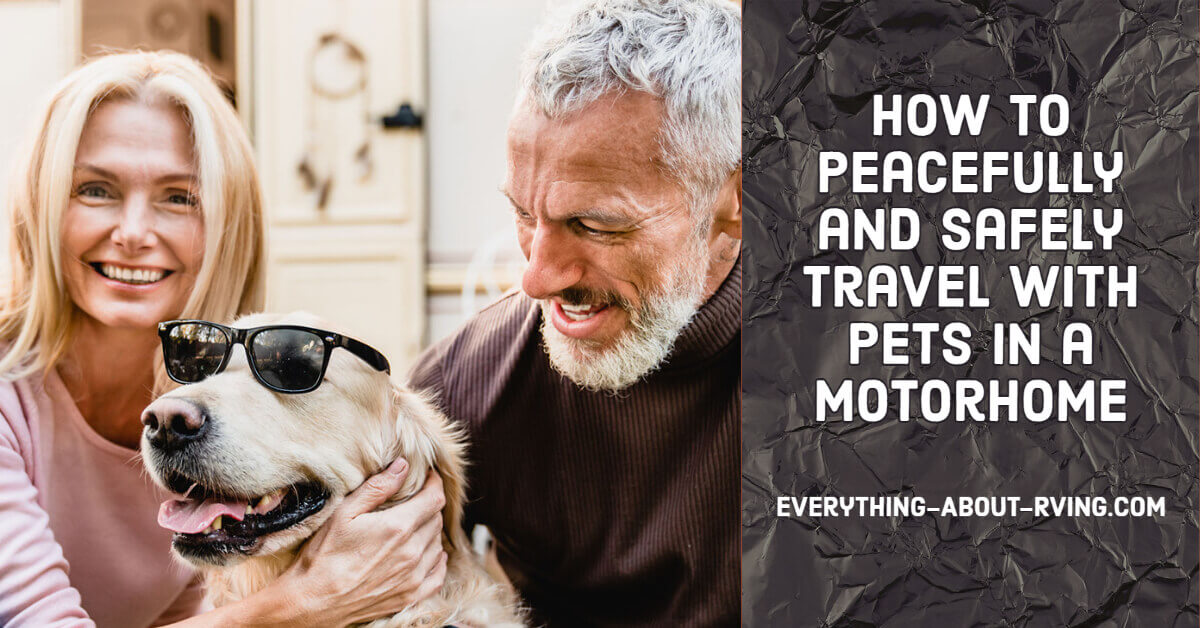 By Kamala Owens
We've gathered the most helpful tips and tricks on how to safely (and peacefully!) travel with pets in a motorhome
For pet parents, a motorhome makes traveling with their pets as convenient as possible. It provides the comforts of a home, it's spacious, and it's a safer vehicle option for your pets.
However, RVing with your pets can still impose some challenges. 
Still, don't let this fact scare you from bringing your pets along your motorhome adventure. We've gathered the most helpful tips and tricks on how to safely (and peacefully!) travel in a motorhome with your pets.
1. Pack the essentials
The first on your checklist for RVing with your pets is to prepare all of your pets' essentials, such as:
Collars and tags - must have your name and two to three contact details so your pet can quickly be returned to you when they get lost.
Food and water - estimate how much you'll bring based on the length of your trip.
Health certificates - some destinations require vaccine proof for your pets before you can enter.
Portable litter box - make sure your cat's litter box is fit for traveling. That is, the litter won't make a mess while driving on bumpy or dirt roads.
Harness, leash, or pet carrier - for carrying your pets outdoors or when you're taking a break at a rest stop.
Dog poop bags - for when your dog needs to do its business
Treats - to reward them for positive behavior, calm them down when they're feeling stressed, or a break from their everyday food
Medicine - such as first-aid meds or their prescribed medications
Their favorite toy - to keep them entertained while you're driving or to help them calm down during stressful situations.
Grooming supplies
2. Research pet-friendly places for your itinerary
Finding pet-friendly places and activities can be frustrating, especially if your target destination doesn't have that many spots to visit. Therefore, we advise you to research the best places and activities for you and your pet in advance.
When looking for a potential itinerary lineup, Google is your best friend. Just search pet-friendly [place/activity] in [location], and you'll find lists of suggestions in seconds.
For example, if you plan to roam in Auckland with your dog during your RV trip in New Zealand, you can search dog-friendly places in Auckland.

3. Visit the vet days before your trip
Visit your vet days before your trip to ensure your pets are healthy and fit for travel.
Be sure your pets are already vaccinated, too. Have your vet issue your pets a health certificate so you can have a legal document to show as proof.
4. Pet-proof your motorhome
To keep your RV a safe space for your pets, pet-proof it first. Here are some ideas you can make for your motorhome:

Install a pet gate to prevent them from roaming around the RV. You can drill the pet door into a strategic place in your vehicle or use Velcro strips.
Install a pet net. It's not as sturdy as a pet gate, but it does the job of keeping your pets in place. This is also ideal if you don't want to put them in a carrier. You can also consider portable pens or folding kennels.
Have a dedicated space for your pet. Cats and nervous dogs will appreciate having a safe spot on your RV where they can hide, sleep, or relax while you're driving.
Set up a scratching post for your cats. You don't want them to unleash their scratching needs on your upholstery or other furniture in your RV.
Get a ramp for your RV. If your pets have mobility issues, a ramp can help them get in and out of your motorhome.
5. Take your pet on a tour inside your motorhome
Have them sniff around the RV so they'll get familiar with its every nook and cranny. You can use treats to convince them that it's a safe space and not some contraption or dangerous place.

Do this slowly for a couple of days until they're feeling at home in the motorhome. You can also have them eat their food inside to make them feel extra secure.

6. Have them secured inside the RV while driving
You know those photos of pets leaning on the car's window, wind in their fur, and looking carefree?
Well, it turns out, that's a terrible idea.
Your pet could jump out of the vehicle when they see something interesting or may cause an accident inside your RV when they get jumpy.

While traveling with pets, ensure they're safely secured and buckled up. If possible, keep them on a carrier or a harness so they can't roam around and distract the driver.

If you are camping in a Travel Trailer or Fifth Wheel, Your pet should be riding with you in the trailer's tow vehicle, not in the trailer. While you may not be attentive to them all the time, at least you know what they're doing behind you.
7. Keep track of the weather and the temperature inside your RV
If the weather's looking sour, or if you think you'll be caught up in a storm while on the road, have an emergency plan in mind. Know the nearest shelters in the area or safe places where you can camp and wait out the storm.
During the summer, you should also be watchful of your pets.
For instance, have a backup plan if your RV's air conditioning fails. If your motorhome has a generator that automatically powers up when the thermostat reaches a specific temperature, check if it's working. 

If you're leaving your pets inside the RV, a pet temperature monitor will come in handy. You can install this wireless device on your RV so you can see if the internal temperature is still comfortable for your pet.
Traveling with pets in an RV can be an exciting and memorable experience.
About The Author
Kamala Owens is the content and community manager for NZ Motorhome Rental,  a New Zealand-based campervan price comparison and campervan rental site established in 2002. When she's not traveling, you can find her working in a cafe while sipping a cup of Caramel Macchiato