FTC Disclosure: I get commissions for purchases made through some of the links in this article for more information, visit our Advertising Disclosure Page.
The Benefits of Traveling Light in an RV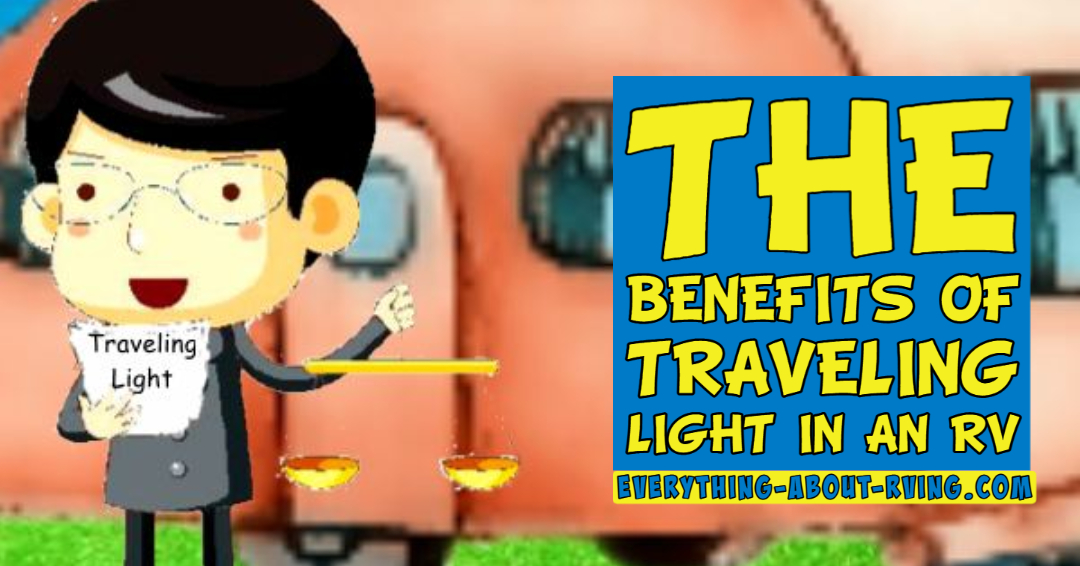 The Benefits of Traveling Light
By Bill Weston
Traveling light in your RV means less work for you and more time to relax
When the kids were little, it seemed that everything required extra effort; changing clothes, eating, cleaning up, sleeping and of course—starting all over again the very next day. Though it took monumental planning and patience, the kids made it along on many family RV trips, but the process was sometimes exhausting, what with portable cribs, naps, diaper bags and of course, that all-important first aid kit. Now that those child rearing days are in the past and the kids have grown and flown the coop, what is the best way to dust off that RV and take advantage of those weekend getaways? Travel light.
Share This Page
Save 10% on campground fees when you become a Good Sam member Today!
Less is more: you know the old adage here. The less you bring along, the less mess to clean up and to put away when you return home late Sunday night. Where are your traveling plans bringing you? If it's in a spot that has restaurants nearby that will cut back on the amount of food you need to bring. Also, if you're not grilling with that portable charcoal barbeque each night, there's two or three less items to bring right there. If you still want the outdoors experience of eating by the campfire, then use the campfire. Look online for some great Dutch oven recipes. Some quick and simple ideas might be those that are basically an entire meal in one pot; i.e. beef stew with biscuits, roasted chicken and potatoes, chili, breakfast burrito fixings, even desserts like berry cobblers can be cooked right over the open flames.
If it's just a quick weekend trip, plan on also packing clothing light. Bring enough clothes for at least two days, start with a small tote and see how much you can get in and also how little you really need to bring along. A lightweight jacket might not be a bad idea if your trip includes a trip into the mountains, bring enough socks and a change of shoes in case you find yourself hiking in the rain. For the super lightweights, you could skip the pajamas and sleep au naturel. But if you're worried about a few too many mosquito bites and maybe waking up face to face with a fellow camper than a t-shirt or nightshirt should suffice. Small travel sized toiletries like toothpaste, soap and shampoos work great and still get the job done. It's amazing how little stuff you really need when you stop to think about it.
Save 10% on campground fees when you become a Good Sam member Today!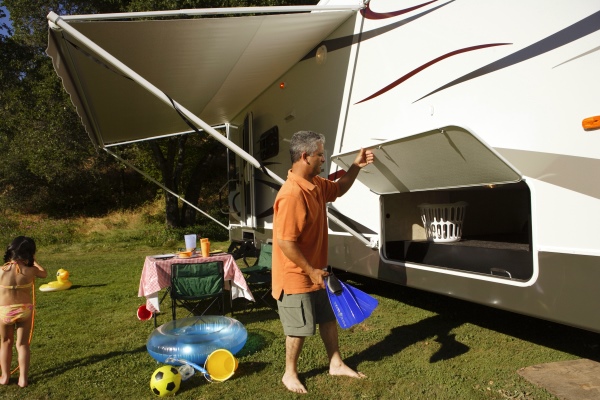 Depending on how you're traveling, whether RV or tent camping, it's still essential to not cut out certain essentials. Enough food and water to last approximately the length of time you plan to stay. If hiking is among your plans, use a frameless backpack. There is plenty of ultra light camping gear and equipment to help lessen the load. Water bottles that also have filters will eliminate the need for giant jugs of water, dehydrated or freeze-dried food is compact, light and super easy to squeeze in your cramped pack. Dress in layers, you'll need less room in your pack for extra clothes. Tying extra shirts and light jackets around your waist shouldn't be too much of a discomfort, especially if it means less impact on those already aching shoulders.
If being in the great outdoors is your ultimate goal here; then take advantage of the outdoors. Pretend you're Bear Grylls, how would he sleep? Find that quiet willowed spot and unroll that sleeping bag right under it or just sleep under the stars. You want the camping and traveling experience to be fun, after all, you don't want to return looking like you were lost in the woods for two weeks. Camping is a great way to connect with nature and the great outdoors and when you're not spending so much time on loading and unloading, you'll have more time to get out and explore. And isn't that really the point.
About The Author
Bill Weston is an avid adventurist and outdoorsman who loves hunting, fishing, hiking, camping, writing, and good conversation with new and interesting people. Bill blogs on the topics of the RV lifestyle and outdoor recreation for Lakeshore RV, a dealer of a wide range of RV brands and manufacturers.
Return to the RV Lifestyle Articles page from The Benefits of Traveling Light page